By

Rachel Needell
Updated 01/23/2023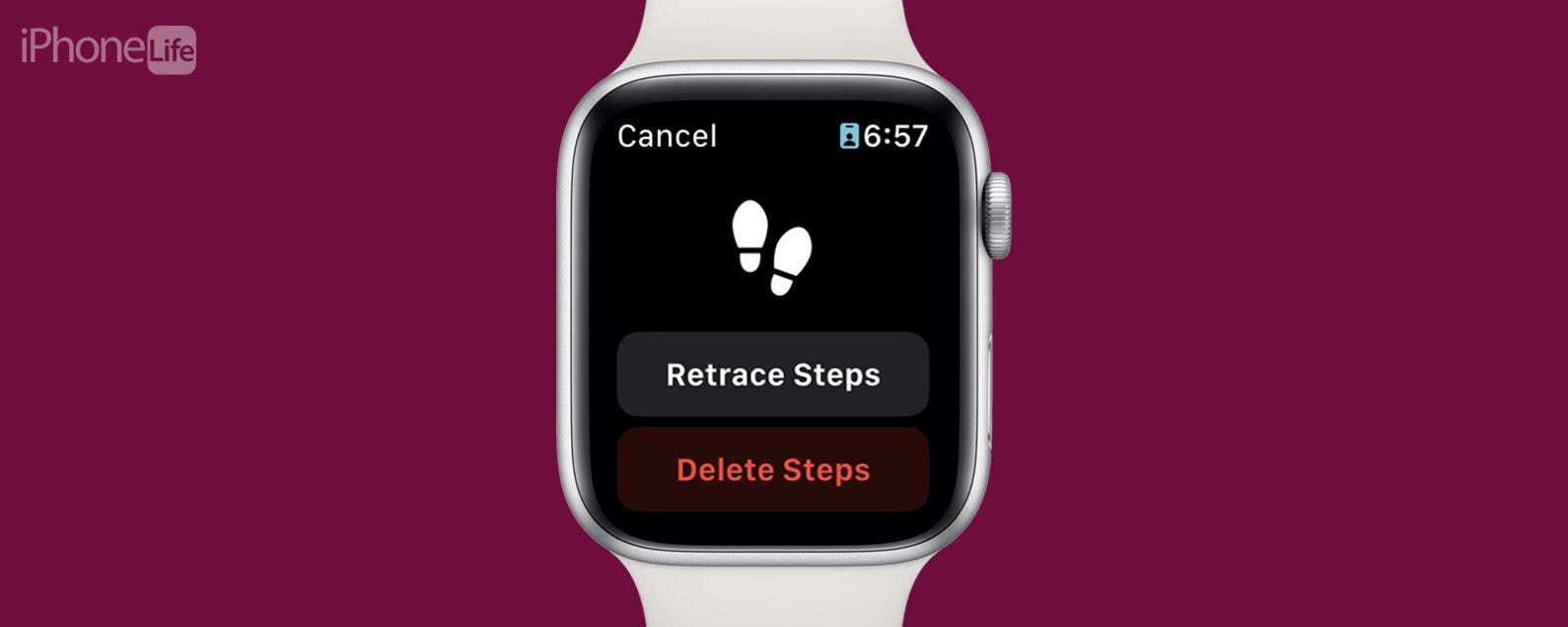 * This post is part of iPhone Life's Tip of the Day newsletter. Sign Up. *
The small but mighty Apple Watch continues to wow users as it becomes more and more advanced. For example, I just recently learned how to retrace my steps via the Compass app on the Apple Watch, and it's left me with a surprising sense of reassurance about going on hikes in the North Carolina mountains. But whether you live in the country or find yourself navigating a busy city, anyone can learn how to retrace their steps with Backtrack on the Apple Watch so you never get lost again.
Why You'll Love This Tip
Track your steps with the Compass app to avoid getting lost in unfamiliar places.
Learn how to use Backtrack on the Apple Watch now to avoid panic or confusion when and if you ever need to find your way back home.
How to Use Backtrack on the Apple Watch to Retrace Your Steps
Although I've spent many years hiking remote trails in the Appalachian mountains, I've only been truly lost twice. I only wish Backtrack in the Compass app existed then! But it's never too late to save yourself the stress of getting lost in the woods or a big city.

Discover your iPhone's hidden features
Get a daily tip (with screenshots and clear instructions) so you can master your iPhone in just one minute a day.
Before You Start Backtracking: Before you begin your trek, it's important to note that only the Apple Watch SE and the Apple Watch Series 6 and later will support this feature. Also, be sure to check that your iPhone and Apple Watch are updated to the latest software before you begin. Additionally, do be aware that Backtrack isn't available on Family Setup devices.
Before we jump to the Apple Watch itself, we need to turn on Backtrack in the Settings app on your iPhone:
First, to ensure all your settings are enabled, open Settings on your iPhone.


Tap Privacy & Security.



Tap Location Services.


Tap Compass.



Make sure you have While Using the App checked in order to see the Precise Location option. Then, toggle Precise Location on. It will be green when enabled.


Next, go back to Location Services and tap System Services.



Make sure Significant Locations is toggled on. If it is not, tap it to change. 


Retracing Your Steps
If you like tips about how to use your Apple devices, be sure to sign up for our free Tip of the Day! Here's how to retrace your steps with Backtrack:
Now to use Backtrack, open the Compass app on your Apple Watch.


Tap the two footprints in the bottom right corner. This is the Backtrack button.



The first time you use Backtrack, you will be prompted with a start screen. After that, you can start and pause Backtrack with a single tap of the Backtrack button. Tap Start to begin Backtrack!


Now you can begin your journey! When you're ready to return back to your starting point, tap the Pause button in the bottom right.



Tap Retrace Steps.


The footprints will now begin walking, and you will see a small white triangle and a white line appear in the center of the compass. The white triangle indicates the general direction of your starting destination, and the white line is the path you should follow to get back. Follow the direction of the white line as you walk, being careful to turn as the line turns.



Then, when you've returned back to where you started, tap the Backtrack button again.


Tap Delete Steps to finish.


And that's how you can avoid getting lost on an adventure in the future! I am a really big fan of this feature and the peace of mind it brings me to know that when my own sense of direction fails me, my Apple Watch won't! What a relief.