By

Rachel Needell
Updated 11/02/2023
What to Know
To view up to a month of Screen Time information, go to the Screen Time Settings in the Settings app.
You may also want to check out your recent purchase history to see a list of recent purchases via Report a Problem.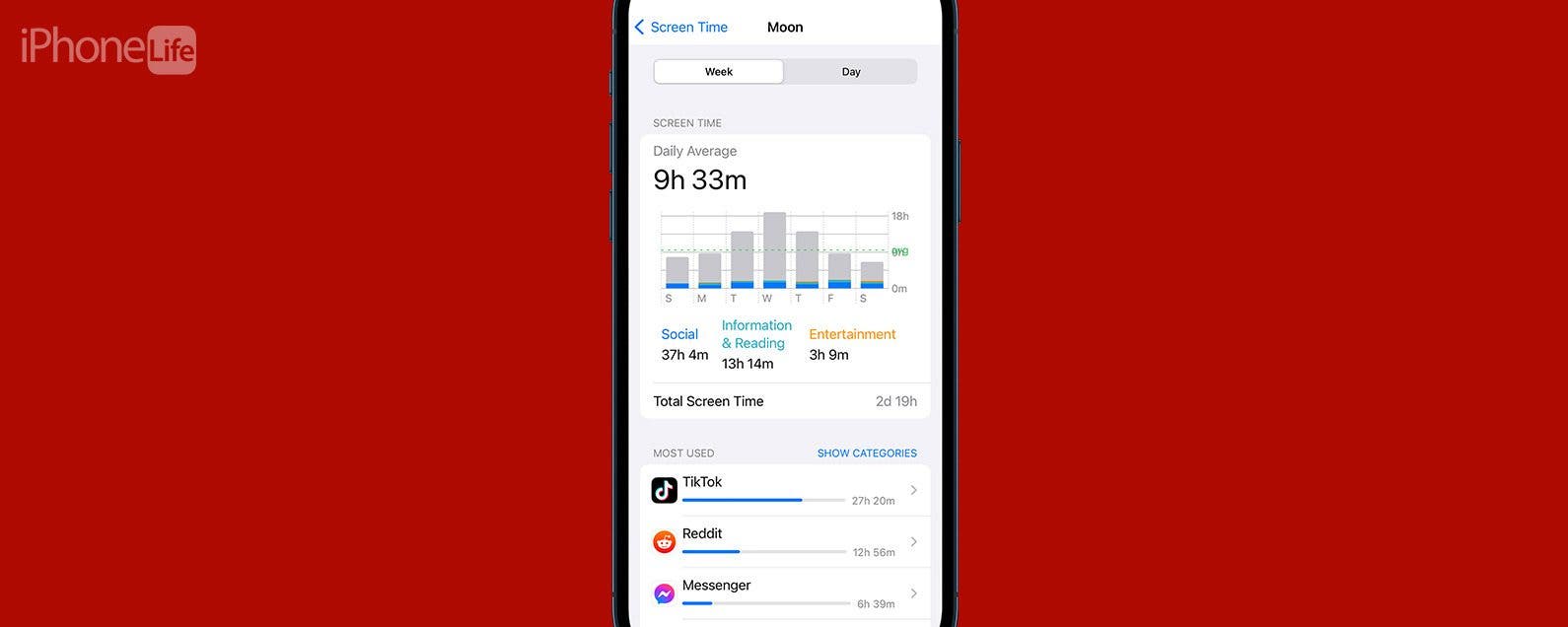 If you're interested in the recent activity that's happened on your iPhone like your Apple purchase history, safari browsing history, or your Screen Time data, there are a few different ways to check. We're going the best ways to see recent activity on your iPhone.
Jump To:
How to Check iPhone Activity Log in Screen Time Settings
The first way to view activity that's been taking place on iPhone is to check your Screen Time data. This will give you up to a month of relevant data that shows what apps are being used most frequently. If you like tips about using your iPhone, be sure to sign up for our free Tip of the Day!
How to View Apple Purchase History
If you're looking to check the recent purchase activity, you can see all your recent purchases from the App Store by following the steps below.

Discover your iPhone's hidden features
Get a daily tip (with screenshots and clear instructions) so you can master your iPhone in just one minute a day.
On your iPhone, open the App Store.


Tap your profile picture.



Tap Purchased to view all apps ever purchased or downloaded from that iCloud account.


Tap Subscriptions to view the subscriptions that you have subscribed to.


FAQ:
How do you track activity on an iPhone? Tracking daily activity is a feature that is located in the Fitness app. When you carry your iPhone, motion sensors will track your steps. With the Fitness app, you can track your daily movement and activity, set a movement goal, and see the data trends over time.
How do I check data logs on my iPhone? To see the data logged on your iPhone about your apps, go to iPhone Storage Settings. From there, you will be able to sort all your apps by the last date they were used.
Can you see app history on iPhone? You can go to the App Store and tap on your photo in the corner to view all the apps you've purchased and subscribed. Additionally, you can go to iPhone Storage Settings to sort apps by date last opened.
And that's how you check all your activity logs on your iPhone to keep track of all the data you'd like. Next, find out what to do if your Apple Watch is not tracking activity.