By

Kenya Smith
Updated 05/08/2023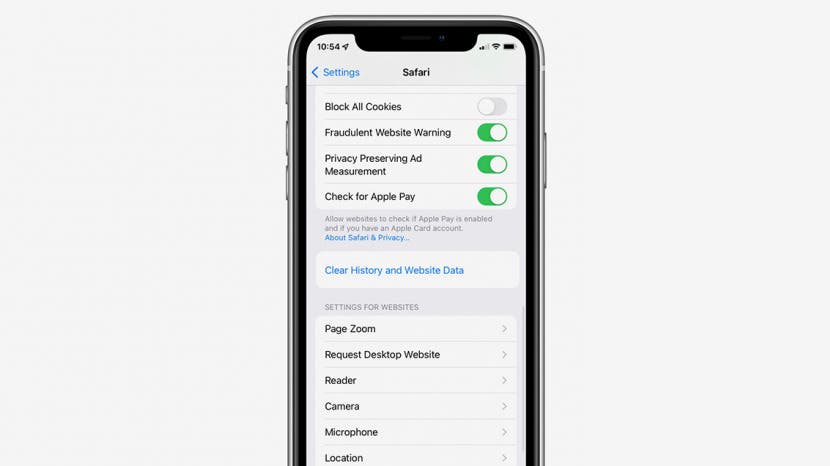 Clearing your browsing history in Safari has many benefits, such as protecting your personal information and freeing up space to keep the browser running smoothly. However, you might have noticed that the Clear History and Website Data button is grayed out or that some websites are still there after your attempt. If you are wondering why you can't delete your Safari history, don't worry! We will explain why and provide solutions to fix the problem.
Jump To:
Disable Content & Privacy Restrictions
Content & Privacy Restrictions is a feature that sets up age limits and protects children from inappropriate content. This feature can prevent you from deleting your browsing data in Safari. Please read our article about Content & Privacy Restrictions. 
Unsync Safari over iCloud
With iCloud, your browsing history is synced across all your Apple devices. As a result, it can occasionally lead to items reappearing in the browsing history of your iPhone or iPad. Here's how to stop Safari from syncing over iCloud.

Discover your iPhone's hidden features
Get a daily tip (with screenshots and clear instructions) so you can master your iPhone in just one minute a day.
Open Settings.


Tap your Apple ID.



Tap iCloud.


You may need to tap Show All if Safari does not appear on this screen.



Turn off Safari.


Tap Keep on My iPhone.



Tap Apple ID.


Tap Settings.

 

Tap Safari.


Tap Clear History and Website Data.


Delete All Items in Safari Reading List
If you save items to your Safari Reading List, they will automatically appear in your browser history. Here's our article that covers how to
delete items in your Safari Reading List
.
Block Cookies
Cookies are small files stored on your iPhone or iPad that save data from the websites you visit. Some cookies are persistently present, and they can prevent you from thoroughly clearing your history. Read our article on
clearing cookies from Safari
.
Restart, Reset, or Restore
If the tips mentioned above don't solve the issue, you will need to use basic troubleshooting solutions. First, restart your device. If that fails, reset your settings, and if that also fails, restore the device to factory settings. For reference, read our article that will guide you on how to do these basic troubleshooting solutions. 
If you found this article helpful, you may enjoy other troubleshooting articles, like what to do if your Apple Watch steps are not accurate, and what to do when iPhone calls are going straight to voicemail.