By

Erin MacPherson
Updated 03/20/2023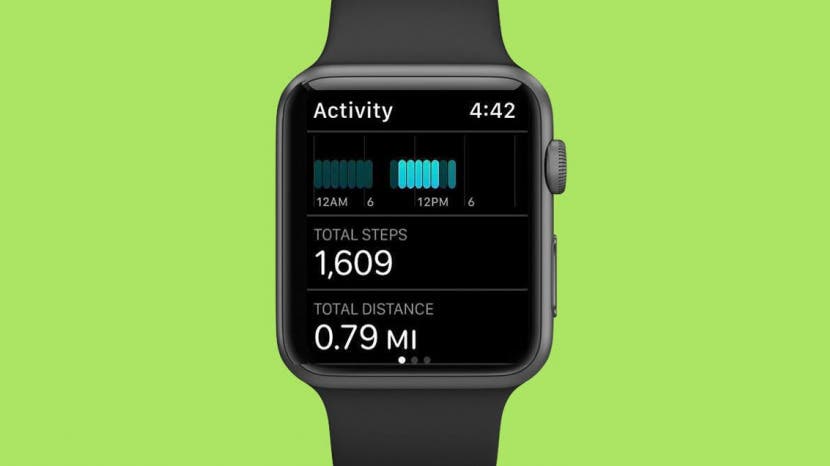 Your Apple Watch is your personal assistant, your personal trainer, and your most accessible gadget. One of the best ways to meet your daily exercise goals and stay motivated is to track your steps, which contributes to your overall count for calories expended. It's important, however, to ensure that your Apple Watch pedometer is working correctly, or you may be seeing inaccurate step tracking results. In this article we look at how to make sure your Apple Watch is able to accurately count your steps, and how to how to calibrate your Apple Watch step counter if it's inaccurate results.
Related: Active Calories vs. Total Calories on Apple Watch: What's the Difference?
What's in This Article:
Why Is My Apple Watch Step Counter Not Accurate?
The Apple Watch is one of the smartest small gadgets out there, but that doesn't mean that can't miscount the number of steps you take. There could be several reasons your step tracker is inaccurate on your Apple Watch. It could be a simple problem with a simple fix, like these:

Discover your iPhone's hidden features
Get a daily tip (with screenshots and clear instructions) so you can master your iPhone in just one minute a day.
Your Apple Watch is Too Loose
Your Watch should fit snugly at the top of your wrist, like any other watch. It should be comfortable, but should not slide around.
Your Personal Data is Not Accurate
Apple watch uses personal data like weight and height to determine your stride length and steps taken. You can make sure this information is up to date in the Health app to ensure a more accurate reading from your Apple Watch step tracker.
On the other hand, you could be experiencing less common issues that are making your Apple Watch step tracking inaccurate. We'll walk you through a couple of simple fixes that should help resolve your inaccurate step tracking issues.
Fix Your Apple Watch Step Tracker: Check Your Location Services Settings
On your iPhone, open the Settings app.
Scroll down and tap Privacy.


 

Select Location Services.
Ensure that the Location Services toggle is on. If not, toggle it on.


 

In the list below, check to see that Apple Watch Workout says "While Using."
If it does, you're done. If not, tap on Apple Watch Workout.

Select While Using the App.


How to Calibrate Your Apple Watch to Fix Inaccurate Step Tracking 
To calibrate the Apple Watch step counter, you will need to walk or run for at least 20 minutes, either in one session or in sessions adding up to a total of 20 minutes.
You want to run or walk somewhere flat, with good GPS reception, on a cloudless day. If you have an Apple Watch older than Series 2, take your iPhone with you on the walk/run and exercise with it on your arm, in a pocket, or in your hand. Try and run or walk at your usual, consistent pace. This is to calibrate your watch, not win a race.
To begin the Apple Watch calibration workout:
Open Workout app on your Apple Watch.
Tap the three dots on either the outdoor run or outdoor walk workout to access the menu for that workout.


 

Select the Time icon.


 
Adjust the workout duration to 20 minutes by tapping the plus and minus icons.

Begin your workout by tapping Start.


Every time you run or walk, your Apple Watch calibrates, so the more you use you Apple Watch to work out, the more accurate the step counter will become. This is also true when troubleshooting Apple Watch exercise minutes. 
How to Recalibrate the Step Counter on Apple Watch
If none of the above steps work for you, it may be time to recalibrate the step counter on your Apple Watch. This will allow your  Apple Watch to disregard any previous movement data. Follow the following steps on your iPhone:
Open the Watch app on your iPhone.
Scroll down and select Privacy.


 

Select Reset Fitness Calibration Data.
In the confirmation message that pops up at the bottom of your screen, select Reset Fitness Calibration Data again.


Once you have completed these steps, calibrate your Apple Watch by completing a 20-minute Apple Watch calibration workout. We hope these steps have helped improve the accuracy of your Apple Watch step tracker! Learn what to do if your iPhone fitness app is not tracking steps.