By

Olena Kagui
Updated 09/14/2023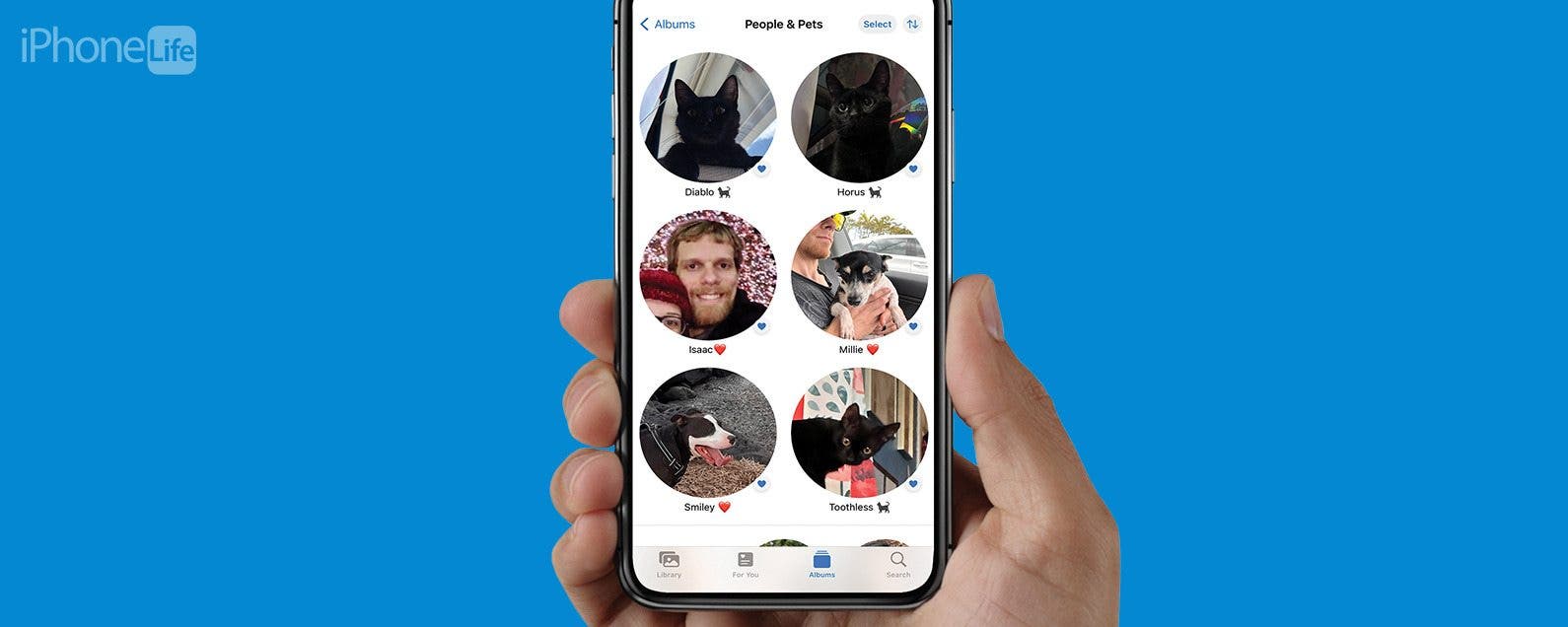 Pets are part of the family, and with iOS 17, you can finally add cats and dogs to the People album! We'll teach you how to get your Photos app to identify the pets in your photos as accurately as possible. This lets you search for specific pets among all your photos and even create pet-specific Memories.
Why You'll Love This Tip:
iOS 17 lets you add your dogs and cats to the People album in the Photos app.
Your identified pets can be named and marked as favorites.
You can help the Photos app get more accurate at identifying your cats and dogs.
How to Add Your Pets to the People Album in Photos
System Requirements
To use this tip, you will need an iPhone running iOS 17 or later. Find out how to update to iOS 17.
Identifying cats and dogs in the Photos app makes it possible to search your photo collection by specific-pet and create Memories that include or omit the animals in your life. For more Photos app tips, be sure to sign up for our free Tip of the Day! 
Now, if you take a photo of your pet, it should be identified by the Photos app!

Discover your iPhone's hidden features
Get one daily tip each day (with screenshots and clear instructions) so you can master your iPhone in just one minute a day.
Pro Tip
If you have pets that look alike, like my three black cats, your iPhone may struggle to identify them correctly. If you keep taking photos of them and reviewing each animal as you did in step 6, it should be better with time. My hopes for a perfect distinction between my two almost identical cats are low, but I am so impressed with how easily it identifies my two dogs and my longer-haired cat.
The great thing about tagging your pets, family members, and friends is that you can search for all your photos of your loved one. Plus, you can create Memories with certain family members or ask them not to be included. For example, if you want to create a Memory without your animals or without humans, you can select people or pets that you want
to be hidden from the Memory
. This can also be useful if you lost a family member and are grieving; temporarily hiding them from your Memories may help you heal from the loss.