By

Rhett Intriago
Tue, 10/10/2023
What to Know
Haptics on your iPhone are designed to make your device feel more tactile and responsive.
If they are not working, go into Settings, tap Sounds & Haptics, and select Haptics.
You can enable and disable haptics completely, or set them to only play under specific circumstances.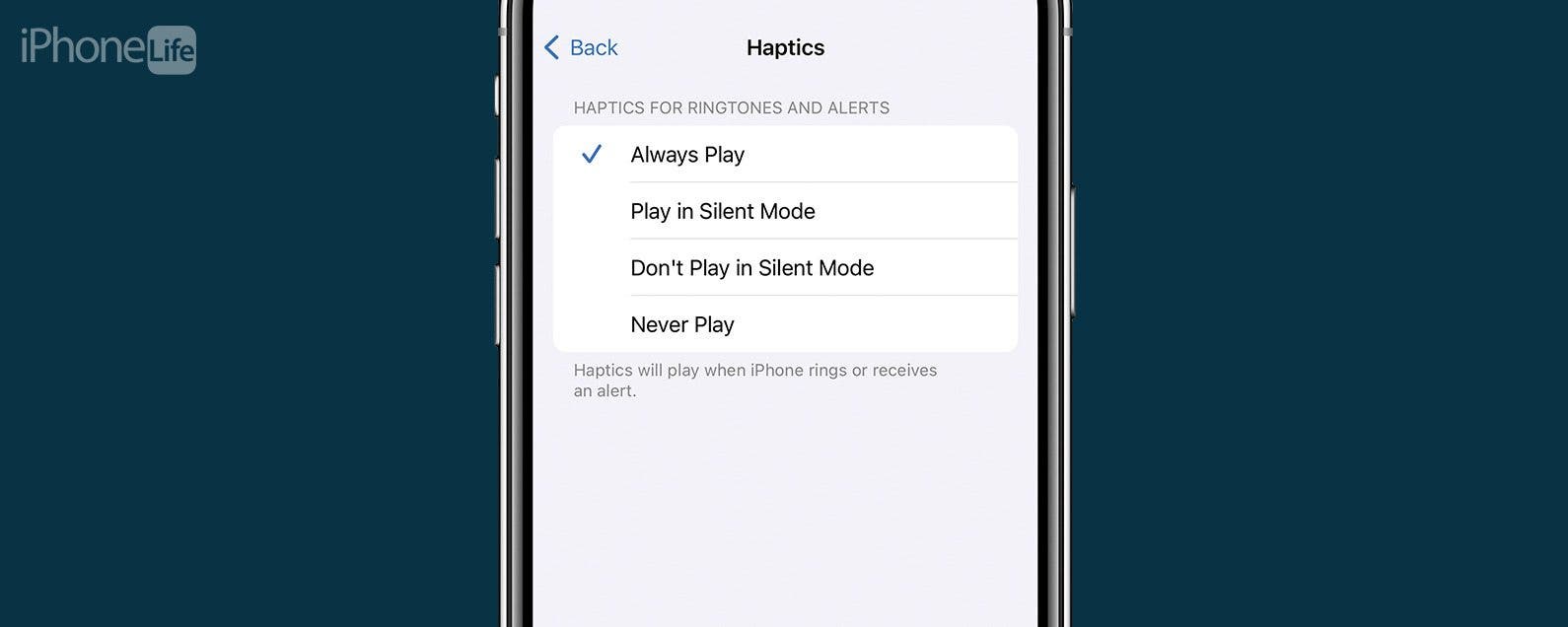 The haptics in your iPhone make the device feel more responsive when tapping the screen or when the phone vibrates with a notification. If they're not working, it can make your iPhone feel like it's slowing down or not quite registering your touches, or you might miss important notifications. Read on to find out how to fix haptics on your iPhone when they don't seem to be working properly.
Jump To:
What Are Haptics on iPhone?
Haptic feedback uses vibrations to create a tapping sensation or vibration when interacting with your iPhone. You typically feel haptics when your device unlocks, when tapping and holding on an app, when opening the app switcher, and more. You also feel haptic feedback when you get a notification, a text, or a phone call.
Haptics are meant to make your device feel more tactile, even though you're simply tapping away at a glass touch screen. To learn more about your device, be sure to sign up for our free Tip of the Day newsletter.

Discover your iPhone's hidden features
Get a daily tip (with screenshots and clear instructions) so you can master your iPhone in just one minute a day.
What to Do When Haptics on iPhone Are Not Working
If your iPhone is not vibrating or responding with haptic feedback, you may have accidentally disabled it.
With System Haptics enabled and your haptic feedback set to play when you want it, you should start feeling haptic feedback when using your iPhone. If all else fails, haptics not working on iPhone could be a hardware-related issue. If that is the case, you may need to visit a local Apple store or reach out to Apple Support for further assistance.
FAQ
What should I do when iPhone vibration is not working? If you are still experiencing trouble with haptics on your iPhone, be sure to check out our article on what to do if iPhone vibration is not working for further solutions.
Do haptics work in Silent mode? As long as you have set your haptics to Always Play or Play in Silent Mode (as seen in steps 3 and 4), haptics should work just fine in Silent mode.