By

Rhett Intriago
Updated 05/10/2023
What to Know
Test your camera in other apps, and check your privacy settings to make sure apps have access to your camera.
Check for updates, restart your device, and close the Camera app to see if that resolves the issue.
Try removing your case and cleaning the camera lenses to remove any obstructions and clear up the image.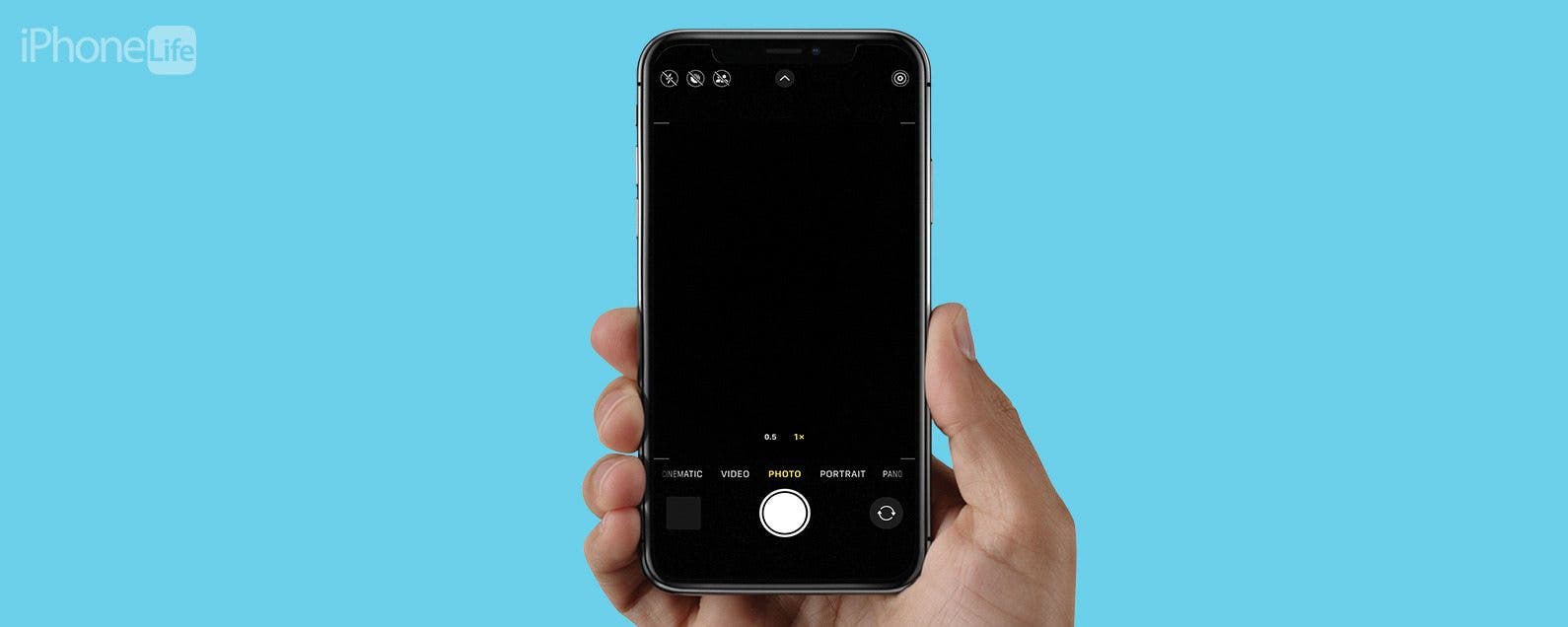 The iPhone camera is undoubtedly one of the best smartphone cameras on the market, so when something goes wrong, you'll want to get it fixed right away. If your camera is not working on your iPhone, it could be as simple as a software bug. In that case, we can help resolve the issue. Read on to find out our seven fixes for when your iPhone camera is malfunctioning.
Jump To:
What to Do When Camera Is Not Working on iPhone
When your camera is not working on iPhone, it is usually the back camera that will give you the most trouble. Luckily, there are a few different options that you can try to remedy the situation. For more iPhone troubleshooting tips, like how to fix upside-down photos, be sure to sign up for our free Tip of the Day newsletter. Now, let's get started with fixing your camera not working on iPhone.
1. Back Camera not Working on iPhone? Check Privacy Settings
The first step in troubleshooting a problem like the camera is to test other apps to see if the issue is present there. For example, try opening Instagram and see if your camera works in that app. If it does not, confirm that you have given the app permission to access your camera:
Open Settings, and tap Privacy & Security.


Tap Camera.



Tap the toggle next to the app you want to give permission to. The toggle will be green and to the right when permissions for the app are enabled.


If the app has permission to use your camera, but it is still not working, there may be another problem that needs to be addressed.
2. Check for Updates & Restart iPhone
Any time you are experiencing a glitch on your iPhone, the first step is to check for updates. Software updates contain fixes for common bugs so if your camera troubles are software-related, a fix may have already been released. Whether or not your device is up-to-date, you'll also want to try turning it off and on again. Once you've updated your iPhone and restarted it, check your Camera app to see if it is working.
3. Switch Between Camera Modes
If are able to open the Camera app but the screen is black, try switching between camera modes. This could help jumpstart the app and get the camera to activate.
4. Switch to Front Facing Camera
The next step to try is switching to the front-facing camera, to check if the black screen issue persists. If the iPhone's front camera is not working either, there may be another issue at play, in which case you may need to close the Camera app entirely.
5. Close Camera App
If you are still having trouble with your Camera app, the next best step to take is to force quit the app. The iPhone has a built-in app switcher so that you can easily close apps that are malfunctioning. Closing and re-opening an app is usually enough to resolve any issues you are experiencing.
6. Remove Case & Clean the Camera Lens
If you can open the camera app, but it appears blurry or obstructed, make sure your case is not covering part of the camera lens. If necessary, try removing your case entirely and check if the obstruction is still there. Also, try cleaning the camera lens. Apple recommends using a soft, slightly damp, lint-free cloth, like one used for cleaning lenses. If there is any dirt on the camera, cleaning it should help clear up the image.
7. Make Sure iPhone is Not Overheating
Sometimes, if your iPhone gets too hot, it can cause issues and prevent you from using your camera. This can happen easily if you are using your device outside on a hot day, especially if you are in direct sunlight. If your iPhone is overheating, let it cool down first, and then try testing the camera again.
If none of the above solutions helped resolve your iPhone camera troubles, the issues may be hardware-related. You will need to contact Apple Support or take your device to a nearby Apple Store for further assistance. Once your camera woes have been resolved, find out the quickest ways to launch your Camera app.
FAQ
How do I fix iPhone 14 Pro Max camera issue? Shortly after the release of the iPhone 14 Pro, some users began experiencing an issue that caused the camera lens to shake uncontrollably when using third-party apps like Instagram or Snapchat. Apple confirmed that this was a software bug, and the issue was resolved with the release of iOS 16.0.2. If your iPhone is up-to-date, you should no longer be experiencing this bug.
How do I fix iPhone camera black screen bug? This is a common problem that I have had happen to me when opening my camera from the Lock Screen. In my experience, all I had to do was simply lock the phone again and then unlock it, and the camera worked. If that does not work for you, I recommend trying the troubleshooting steps above to resolve the issue.
What to do when iPhone camera won't focus? This is a common issue on newer iPhone models with multiple camera lenses. Check out this quick fix for what to do when your iPhone photos keep coming out blurry. This fix should work on both the iPhone 13 Pro and 14 Pro.
What to do when iPhone camera and flashlight are not working? In a much earlier version of iOS, there was a bug that sometimes made it so that you could not use the Flashlight or Camera buttons on the Lock Screen. However, that has long since been fixed, and it is very rare that you will experience any issue with both your camera and flashlight at the same time. In any case, we have a separate troubleshooting article for when your flashlight is not working.