By

Olena Kagui
Updated 02/01/2023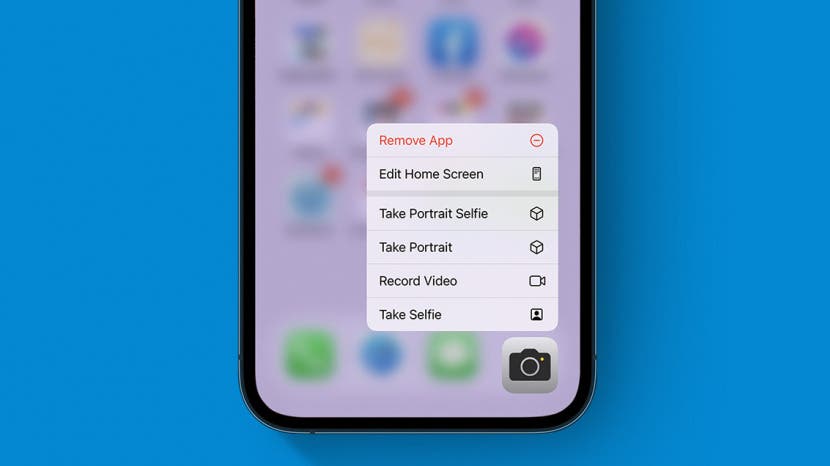 Learn how to access camera modes and open the Camera app faster than ever before! The tips in this article will ensure that you never miss the perfect moment again. Plus, I'll teach you how to use the iPhone Camera remote app on your Apple Watch.
6 Ways to Launch the Camera App
1. Fastest Way to Open Camera App iPhone
When you wake your iPhone by raising it, tapping the screen, or pressing one of the buttons, you'll see your Lock screen. At the bottom, you will see a flashlight button on the left and a camera button on your right. There are two ways to open the camera from the Lock screen, and they don't require you to take the time to unlock your phone. Also, check out how to double pinch to take a photo from your Apple Watch!
The first way is to tap and hold the camera button. This is my personal favorite because it is fast and it's impossible to accidentally open something else!

Discover your iPhone's hidden features
Get a daily tip (with screenshots and clear instructions) so you can master your iPhone in just one minute a day.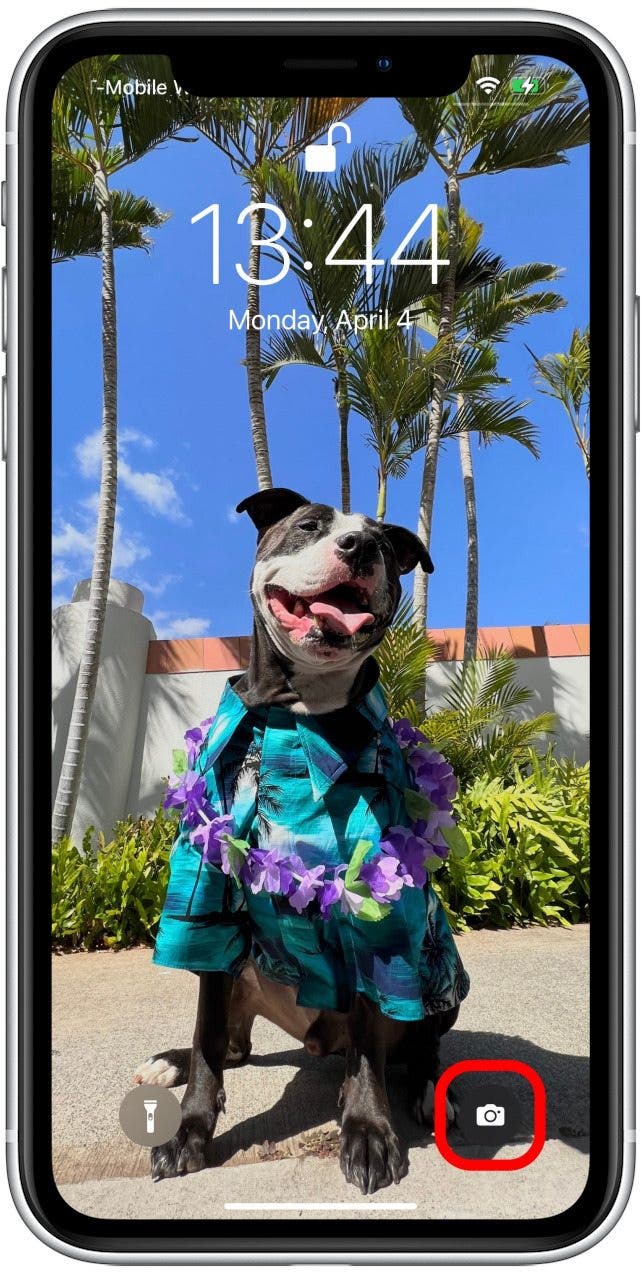 The second way is to swipe left. Although it works if you swipe from the center of your screen, It is best to swipe from the right edge for the quickest results. If you don't swipe far enough, you will see it start to open, but it will bounce back to the Lock screen. If you swipe diagonally or up, you'll see your notifications instead and might miss the moment!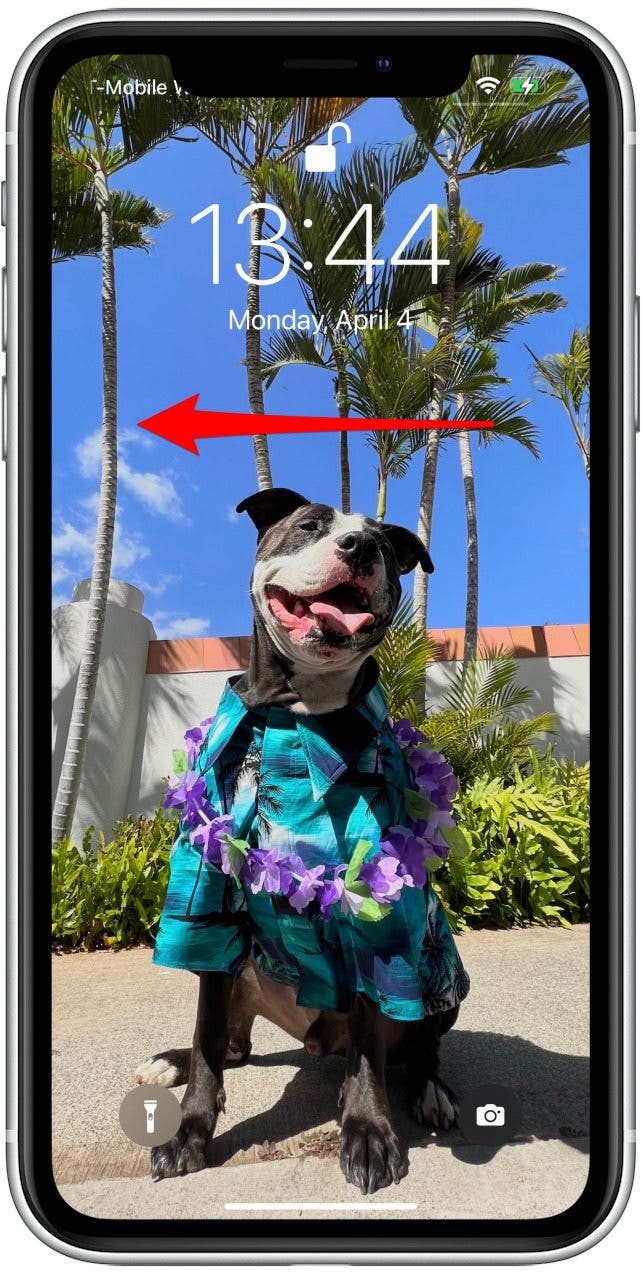 With both of these methods, you'll be able to start shooting right away, and you'll have access to all the usual camera app settings. However, you won't be able to see the image or video you just took by tapping on the thumbnail within the Camera app until you unlock your iPhone.
2. Tap the iPhone Camera App Icon in the Control Center
When you swipe down from the top of your screen, you access your iPhone's Control Center.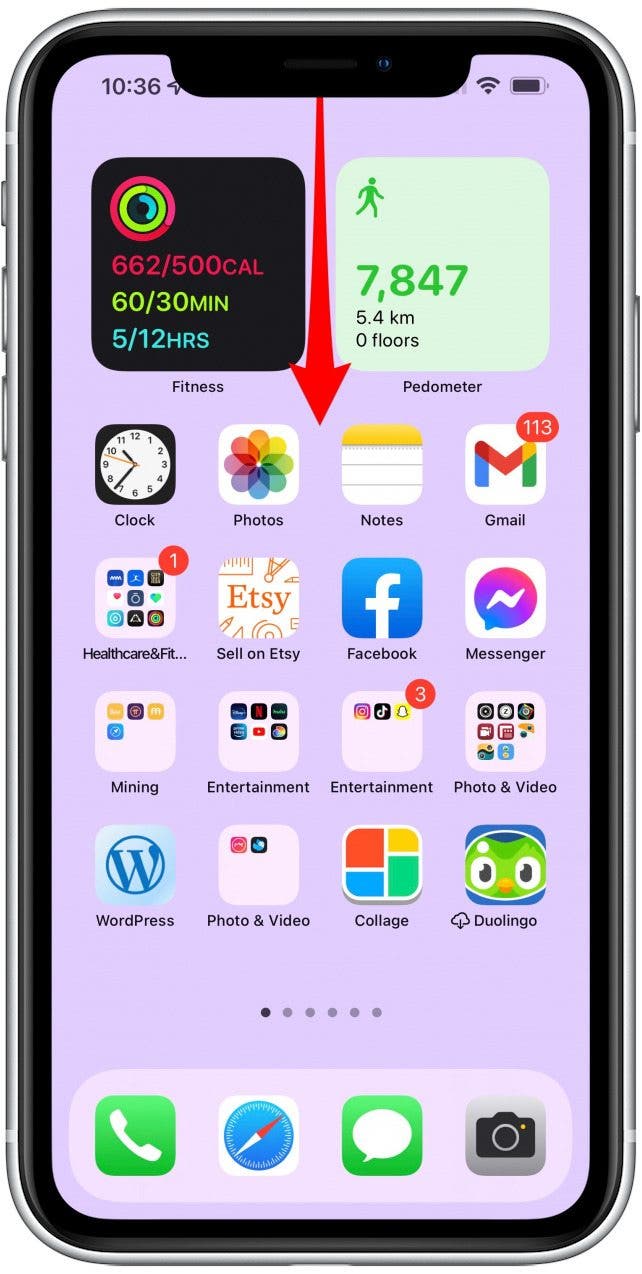 From here, you can tap the camera icon, and the Camera app will open. 
This can be done without unlocking your phone but also from any app you may be using. This may be the fastest way to start snapping or recording if you are doing something on your phone already. If you don't see the camera icon here, you may have accidentally removed it. Follow these steps to add or remove apps to customize your iPhone's Control Center.
Pro Tip: To make it even easier to tap the Camera app icon with your thumb, you can rearrange the icons in your Control Center! When customizing your Control Center, tap the three lines to drag the apps up or down. It can be confusing to figure out how moving them is reflected in the actual Control Center. Since the changes are saved automatically, you can swipe down to check how it looks after every change you make.
3. Add Home Screen Camera Access iPhone
Most people open the Camera app from their Home Screen. Just tap the Camera app icon, and the app will open.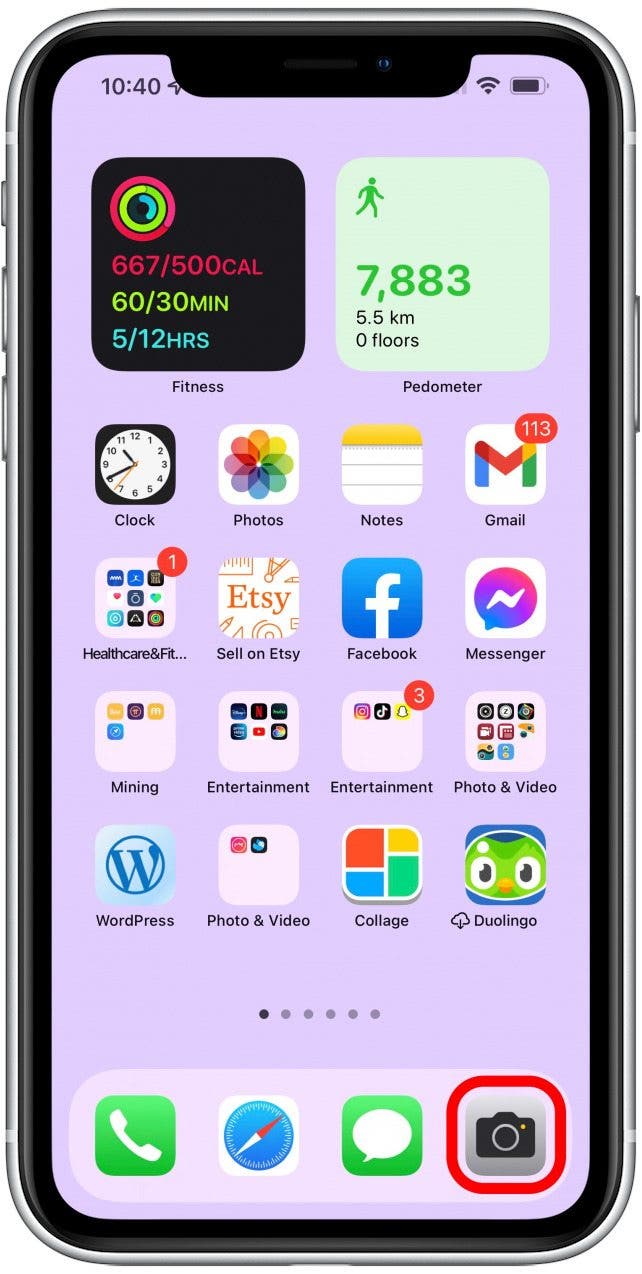 Once you take photos or videos, you'll also be able to tap the thumbnail to view them since your phone is already unlocked.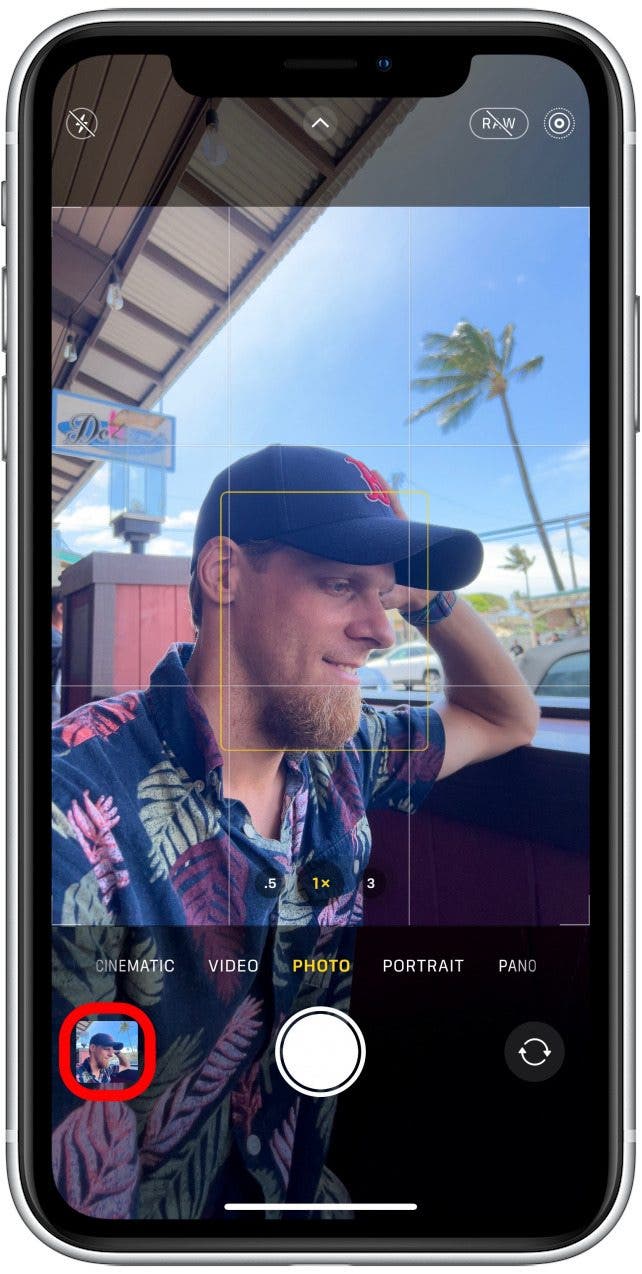 I like to go one step further and have the Camera app in the iPhone Dock so that I can access it across all my Home Screens. It should be there by default, but if it isn't, follow the steps in this article on how to get the Camera app back on your iPhone and in your Dock.
Pro Tip: If you want more than four apps in your Dock, make a folder, then drag the folder into the Dock. You can also move the Camera app to just your main Home Screen. To learn more about this, you can check out this article on organizing your Home Screen. For more tips like this, don't forget to sign up for our free Tip of the Day newsletter.
4. Take Videos, Selfies, or Portraits via the Camera Shortcut iPhone
There is an even faster way to open the camera app from your Home Screen if your ultimate goal is to take a:
Portrait selfie (portrait mode on front camera)
Portrait photo (portrait mode on back camera)
Record a video (video mode on back camera)
Take a selfie (photo mode on front camera)
To do this:
Tap and hold the Camera app.


Select one of the options.


You'll still need to press the white shutter button to take the photo or start recording. Alternatively, you can use the volume up and down buttons and press them to take a photo and hold them down to record a video.
5. Ask Siri to Open the Camera App
Although Siri can't activate the shutter button, you can still use Siri commands to open the Camera app. To do this:
Say, '"Hey Siri" to activate Siri. You can also hold the Home button or Side button to activate Siri, depending on your iPhone model.


Say, "Hey Siri, take a photo."



Siri will open the Camera app on your iPhone in photo mode on your back-facing camera. 


Tap the shutter button to take the photo.


You can use the steps above and ask Siri to take a selfie instead of opening the front-facing camera. In the past, it was possible to request Siri to open specific modes in the camera app, but this doesn't seem to be possible anymore. There is a chance it will be possible again in the commands depending on the mode you want to use.
6. Using the Apple Watch Camera App for iPhone
If you have an Apple Watch, then you're in luck! You can use your watch to open the app and use it as a remote to your iPhone's camera. Even though your Camera app has a timer function, it doesn't work in every scenario, plus running back and forth can be a pain. This is a great option if you want to take several photos without having to return to your phone. 
For example, if you are posing on a cliff, it's tough to keep climbing between your phone and the perfect photo spot! You can use your Apple Watch to take photos as long as your watch and phone are within the Bluetooth range of about 33 feet (10 meters.)
To take a photo via Apple Watch, just open the Camera app.
Then just tap the shutter like you would on an iPhone. For a step-by-step tutorial, read this article on taking selfie photos and videos with your Apple Watch.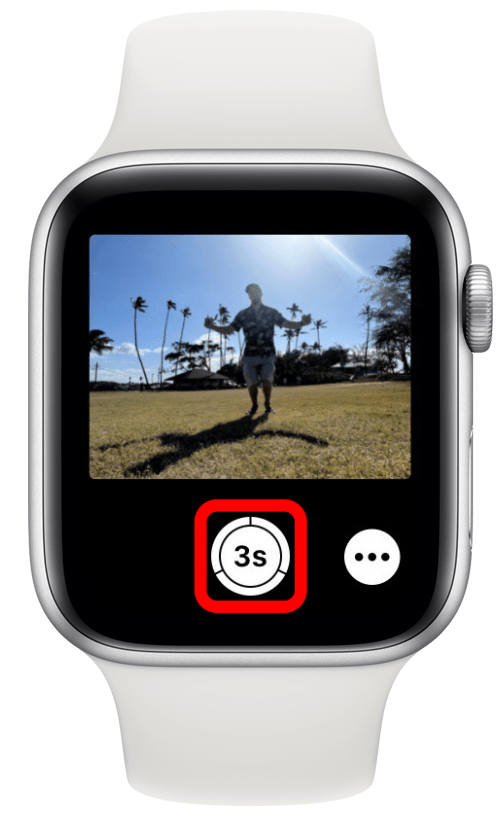 Pro Tip: For even quicker camera access on your Apple Watch, you can add the Camera Remote complication to your watch face! You can learn how to do that by reading this step-by-step article.
Return to top
Now you know how to open the iPhone Camera app in multiple ways. It may be fastest for you to swipe from the Home Screen, open it from your Control Center, or tap and hold the Camera app icon in your Dock to open a specific camera mode directly. We hope these tips help you capture every beautiful memory! Next, learn how to troubleshoot a common problem and find out why your iPhone camera is shaking and how to fix it.