Preserve the camera settings on your iPhone so that every photo comes out how you want it.
By

Conner Carey
Updated 02/28/2023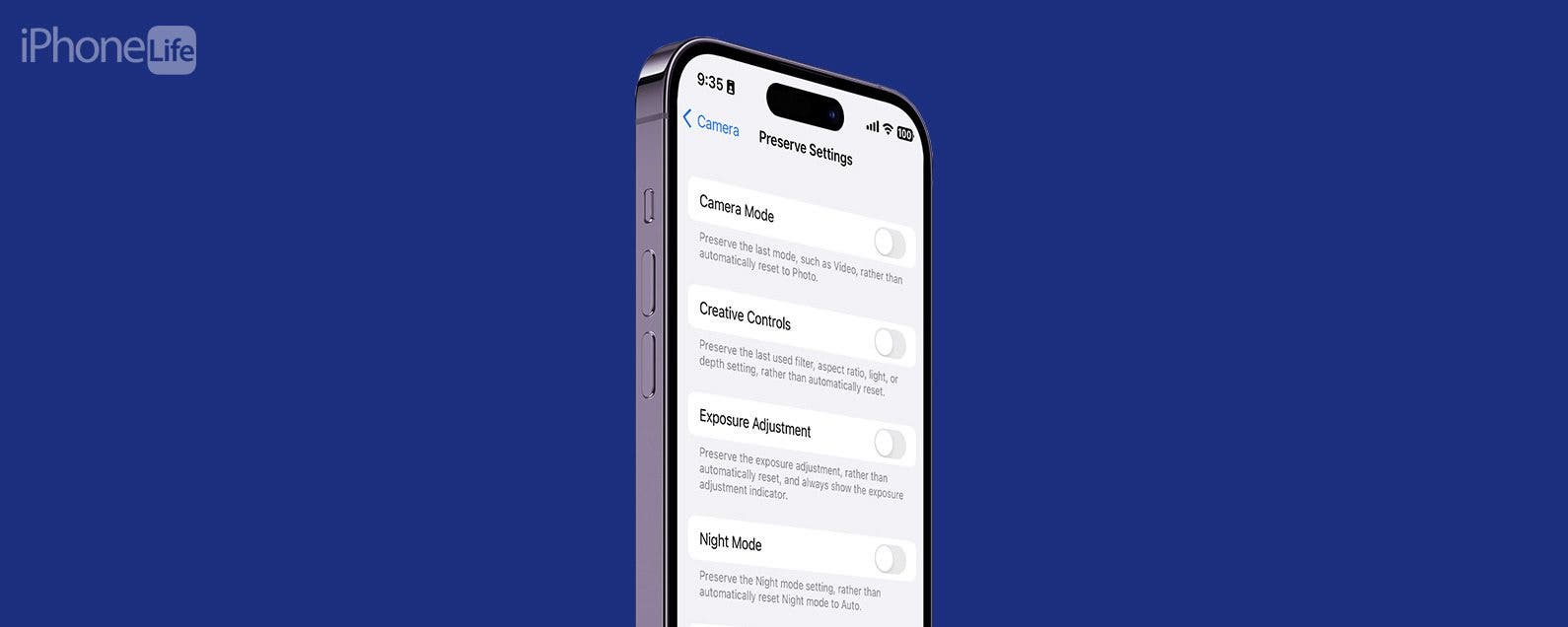 * This post is part of iPhone Life's Tip of the Day newsletter. Sign Up. *
If you're an avid iPhoneographer, there are certain camera settings you may want to be standard in the Camera app on your iPhone. You can preserve a few different camera settings so that you don't have to enable your preferred settings every time you go to take a picture. Let's take a look at how to preserve Camera settings on your iPhone.
Why You'll Love This Tip
Maintain consistency every time you take photos.
Save your favorite camera settings, so that your photos always look how you want them.
How to Preserve Camera Settings
What is preserve settings in iPhone? If you take photos often, you may want to maintain certain settings every time you open your camera. Preserving camera settings will make it so that certain settings will remain persistent even after closing your iPhone camera. For more iPhone photography tips, be sure to sign up for our free Tip of the Day newsletter. Now, here's how to preserve settings in the Camera app on your iPhone:
Open the Settings app, and tap Camera.


Select Preserve Settings.



Your options are: Camera Mode, which preserves the last mode, such as Video or Portrait, instead of automatically resetting to Photo.


There's also Creative Controls, which automatically applies the last filter, aspect ratio, lighting, or depth setting you used.



Exposure Adjustment keeps your exposure settings, which controls how light or dark your picture will appear when you take it.


Night Mode preserves your previously used Night mode settings, which adjusts the exposure in low-light situations to help you capture more detail. 



Lastly, Live Photo, which remembers if you've turned Live Photo off and doesn't turn it back on automatically.


Note: When you opt to preserve your settings, any changes that you make while in the Camera app will be saved if you don't reset them before closing the app. So, if you get your settings just the way you like them and then change them for a one-off picture, you'll need to set them back before you close the Camera, or else the new settings will be preserved instead.
Simply tap the toggles next to each setting that you want to be preserved. Now, any time you open the Camera app, the last settings you used will be saved and your camera will be set up exactly how you want it. This is a good way to save the best iPhone camera settings for your specific photography needs. If you want to improve your photography skills, check out our guide on when to use which iPhone lens!