By

Olena Kagui
Updated 08/21/2023
What to Know
To take better photos, enable the camera grid in your Settings app.
You can use the grid to take level photos and create appealing photo compositions with the rule of thirds.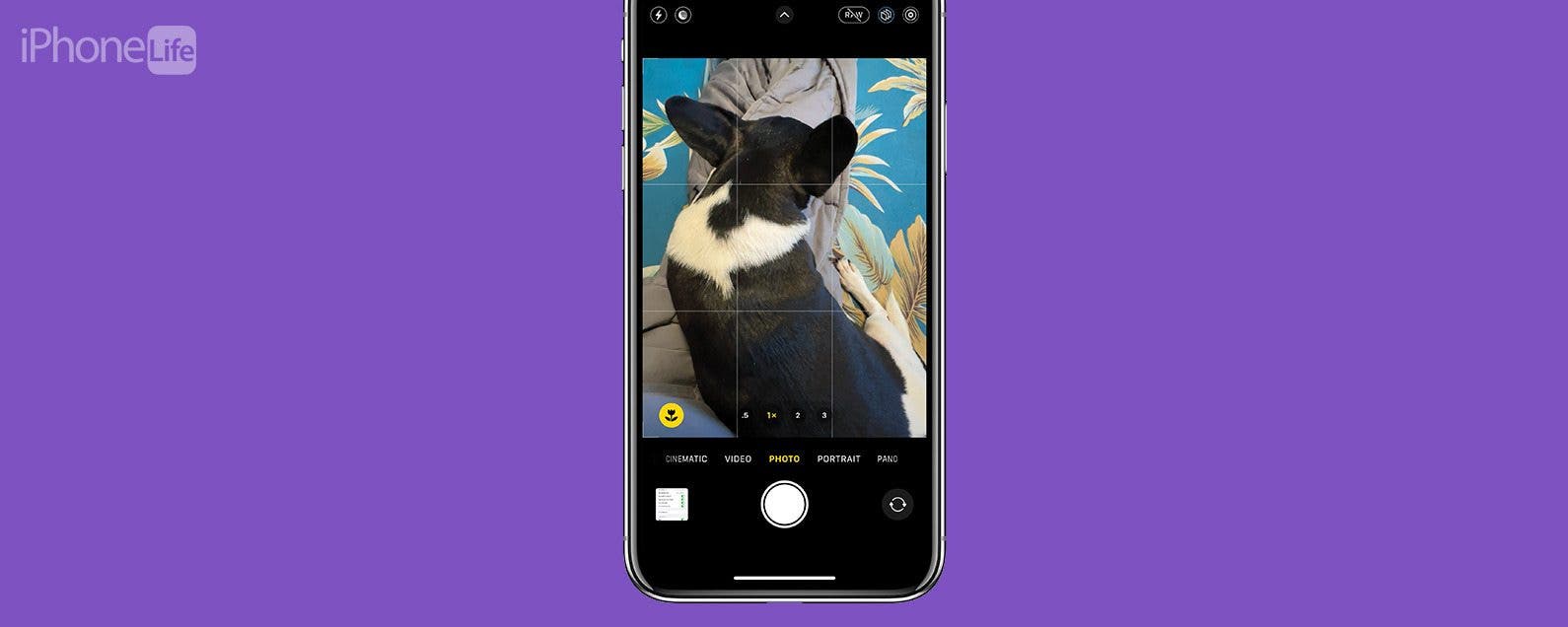 * This post is part of iPhone Life's Tip of the Day newsletter. Sign Up. *
Do you want to level the horizon in a photo? Or maybe you're wondering how to take more interesting photos? For both cases, you can set gridlines to display in your Camera app, allowing you to take level photos and leverage the oh-so-powerful rule of thirds for strong photo compositions. We'll explain the rule of thirds and cover how to enable the grid in your Camera settings. 
Jump To:
How to Turn On the Grid on Your iPhone Camera
Setting faint gridlines to display in your Camera app can help you more easily take level photos, leverage the rule of thirds, and skip extra editing steps, like cropping. You can learn more about the rule of thirds below, but for now, here's how to get a grid to display in your iPhone Camera app:

Discover your iPhone's hidden features
Get one daily tip each day (with screenshots and clear instructions) so you can master your iPhone in just one minute a day.
Now that you have the iPhone camera grid enabled, you're ready to start learning how to create balanced compositions that adhere to the rule of thirds. To learn more about iPhone photography, sign up for our free Tip of the Day newsletter!
Using the Rule of Thirds in Your iPhone Photos
Of course, there are no hard-and-fast rules for anything. But if you're new to photography, learning the rule of thirds may help you with the balance and overall feeling of your images. Here's how the rule of thirds works on your iPhone:
The camera grid is split into nine squares of equal size.
The rule of thirds states that the important compositional elements or subjects should reside along the lines or at the intersections of the lines.
The horizon line (of your photo) should also line up with the top or bottom horizontal line of the grid.
The images below demonstrate the differences between a photo taken with the rule of thirds and without.
As you can see above, a simple camera grid shift changes the entire feeling of the photo. Suddenly, a candid shot looks professional. I love using the iPhone camera grid to create balance in my everyday photos. While I don't need my shots to look professional, they're instantly more appealing when I apply the rule of thirds.
The rule of thirds is a fairly simple photography rule, but it's one that makes a world of difference. More and more, the iPhone camera comes closer to the professional DSLRs. While an iPhone camera will probably never fully replace the real thing, for the amatuer photographer, learning a few simple photography principles can elevate your everyday photos to a level that's at least worthy of Instagram fame. Want to learn other cool stuff about your iPhone's Photo and Camera app? Check out this article covering how to take a time-lapse photo!
FAQ
Why does my iPhone camera not have a grid?
Your iPhone camera doesn't display the grid by default, so you need to enable it in Settings. To enable the grid, open Settings, tap Camera, and enable the Grid toggle. 
What is the app that puts a grid over a picture?
If you want to put a grid over an picture you've already taken, you can use the free Grid # - Add grid on image app.