By

Amy Spitzfaden Both
Updated 01/25/2023
What to Know
Siri HomePod commands enable you to use your voice alone to control your HomePod.
Siri can offer suggestions for playlists, mood lighting, and more.
You can place calls and read messages through your HomePod using Siri.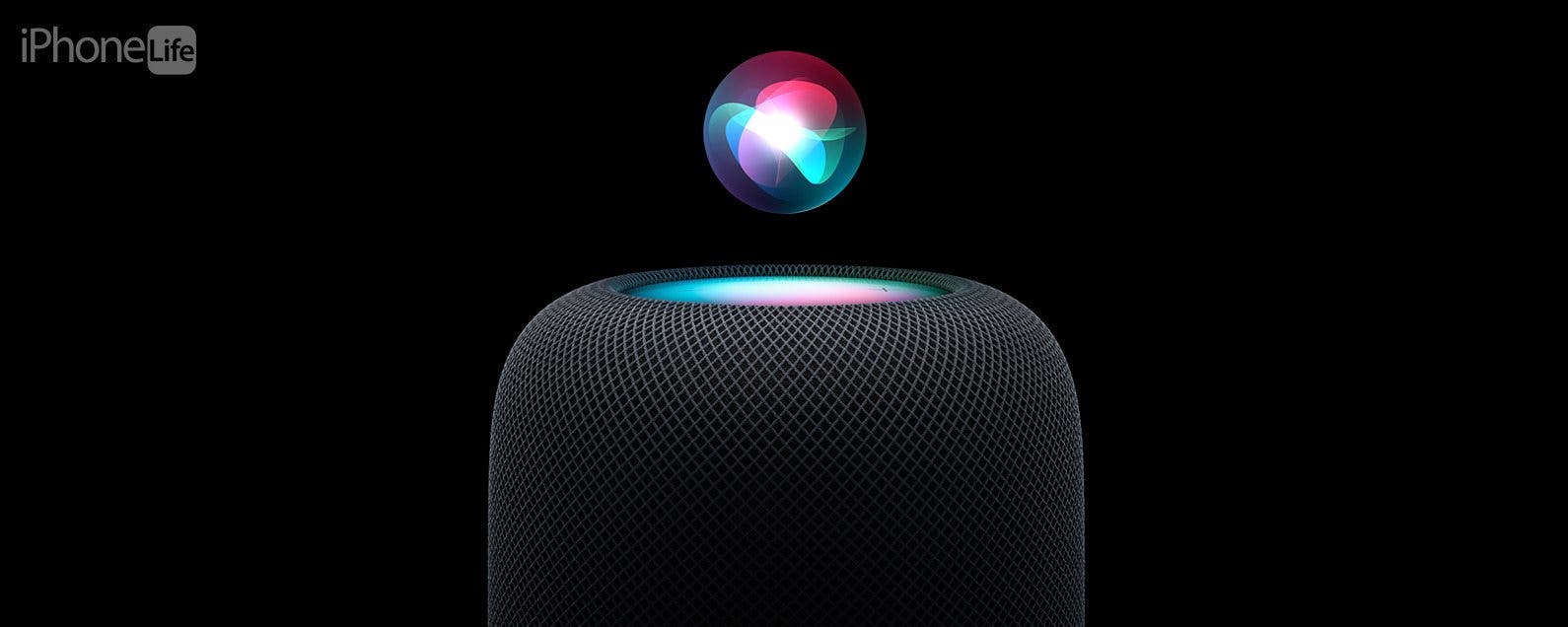 My first week of owning a HomePod, I was scrambling around, as the only HomePod commands I knew were by touch or through my iPhone, and neither one of those worked seamlessly. Quickly, though, I discovered HomePod Siri commands, which not only made my music listening smoother and more enjoyable, but also helped me do entirely new things with my little smart speaker. Here are the best Siri HomePod commands to get the most out of your HomePod and make your home situation a little more fun.
What Are the Best HomePod Siri Commands?
HomePod Siri Commands to Start Your Day
Your HomePod can customize your life and home settings from the moment you wake up in the morning. Instead of getting lost in the world of doomscrolling by picking up your phone right away, stay hands-off with voice commands. Here are some HomePod Siri commands to get you started with your day:
"Hey, Siri, set an alarm for 6:30 a.m. tomorrow morning." This one, of course, you'll want to do the night before, but when the time comes, your HomePod will chirp you awake.
"Hey, Siri, should I wear a sweater today?" Your HomePod will give you the forecasted low for the day, helping you with your outfit choice.
"Hey Siri, what's my update?" Siri will give you the weather and the news (you can choose from Apple News or your preferred news channel). If the news bums you out first thing in the morning, you can remove it from your update by saying, "Hey Siri, remove News from my update."
"Hey, Siri, play something to wake me up." This shortcut will have Siri choose something motivating to play for you to get you going in the morning.
"Hey, Siri, did the Red Sox win last night?" Didn't catch your team's game? Ask Siri how it went. Be warned, you might not want to do this first thing in the morning if a loss will break your heart.
"Hey, Siri, what's on my calendar?" Your HomePod is happy to remind you of what you have coming up during the day, and you'll have more warning that the thirty minute reminder you set before your hair appointment to review pictures and make sure you really know what you want.
Siri HomePod Commands to Choose Your Music
Speaking of music, not only is your HomePod extremely willing to offer playlists for any mood or occasion, it's also very easy to navigate with your voice. Here are some of the best Siri commands for the HomePod:

Discover your iPhone's hidden features
Get one daily tip each day (with screenshots and clear instructions) so you can master your iPhone in just one minute a day.
"Hey, Siri, play something for a dinner party." If you have an Apple Music subscription, your HomePod will be happy to comply and provide a playlist for almost any event you can think of. Whether you want something upbeat, chill, mild, or peppy, just tell Siri what you're doing, and they'll do the rest!
"Hey, Siri, play something for while I'm working." Finding the right background music for your work or studies can take up valuable time. Leave it up to Siri, and get to work!
"Hey, Siri, play Midnights by Taylor Swift." As long as you have a subscription to Apple Music or a similar subscription, Siri will play any album, song, or playlist of your choosing.
"Hey, Siri, I like this." If you come across a song you like, let Siri know! Your smart speaker will take this into account and start building music choices to your preference. Alternately, you can say, "Hey Siri, I don't like this," if you come across something that doesn't float your boat.
"Hey, Siri, what song is this?" If Siri is playing a song you don't know, ask what song it is, and Siri will give you the title and artist.
"Hey, Siri, go back ten seconds." While all of the usual commands are available to skip a song, play one again, and raise or lower the volume, you can also get much more specific. Did you miss a line you want to hear again? Ask to go back just a little bit and Siri's got you.
"Hey, Siri, reduce the volume by 50%." If you ask Siri just to raise or lower the volume, your results will be imprecise, and it will take longer to get to your desired volume. Say exactly how much you want the volume to be changed by and your HomePod will comply.
HomePod Commands to Track Time
One gripe I have with my Echo is that I can only set one timer at a time. What if I'm boiling pasta and baking cookies? Your HomePod has you covered. Here are some fun ways you can use the Timer function on your HomePod:
"Hey, Siri, set a three-minute timer." A simple one, but remember, it can be stacked!
"Hey, Siri, set a ten-minute pizza timer." If you have multiple timers set, you might want to specify what kinds of timers these are so when it goes off you know what to take out of the oven.
"Hey, Siri, add five minutes to my cookie timer." Checking your cookies and seeing that they need more time in the oven? Your HomePod's got you covered.
"Hey, Siri, set an alarm for noon today." Alarms are also a super helpful function of the HomePod. If you regularly forget to log on to your twelve o'clock meeting because you lose track of time (not speaking from experience here), your HomePod will remind you to hop on Zoom.
"Hey, Siri, cancel alarm." Maybe you remembered after all, or maybe your meeting got cancelled. Either way, you don't want an alarm going off when it doesn't have to. You can also ask Siri to cancel any timer you have going.
HomePod Siri Commands to Run a Smart Home
For this one, you will need a smart home setup with your devices connected to the Home app. However, if you have things like smart thermostats, smart lightbulbs, and more, then Siri can have almost complete control over your home.
"Hey, Siri, increase temperature by two degrees." Too cold to get out from underneath your blankets and move to the thermostat? That's what your HomePod is for!
"Hey, Siri, set lighting to evening dim." My three-year-old learned this command, and while it's hilarious to have a preschooler requesting a robot to set mellow evening lights, it's also very handy for winding down at night. You need to set up and name this lighting before this works, though.
"Hey, Siri, turn on the fan." Cooking something that's smoking more than you expected? Have Siri turn on the fan while you turn off the burner and try to save your dinner.
"Hey, Siri, turn off the TV." If you connect your smart TV to your Home kit, your HomePod will be able to save you the search for the remote and do it for you. Of course, if you have an Apple TV, you can ask the TV to turn itself off with Siri.
"Hey, Siri, lock the back door at 10 p.m." Nothing will pull you out of bed in the middle of the night quite like thinking you forgot to lock the door. If you have smart locks, you can schedule them to auto-lock so you can rest easy.
"Hey, Siri, turn off the outside lights at sunrise." Your HomePod knows when sunrise and sunset will occur each day, so you can base commands around them.
Siri HomePod Commands to Communicate with Your Household
Voice commands can relieve you of the stress of being glued to your phone, and they can help you communicate with the rest of your household in fun and helpful ways. Here are some ways you can use Siri commands to communicate:
"Hey, Siri, call Dad." An oldie, but a goodie. Your HomePod will place the call and you can talk through the speaker. When you're done, say, "Hey, Siri, hang up."
"Hey, Siri, announce that I'll be home in ten." If you say this one to your iPhone, your HomePod will let whoever is in your house know when to expect you.
"Hey, Siri, tell the living room to keep it down." If you have multiple HomePods set up, specify which room you'd like your message announced to.
"Hey, Siri, tell everyone that dinner is ready." This will announce your culinary achievement over every HomePod in the house.
"Hey, Siri, do I have any messages?" Your HomePod will check to see if you have unread messages and offer to read them to you.
HomePod Siri Commands to Plan a Trip
HomePods aren't just for staying home! If you want to plan a trip, your HomePod can help you out. Here are some Siri HomePod commands for travel:
"Hey, Siri, what's the weather in Orlando, Florida next week?" Siri will give you a forecast for what to expect in a city in the coming week so you'll know what to pack.
"Hey, Siri, give me a recommendation for where to eat in Manhattan." If you like to plan your trips down to every meal, your HomePod will help you do that.
"Hey, Siri, how do I say where is the train station in French?" If you're traveling internationally, Siri can teach you phrases you'll need to get around. Have your HomePod give you the lesson so you can do it while packing.
"Hey, Siri, what languages do you speak?" Siri's translation capabilities are fairly limited right now, but if you ask, your HomePod will list the languages it can translate into.
What are your favorite ways to use Siri on your HomePod? Let me know in the comments!