Your iPhone camera timer can be a lifesaver when it comes to group shots, but can also be great for when you're trying to capture a moment solo.
By

Rheanne Taylor
Updated 10/03/2021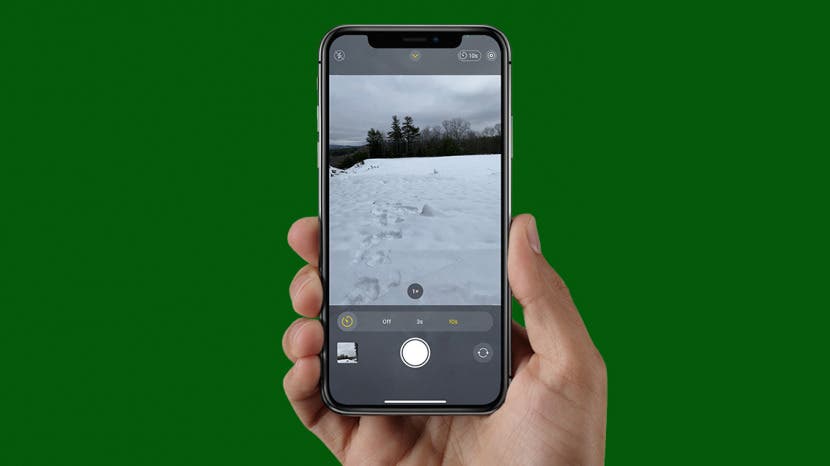 This article will tell you how to set the timer on your iPhone camera. It's easy to put yourself in the picture using the self-timer on your iPhone's native Camera app. Your iPhone picture timer can be great for when you want to include yourself in a group shot without trying to smoosh everyone into a selfie, or for self-portraits, solo shots while traveling, and more. To access your camera timer, you'll want to find the clock icon in your Camera app. Your iPhone's photo timer lets you choose a delay of either three or ten seconds, perfect for squeezing into a group photo with friends. Let's get started learning how to use the photo timer on your iPhone! 
Related: iPhone Burst Mode: How to Take, View, and Save Burst Photos on iPhone
How to Use Your iPhone Photo Timer
Open the Camera app on your iPhone.
Set up the shot you'd like to take, making sure to leave room for yourself!
Tap the arrow at the top of your screen. The menu above your shutter button will change from words to symbols.


Tap on the timer icon; you'll be able to choose between a 3-second timer or a 10-second one.
Select the countdown time you prefer.



 
Then tap the shutter release and wait for the countdown to finish (your iPhone camera's flash will blink as the timer counts down) before the photo is taken. 
This should allow you time to get yourself in the picture or stabilize your phone to avoid shaky images.


That's all it takes! Now you know how to use the self timer on your iPhone and can take all the family photos you want without feeling left out ever again. To take things to the next and potentially more professional level, learn how to take ProRAW photos with your iPhone 12 Pro Camera. This can be used with the self-timer and lets you have more editing abilities!