Clean Energy Charging helps reduce your iPhone's carbon footprint.
By

Rhett Intriago
Updated 03/30/2023
What to Know
Clean Energy Charging was added in iOS 16.1 and is designed to reduce your iPhone's carbon footprint.
This feature can suspend charging for your iPhone but is unlikely to affect your charging habits.
To turn off Clean Energy Charging, open Settings > Battery > Battery Health > Clean Energy Charging.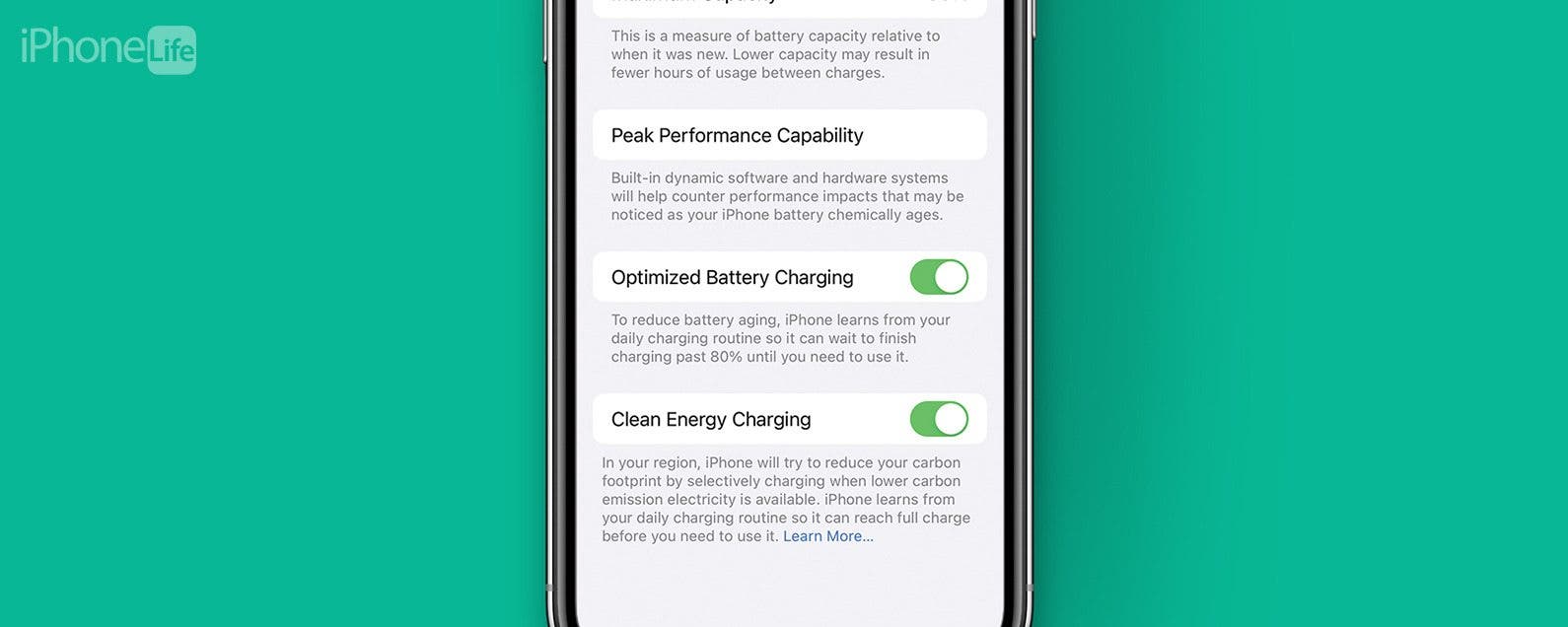 You may have heard about Clean Energy Charging since Apple recently added this eco-friendly feature to your iPhone. But what is Clean Energy Charging? What does it do? It is turned on by default, leaving many wondering if their iPhones are now going to charge slower or less efficiently. However, that is not always the case. Clean Energy Charging is a great new feature. Find out why below!
Jump To:
Apple Clean Energy Charging: What Is It?
So what is Clean Energy Charging? This new iPhone feature works by selectively charging your iPhone when lower carbon emission electricity is available. This helps decrease your iPhone's carbon footprint and reduce the environmental impact. Does this mean your iPhone will charge slower now? Yes and no.
To learn more about how your iPhone functions, be sure to sign up for our free Tip of the Day newsletter. Now, let's take a look at why you should use Clean Energy Charging.
Why You Should Leave Clean Energy Charging On
If lower carbon emission electricity is not available, your iPhone will wait to start charging until it is. However, your iPhone will send you a notification about this, and, if you absolutely need your phone to charge right away, you can tap and hold the notification. Then, simply tap the Charge Now option, which will allow you to immediately begin charging your iPhone.
However, most people tend to charge their phones overnight while they are sleeping. If that's you, it is highly unlikely that you will experience any negative side effects by leaving this feature turned on. Since most people are less active at night, there are more opportunities for lower carbon emission electricity to become available. So your phone will more than likely be ready to use when you get up in the morning. 
Personally, I have not noticed a difference in my charging routine while using my iPhone with Clean Energy Charging turned on. I even regularly plug in my phone during the day and have yet to encounter the notification that my phone can't be charged (I even tried many times to get the notification to appear so that I could get a screenshot for this article, but I had no success).
I say leave it on. It doesn't hurt you, it costs nothing to leave the feature toggled on, and it has a small positive impact on the environment. In fact, Apple added Clean Energy Charging in iOS 16.1, which at the time of this writing was more than four months ago, and people seem to only just now be finding out about it. So if your iPhone is up-to-date and you haven't seen any Clean Energy Charging notifications yet, it's unlikely that this feature has had any sort of noticeable effect on your charging habits.
How to Turn Off Clean Energy Charging
If your iPhone is charging slowly or you just don't want to use Clean Energy Charging, here's how to turn it off:
Open the Settings app and tap Battery.


Tap Battery Health & Charging.



Tap the toggle next to Clean Energy Charging to turn it off.


Select whether you only want to turn Clean Energy Charging off until tomorrow or turn it off completely.


With Clean Energy Charging turned off, your iPhone should charge the way it did before iOS 16.1. Next, find out how to turn off Optimized Battery Charging.
FAQ
When and where does Clean Energy Charging activate?
Like Optimized Battery Charging, Clean Energy Charging learns from your charging habits and only activates once it knows you're charging your phone at home or at work. It will not activate if your charging habits are too variable or if you're in a different location than usual, so if you're traveling and trying to charge your iPhone at the airport, you likely don't need to worry about Clean Energy Charging stopping you.
What settings need to be turned on for Clean Energy Charging to work?
First and foremost, you need to have Clean Energy Charging enabled, as seen in the previous section (except you'll be turning it on instead of off). Second, you need to go to Settings > Privacy & Security > Location Services and make sure Location Services are enabled. From that same screen, scroll down to the bottom and tap System Services. Check that System Customization is toggled on. From there, scroll down and find Significant Locations. Tap that and make sure the toggle is turned on.