By

Rachel Needell
Mon, 11/21/2022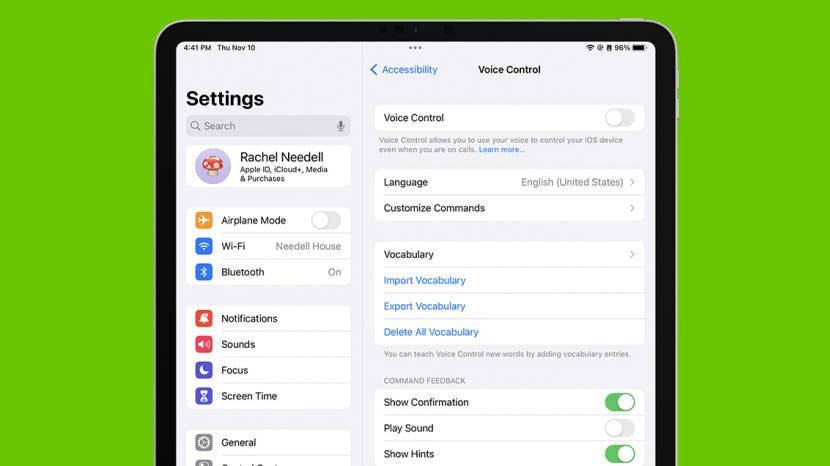 Voice Control on iPad is a really interesting and fun feature that allows you to use your tablet completely hands-free. You can tap anywhere on the screen without using your fingers by saying "show grid," and telling the iPad to tap certain quadrants. However, it can become a bit of a nuisance and you may find you need to turn off Voice Control. We'll show you how to enable and disable Voice Control on your iPad.
Related: CarPlay Not Working? How to Fix Apple CarPlay Today! (iOS 16)
Jump To:
How to Turn Voice Control Off & On
Turning off Voice Control is fairly simple and can be accessed the same way you turn on Voice Control. You will need to be connected to Wi-Fi before turning on Voice Control, as the iPad will need to complete a one-time file download from Apple. But afterward, you will be able to use Voice Control on or offline. 

Discover your iPhone's hidden features
Get a daily tip (with screenshots and clear instructions) so you can master your iPhone in just one minute a day.
To turn Voice Control off or on, go to Settings on your iPad.


Tap Accessibility.



Tap Voice Control.


Toggle Voice Control to off or on. It will be gray when disabled and green when enabled.


How to Use Voice Control on iPad
If you're curious about how to use Voice Control on your iPad, I walk you through a step-by-step example to show you how it works. If you like tips like this about using your Apple devices in fun new ways, be sure to sign up for our Tip of the Day! Be sure to notice the command confirmations at the top of each of these screenshots!
Once you've enabled Voice Control on your iPad, say "Go to Home" to go back to the home screen.


To open a particular app, say "Open Messages" and the Messeages app will automatically open.



To work within an app, you can use what's called the grid. To access the grid say, "Show grid".


If you want to tap one of the grid sections, say, "Tap 11," and the iPad will act as if you tapped the center of that particular grid square.



If the button or place you'd like to tap is somewhere within a grid square, you can simply say the number of the grid to get more options for that section of the screen. So say, "23".


Now, you will have additional options of places to tap. Say, "tap 5" and the iPad will act as if you tapped that specific number. You can continue to scale down in size and become even more specific about where you tap the iPad by continuing to say the number.



Once you're in the text field in most apps, you can just begin to speak and the iPad will automatically fill in your words to the text field.


To backspace, say "delete character".



You can also use commands like "select all".


There are a bunch of other cool ways to use Voice Control. Be sure to read the hints that are provided for you at the top of the iPad for clues on how to use Voice Control and what exact commands to give. And that's how you use Voice Control on your iPad! This is one of those amazing features both for folks with hypersensitivity to touch, and for those who simply want to go hands-free every once in a while!