By

Olena Kagui
Updated 12/15/2021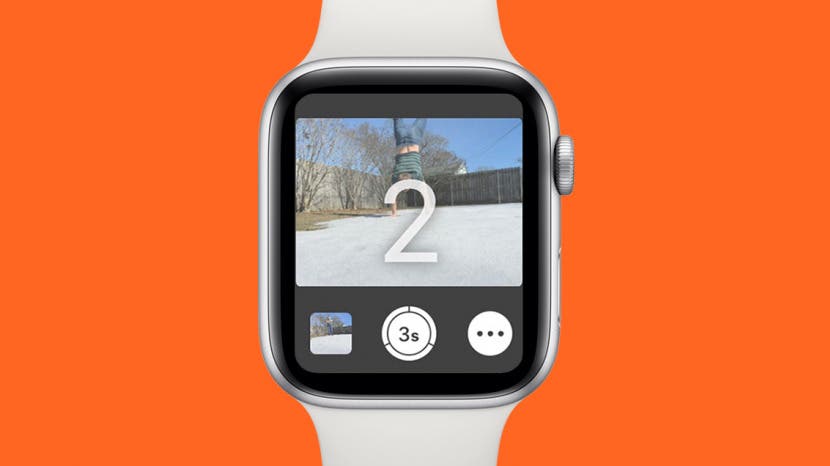 Taking selfies can be challenging because, similarly to the T-Rex, our arms always aren't long enough. The Apple Watch has many valuable features. You can even use it as an iPhone camera remote. Learn how to use your Apple Watch camera app to time and capture the best selfies.
Related: Apple Watch Won't Update? Here's How to Fix It.
Jump To:
Unfortunately, the answer to the question "Does Apple Watch have a camera?" is no. The only comprable device that gives your Apple Watch photo capabilities is the Wristcam. The purpose of the Apple Watch Camera app is to function as an iPhone camera remote. To begin taking photos using your Apple Watch:
Position your iPhone and photo subject to take the picture you want. Prop your phone up or use a tripod.


 
Press the Home Button on your Apple Watch Digital Crown. This will show you all your apps. You can zoom out to see more apps by scrolling using the Digital Crown wheel.


 

Tap the Camera icon to launch the app on your Apple Watch. It should automatically open the Camera app on your iPhone.


 
Tap the Shutter button to take a photo. There will be a three-second countdown before the picture is taken.


 

You can view the recently-taken photo on your watch by tapping the image thumbnail. Please note that this will not show the entire image as your Apple Watch has a different aspect ratio from the photo.


All photos taken using your Apple Watch will be immediately stored on your iPhone or uploaded to iCloud. Unless you enable your Apple Watch to sync photos from your iPhone, you won't be able to view them on your watch. To learn more about the Apple Watch, sign up for our free Tip of the Day newsletter.
Depending on your device's model, you may have trouble connecting your iPhone's camera to the Camera app on your Apple Watch. It can help to open the Camera app on your iPhone first and then tap the Camera icon on your Apple Watch. 
If the Camera app on your Apple Watch shows a black screen, try pushing the shutter button to take a test photo. If it still doesn't show what your camera should be seeing, close the Camera app on both devices and try to open them again. It can take several tries to get them synced.
There are several photo settings to consider when taking selfies or other types of photos with your Apple Watch. The Apple Watch Digital Crown functions as a zoom. Don't forget that on newer iPhone models, you can zoom in and out when taking photos. Learn how to zoom in and out when taking selfies on an iPhone.
Tap the three-dot icon to see more options.


 
Here you can disable the three-second timer by using the toggle.


 

You can also switch from Front to Rear camera. 
Pro tip: Since you can roughly see what the photo will look like, use the Rear camera whenever possible as it takes higher quality photos.


 
You can also turn flash from Auto to either always On or Off.


 

You can also enable or disable Live Photo or leave it to decide automatically.


 
Finally, you can use your Apple Watch Camera settings to turn HDR on or off. If you have enough storage space on your phone, I recommend leaving it on for the highest quality captures.


The Apple Watch timer is great for taking selfies and group photos because it gives you time to pose. Plus it can take some great action shots while you rock climb, surf, do some skateboard tricks, or anything else that floats your boat. 
It is also useful to capture wildlife without scaring it away. Finally, you can use it for stage photography because you can position your phone near the stage and return to your seat. 
Taking photos with your Apple Watch is great because it functions as an iPhone Camera remote. You can take far-away selfies by propping up your phone or using a tripod. Using the three-second timer, you have the time to get in your pose. You can even use your Apple Watch to change your iPhone Camera settings as needed. Next, learn how to take a picture or video on your iPhone using Siri!