Portrait mode on the iPhone is a great way to take beautiful photos with a depth-of-field, or Bokeh, effect. Here's how to use Portrait mode on your iPhone!
By

Conner Carey
Updated 11/17/2022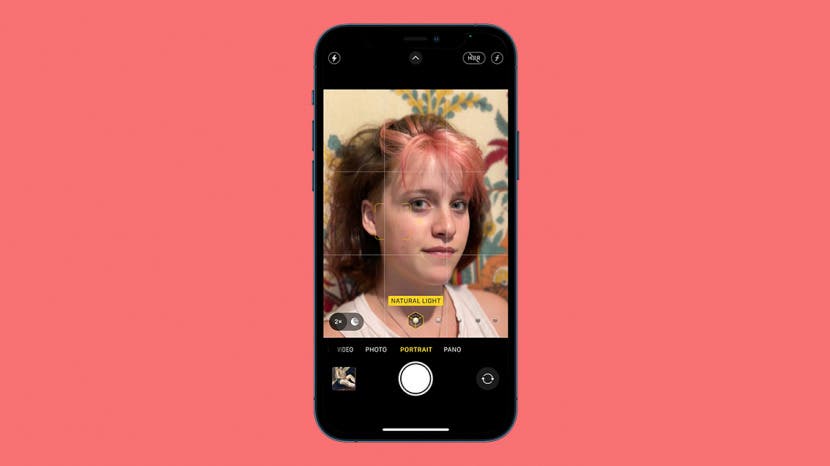 * This post is part of iPhone Life's Tip of the Day newsletter. Sign Up. *
What is Portrait mode on an iPhone, and what does Portrait mode actually do? Portrait mode lets the iPhone camera focus on your subject and blur the background, creating a stunning depth-of-field effect. Here's how to use Portrait mode on an iPhone!
Related: Related: What Is HDR & How to Use It on Your iPhone Camera
Why You'll Love This Tip
Improve your portrait photography.
Take beautiful headshots, pet photography, and nature shots.
How to Use Portrait Mode on iPhone
How do I get depth of field on my iPhone camera? Use Portrait mode! Portrait mode in the iPhone's Camera app sharpens the subject in the picture and blurs the background to mimic the bokeh effect. Portrait mode is great for taking headshots, nature and pet photography, and any other photo where you want the subject to stand out. Portrait mode is available on all iPhones with dual rear-facing cameras, meaning the iPhone 7 Plus and later. Here's how to use Depth of Field on an iPhone. For more great iPhone photography tutorials, check out our free Tip of the Day. 
Open the Camera app.


Tap Portrait in the menu above the Shutter button.


Select your photo lighting. There are several choices, including Natural Light, Stage Light, and even black and white options!


If you're too far away from your subject, your iPhone will say Move closer; move closer until the notification disappears. 


Tap the Shutter button when you're ready to take your photo.


You can remove Portrait mode and turn the photo back into a regular photo if you'd like. If you enjoyed this tip, you might also want to learn how to crop photos, and how to use the timer on the iPhone camera.