By

Olena Kagui
Mon, 06/05/2023
What to Know:
Apple's iOS 17 announcement was packed with practical updates such as interactive widgets, Live Voicemail transcripts, and better autocorrect. 
Customization was also a big theme, introducing personalized Lock Screen-style Contact posters and turning photos into custom stickers.
There are only a few brand new features, such as Journal for mental health, cat and dog recognition in Photos, and StandBy view.
At the June 5 WWDC Keynote, Apple announced iOS 17 alongside other software updates, new Mac devices, and Apple Vision Pro. While iOS 17 is a more practical update with few new features, there are many great updates to the apps we use most: Phone, Messages, FaceTime, Photos, Health, and more. Keep reading to see the many ways these updates will change the way you use your iPhone this fall.
While many Apple fans felt like the iOS 17 announcement was sparse on new features and was more practical rather than groundbreaking, there's still a lot to look forward to once the update becomes officially available to the public this fall. The good news is that Apple has finally addressed a lot of pain points by making it easier to find apps in the Messages app and adding Live Voicemail transcripts. Read this to learn more about the annual WWDC event, or the Worldwide Developers Conference, and how to watch it.

Discover your iPhone's hidden features
Get one daily tip each day (with screenshots and clear instructions) so you can master your iPhone in just one minute a day.
When Is the iOS 17 Release Date?
The public iOS 17 release date will happen this fall, likely in mid-September. If you're an early adopter, Apple will release a beta version of iOS 17 to the public in July.
iOS 17 Compatibility
Everyone with the following iPhone models will be able to download and run iOS 17. A few iOS 17 features will only be available on newer iPhone models.
iPhone 14, iPhone 14 Plus, iPhone 14 Pro, and iPhone 14 Pro Max
iPhone 13, iPhone 13 mini, iPhone 13 Pro, and iPhone 13 Pro Max
iPhone 12, iPhone 12 mini, iPhone 12 Pro, and iPhone 12 Pro Max
iPhone 11, iPhone 11 Pro, and iPhone 11 Pro Max
iPhone XS and iPhone XS Max
iPhone XR
iPhone SE (2nd generation or later)
Unfortunately, iPhone X and older models will not support iOS 17. Apple claims that the main reason for this is that the older devices are unable to support the necessary level of security necessary for some of the new iOS 17 features.
iOS 17 Updates to Phone, Messages, FaceTime & AirDrop
iPhones can do a whole lot more than make calls and text, but these are the key features of any phone. The iOS 17 update made a lot of upgrades to the Phone, Messages, FaceTime, and AirDrop, addressing pain points that have plagued iPhone users for years. These include Live Voicemail transcripts, the safety feature Check In, swipe to reply to specific text bubbles in Message threads, search filters, audio message transcripts, NameDrop for sharing contact information, and more!
Phone App
Customize your Contact Poster so the recipient of your call sees your photo or Memoji and the font and color of your name exactly the way you want them to.
See the Live Transcript of any voicemail as it's recorded so you can see at a glance if it is urgent or can wait.
Messages App
A new Plus button helps you find all your iMessage apps in one place, with your most-used apps listed at the top.
Set up a safety Check In to tell your friends that you got home safe, with automatic reminders and notifications about your location and battery life if you don't confirm your safe arrival.
Navigate faster to the first unread message in a conversation by tapping the catch-up arrow.
Swipe right on any message bubble to respond in-line to keep conversations easier to follow and read.
The Messages search bar now has filters to help you quickly find exactly what you're looking for.
See transcriptions of audio messages if you are in public or can't listen to them out loud.
Share and see shared locations easily within your conversations for easier meetups.
Easily see and access all your stickers, including Memoji, emoji, and Live Stickers, in one place: your new stickers drawer. You can access the stickers drawer in Markup and anywhere else you use emojis. 
Create your own unique stickers using your photos and the background-removal feature.
The keyboard gets an update too, with better autocorrect that is more accurate, lets you revert auto-fixed words with a tap, and suggests entire sentences.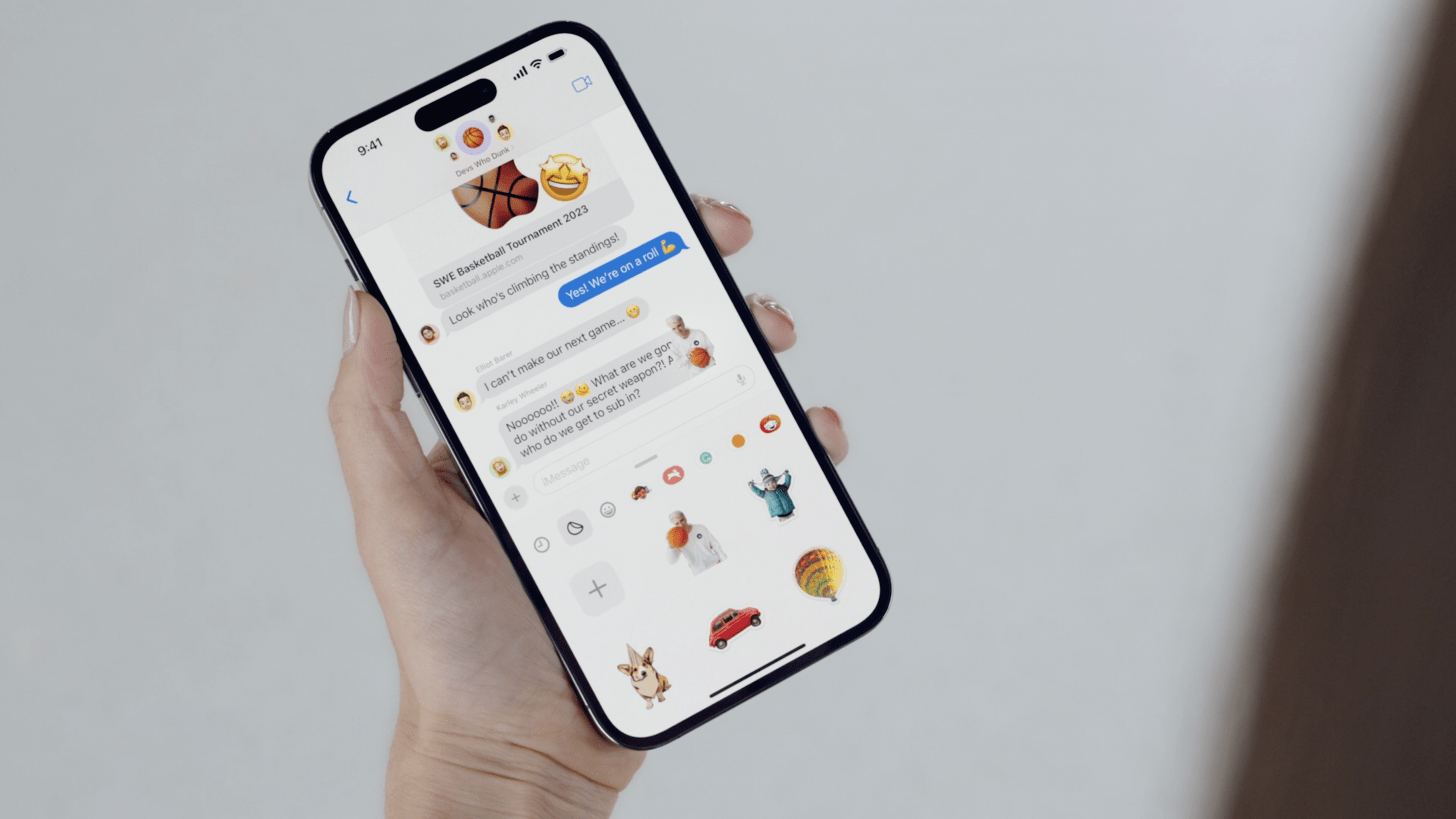 FaceTime App
If someone is unable to take your FaceTime call, you can now leave a video message that's just like a voicemail but with video!
iPhone 12 and newer models will let you react to messages with 3D augmented-reality effects using hand gestures.
Handoff your FaceTime call from your iPhone to your Apple TV to see your loved ones on the biggest screen in your home.
AirDrop
AirDrop's new feature, the delightfully titled NameDrop, lets you share contact information with new friends simply by bringing your phones close together.
All you need to do is hold your iPhone next to someone else's, and you'll be able to tap to exchange your contact information.
You can also share contact info via NameDrop between iPhone and Apple Watch.
Use SharePlay to enjoy movies, music, and more with friends the same way: just bring your phones close together to start sharing.
Start an AirDrop by bringing two phones together and finish online at a distance if you need to part ways before the transfer is complete.
Brand New Features: Journal App & StandBy
Apple has been adding new features to the Health app with almost every update. iOS 17 is introducing the Journal app for digital journaling, which can be great for your mental health! Not only will users who journal with this app get reminders to reflect on their day, but they'll also be able to easily incorporate content from other apps, such as Photos, Fitness, Calendar events, and Contacts that they interacted with that day.
Another exciting update is StandBy, a new full-screen landscape view of your phone that's similar to Nightstand Mode on your Apple Watch. StandBy will look familiar to anyone who has seen the smart displays on Amazon's Echo Show or Google's Nest Hub. StandBy is enabled when the phone is charging in a horizontal position and is perfect for your bedside table or as a less distracting way to use your phone at work. StandBy lets you pick what you want to be displayed on your Lock Screen, such as Live Activities in full screen, the time, the current weather, or a timer at a glance.
Other iOS 17 Updates
Other iOS 17 updates include an upgrade to widgets, making them interactive. Plus, iOS 17 made improvements to Spotlight search, privacy and security settings such as sensitive content warnings, Visual Look Up in videos, find recipes in a photo, and so much more! To keep updated on all the new iOS 17 features and how to use them, don't forget to sign up for our free Tip of the Day newsletter.