This super cool iPhone editing hack will let you remove the background from an image and paste that image wherever you'd like!
By

Rachel Needell
Updated 10/13/2022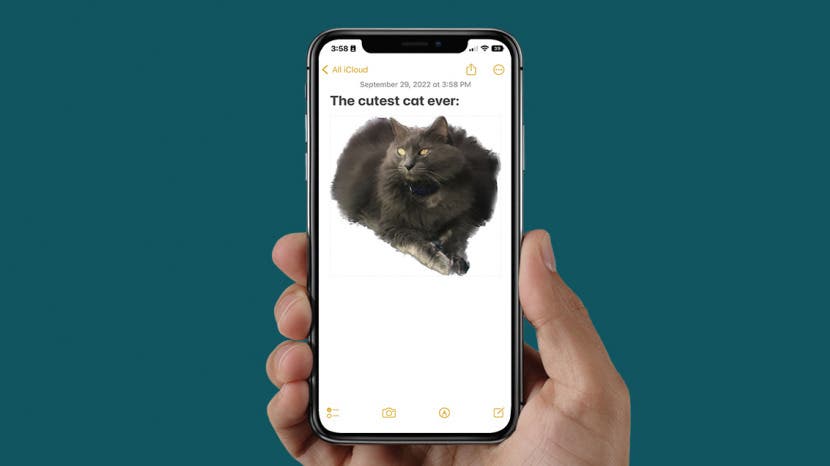 * This post is part of iPhone Life's Tip of the Day newsletter. Sign Up. *
One of iOS 16's most exciting new features is the ability to cut out an image from a photo and paste it somewhere else, almost like creating a sticker. And the best part about this super fun tip is that it's also super easy! Using artificial intelligence, you can use your iPhone to perfectly crop an object out of a picture without having to learn Photoshop.
Related: How to Get Rid of the Search Bar on Your iPhone Home Screen in iOS 16
Why You'll Love This Tip
Quickly and seamlessly remove the background from an image on iPhone and paste or share the new image wherever you'd like.
Create stickers of your loved ones, pets, and objects to paste in Notes or online for both practical reasons and just for fun!
How to Cut Out an Image on iPhone
The iOS update made it super easy to cut items, objects, or people out of an image and make the background transparent. If you haven't updated your iPhone to iOS 16, make sure to do so before starting this tip. If you like cool tips and tricks like this about how to use your Apple devices, be sure to sign up for our free Tip of the Day! Here's how to cut something out of a picture on iPhone.
To remove an image from its background, open your Photos app.


Select a photo you'd like to cut out an image from.


Tap and hold on the image in the picture; you will see the object outlined in silver. Tap Copy or Share.


Now, you can paste or share the image anywhere you'd like!


And that's how you remove an image from its background. This is a super-fun and simple trick that I find myself using all the time now. Although the AI isn't perfect and doesn't always cut out exactly the image you'd like, it's pretty impressive how close it gets and how quickly it works. It even gets the general outline of my extremely fat and fluffy cat, albeit a bit blurry. I hope you have as much fun with this feature as we have been having here!