By

Conner Carey
Updated 07/26/2023
What to Know
Anyone with an iOS 17-compatible iPhone can sign up for the iOS 17 beta program.
Make sure to back up your device before installing the beta iOS.
Go to the Apple Beta Program website, tap sign up, and follow all prompts.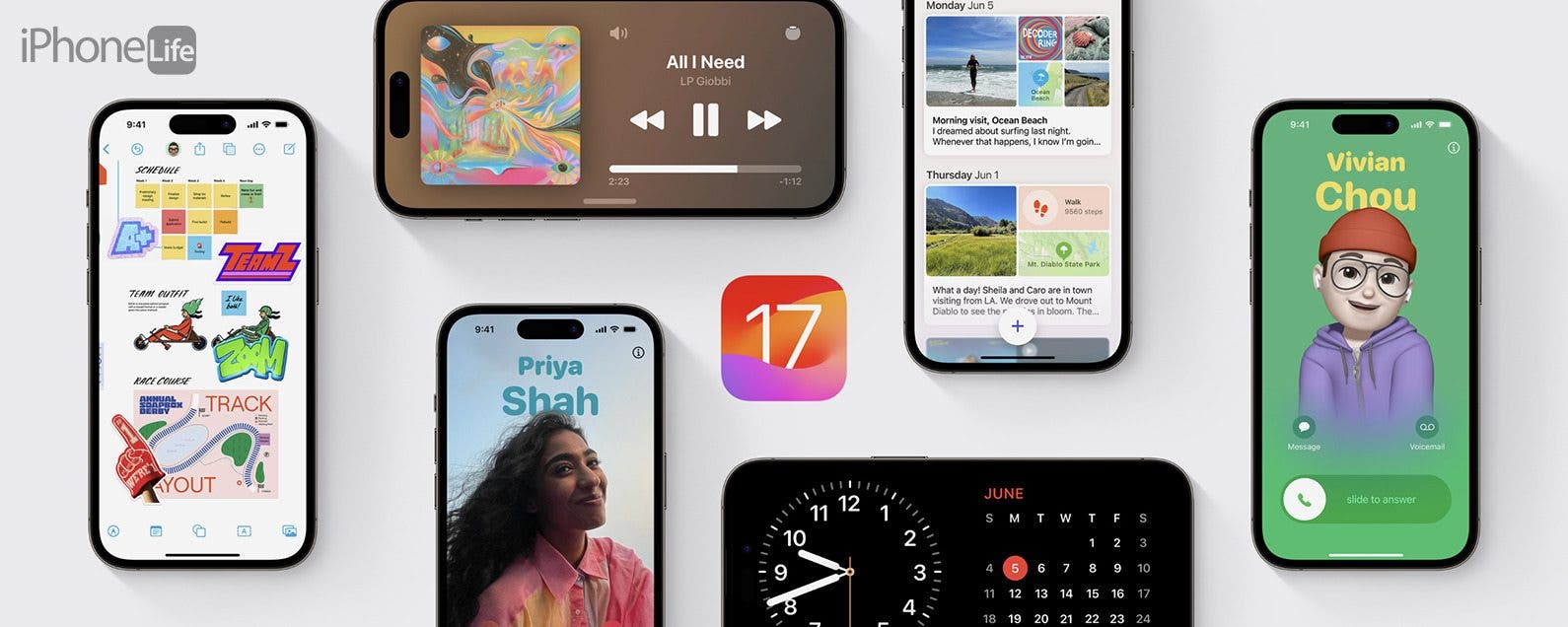 The iOS 17 public beta is coming soon. The Apple beta program software isn't ready for prime time yet, so if you download the iOS 17 beta, you'll get the first look at all the new features, but you'll also experience bugs and glitches. If you'd rather not deal with a rough-around-the-edges operating system, I'd advise waiting for the finished operating systems to be released. Now let's go over how to download the beta profile and participate in iOS 17 beta testing. 
Jump To:
iOS 17: Who Can Participate in the Apple Beta Program?   
How do you become a beta tester for iOS? If you own one of the following iPhones, you can download and run iOS 17 beta; it's that easy! We're here to help if you're wondering what kind of iPhone you have. For more great iOS tutorials, check out our free Tip of the Day.
iPhone 14, iPhone 14 Plus, iPhone 14 Pro, iPhone 14 Pro Max
iPhone 13, iPhone 13 mini, iPhone 13 Pro, iPhone 13 Pro Max
iPhone 12, iPhone 12 mini, iPhone 12 Pro, iPhone 12 Pro Max
iPhone 11, iPhone 11 Pro, and iPhone 11 Pro Max
iPhone XS and iPhone XS Max
iPhone XR
The new iPhone line (coming this fall)
Is the iOS 17 Beta Download Safe? What Are the Risks?
Now that Apple has showcased all its new software during WWDC 2022, the anticipation may be too high to wait until fall. And these days, signing up for Apple's beta program is easy. But remember that iOS 17 in this stage is Apple's unfinished beta software. So there are some pros and cons to consider before you join the Apple beta software program.  

Discover your iPhone's hidden features
Get one daily tip each day (with screenshots and clear instructions) so you can master your iPhone in just one minute a day.
Pros:
The best part? You don't have to wait until iOS 17 is released to the public! That means you'll see the best new features first. You will also see a Feedback app on your Home Screen. This app allows you to report any issues or bugs in the software directly to Apple, so you can be a part of improving iOS 17 for everyone.
Cons:
Of course, the public beta is how Apple works out the many issues and bugs in the software before it's officially released, which means you're the one experiencing those bugs and bringing them to Apple's attention. 
My Take: 
I would really rather not install beta software, but I do so because I need to write and revise articles like this one. Essentially, I'm not an early adopter and like to use my device without apps crashing, which was my main issue with previous beta software. If you enjoy being the first to try new things, you'll love being a beta tester. If you'd rather wait for the smoothest possible experience, you'll hate it. 
Ready for Installation? Read This First
If you're going to sign up for Apple's public beta testing, I highly recommend using a secondary device. If you don't have a secondary device, then I implore you to make a new backup of your device before installing the public beta. Should anything happen while beta testing iOS 17 and you want to return to iOS 16, you'll need to restore that backup to your iPhone.
How to Sign Up for Apple Beta Testing (iOS 17) 
The Apple Beta Program signup process is fairly straightforward:
To update your iPhone to Apple's latest operating system, make sure to back up your device to iCloud or back up to your computer. If you have an older Mac that can't be updated to macOS Catalina, macOS Monterey, or the latest version, macOS Ventura, you can back up to iTunes. After you've made your backup: 
Plug your device into power and make sure you're connected to Wi-Fi.
Visit the Apple Beta Program page and tap sign up, or sign in if you've previously participated with an earlier beta version of iOS. 



You'll be prompted to sign in with your Apple ID and password or Face ID.


Tap Accept to agree to the iOS beta agreement.


You'll be taken to a Guide for Public Betas. If you haven't downloaded a public beta before, scroll down, tap enroll your iOS device, and follow the prompts.

From here, everyone with iOS 16.4 and later will go into their Settings app. If you have iOS 16.3 or earlier, follow the instructions below instead.



Tap General.


Tap Software Update.



Tap Beta Updates.


Tap to enable beta updates. They will show up in Software Updates when available, and you can install them as you would a regular update.


Once you have turned beta updates on, a new app, Feedback, will appear in your App Library. You can use this app to provide feedback about how the beta OS performs.
If you have iOS 16.3 or earlier
Follow the link provided or tap Download profile to download the configuration profile, then tap Allow. 


You'll see a Profile Downloaded notification; tap Close.



Open the Settings app on your iPhone.


Tap General, then Software Update. 



Tap Install.


Tap Install once more, then one final time.



Tap Restart.


Open the Settings app, tap General, then tap Software Update again. 

You'll see a notification like the one in the image below, with a blue line indicating download progress.


Your iPhone will go to a black screen with the Apple logo and a progress bar; the device will reset once the update completes. 

You'll notice a new app called Feedback; this is where you can report bugs and glitches to Apple. Accept the terms, sign in with your Apple ID, and you're good to go!
Welcome to iOS 17 Public Beta!​
How to Remove iOS 17 Beta from iPhone
If you've been experiencing bugs and glitches since joining the Apple Beta Software Program, you're probably wondering, "How do I get rid of the Apple beta program?" To uninstall iOS 17 beta software on your iPhone, you'll need to restore your device from the backup you made prior to your beta fling. Luckily, we have an article that can walk you through restoring your iPhone from a backup and removing beta software from your phone.