By

Rachel Needell
Updated 04/11/2023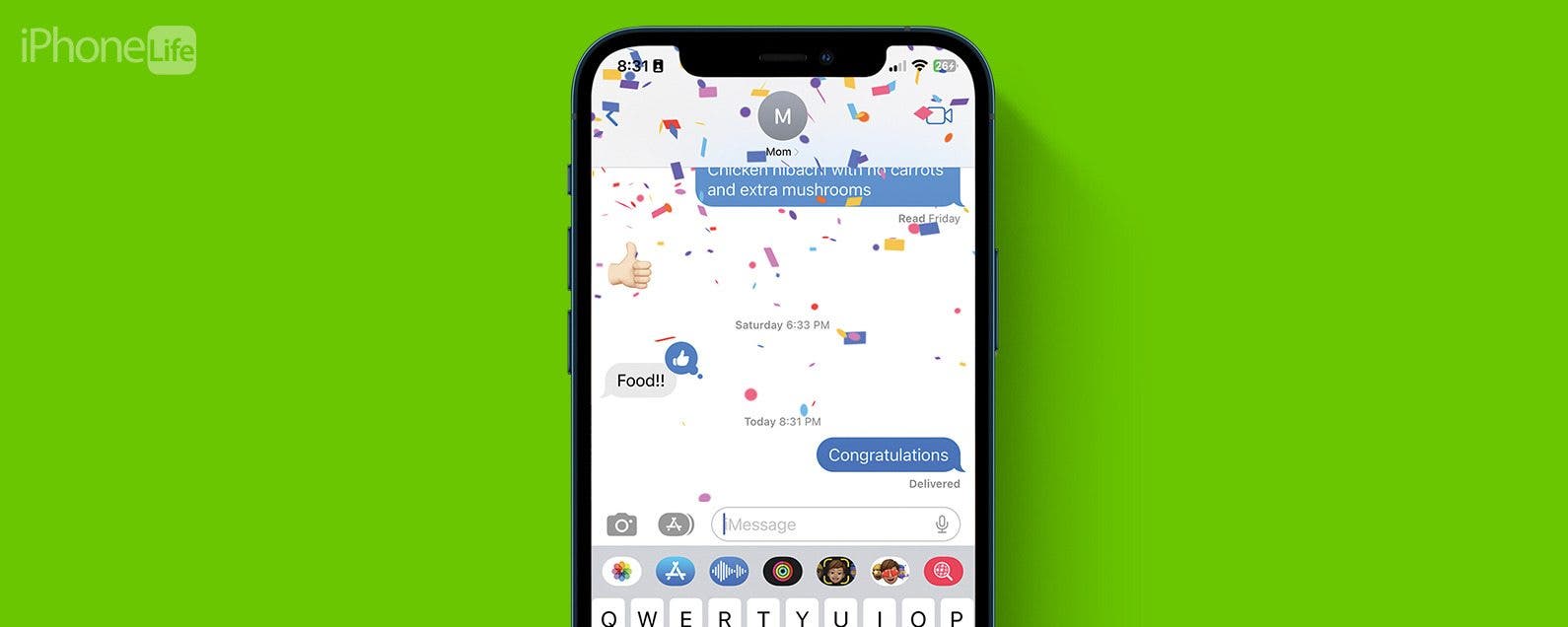 * This post is part of iPhone Life's Tip of the Day newsletter. Sign Up. *
You may have heard of Message Effects, the fun animations you can add to any text sent through the Messages app by pressing and holding the blue send button. But do you know the secret code words you can type to automatically trigger iPhone text effects? Not only is this a fun way to impress your friends, iMessage tricks are a super convenient way to make your messages a bit more snazzy with basically zero effort. 
Why You'll Love This Tip
Quickly send cute or fun message effects for someone's birthday or celebration by using a secret code word.
No need to go looking through all the animations built into iMessage. Using the code words is a massive shortcut!
Related: 7 Fixes for When Camera Is Not Working on iPhone (2023)
How to Send iPhone Text Effects in iMessage
You may have accidentally stumbled upon the hidden code words that trigger iMessage tricks, but I will provide you with the full list of code words to use the next time you want to send a pretty animation. If you like tips about how to use your iPhone, be sure to sign up for our free Tip of the Day! Here are all the words that trigger effects on iPhone.
On your iPhone, open the Messages app.


Choose any one of the code words below and send your message. You will see the effect produced immediately. Now, I will reveal the secret code words and their effects:

'Pew pew' – laser light show


'Happy birthday' – balloons



'Congratulations' – confetti


'Happy New Year' – fireworks



'Happy Chinese New Year' – red explosion


'Selamat' – confetti


Note: If you have trouble getting this to work, it's possible that you have Reduce Motion turned on, which would prevent this feature from working. Go to the Settings app > Accessibility > Motion > Reduce Motion > and be sure Reduce Motion is toggled off. (The toggle will be gray and to the left when disabled.)
And that's all there is to it! Hopefully, you can have some fun with friends with this hidden tip!