By

Olena Kagui
Updated 10/23/2023
Are you wondering what you can do on an Apple Watch Ultra with the Action Button? This new customizable button offers a quick way for you to access your favorite watch features with the click of a button. No other Apple Watch model to date has an Action Button, and none of the existing buttons offer this level of personalization. I'll teach you all the different ways to use the Action Button, leaving the best for last, so make sure to read until the end!
Jump To:
How to Customize Your Action Button on Apple Watch Ultra
Before I explain every customization option, you need to learn how to configure your Action Button. It doesn't matter if you already picked an Action during the initial setup or skipped it for later; the configuration process is the same:
On your Apple Watch, open Settings.


Scroll down and tap Action Button.



If you've already selected one, you'll see it at the top. Tap it to see the menu with other options.


If you're doing this for the first time, you'll see this menu in step 3. From here, select one of the options. I'll cover each one in this article; feel free to skip to the section that interests you most! Tap one of the options to select it.



Then tap the arrow to go see how to use it or further customize it. Some actions have more customization options than others; I'll demonstrate this with Workout.


If you have multiple compatible workout apps, you'll be able to pick which one the Action Button opens. To do this, tap App.



Then, select your preferred app.


Tap the arrow to go back.



Next, tap First Press. Here you can pick what happens after you've pressed the Action Button already. The language is a little confusing, but you'll get the hang of it.


If you tap Start a Workout, and you'll see more options appear below WORKOUT.



Scroll down and tap your favored or most used compatible workout. Keep in mind that not every workout can be selected here, and also watch for the gray text under the activity, as this list shows the same activity with various goal options. If you scroll to the very bottom, you'll see more specific workouts, such as 1 min Hill Repeats or 1 Mile Repeats. I will select Outdoor Walk Open Goal as I use this one the most.


Tap First Press to return to the main menu. Next, scroll down to learn how to use the button. Since every Action is so different, this is a useful way to learn how to utilize it fully.



Scroll to the very bottom until you see SIREN. Here you can decide if you want to activate it by Holding the Action Button. I chose to keep this toggled on as it is by default because I like the peace of mind of having the siren so accessible in case I am injured. However, if I notice that I keep accidentally activating it, I may decide to toggle it off. Read more about the Apple Watch Ultra Siren here.


Pro Tip: If you hate the Action Button and want nothing to do with it, please read this article and see if I can convince you otherwise. If you still don't want to use it, return to step 3 and scroll to the very bottom, and select None. When the time comes for me to write the new Apple Watch guide for iPhone Life, I may do this while I'm working on the images because I keep accidentally activating other features because I'm so used to placing my thumb where the new Action Button is to take a screenshot on my Apple Watch. Don't forget to sign up for our free Tip of the Day to learn more hidden features and get notified about the release of our popular Insider guides!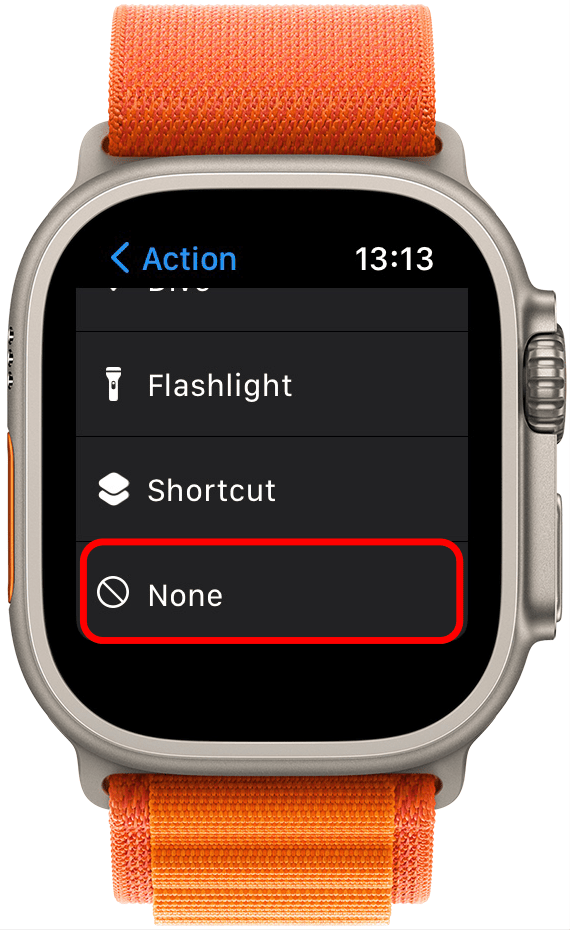 Discover your iPhone's hidden features
Get a daily tip (with screenshots and clear instructions) so you can master your iPhone in just one minute a day.
That's it! Now you know how to customize your Apple Watch Ultra's new Action Button. Next, find out how to customize the Action Button on the iPhone 15 Pro and Pro Max.
7 Coolest Ways to Use Apple Watch Ultra Activity Button
Now that I've covered how to customize your Apple Watch Ultra's new Action Button, let me show you the seven best ways to personalize it!
1. Never Get Lost Off the Beaten Path with Backtrack
If you enjoy off-road or off-path adventures, Backtrack is your new best friend! Pick Backtrack in your Action Button settings so that you can start recording your route with a click of the orange button.
The first time you do this, you'll have to enable Precise Location in your Settings on your iPhone under Compass app.
Once enabled, you start recording your route to retrace your steps! Remember that magnets in some Apple Watch bands may affect the Compass in your watch. If you expect to rely on it to get you home, consider picking a non-magnetic band to be extra safe. Tap the steps icon to begin recording your route.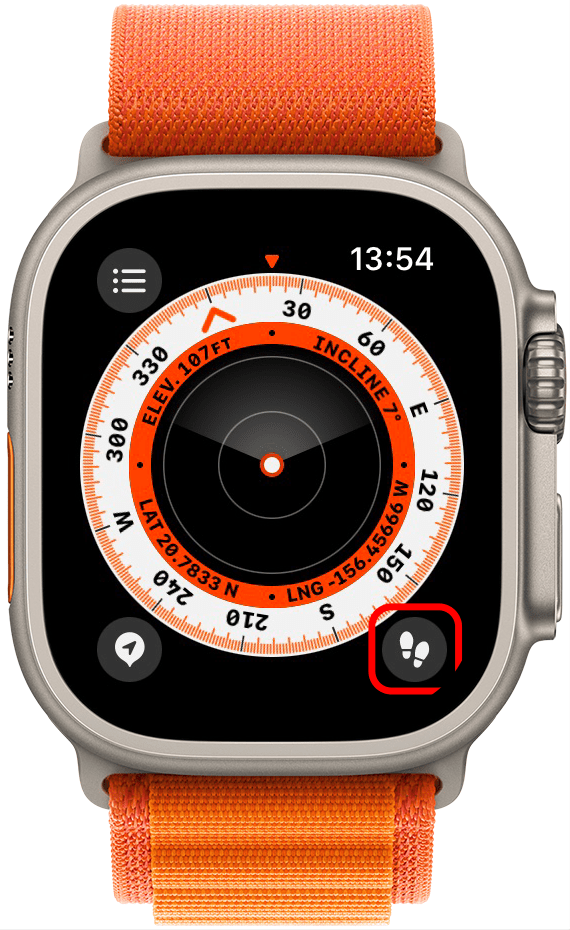 Once you want to return to the start of your route, tap the pause button or press the Action and Side buttons simultaneously, then select Retrace Steps. If you are confident that you know your way back or if you recorded a route accidentally, you can also tap Delete Steps.
Tap the Waypoint icon to label your exact location at that moment. I'll explain this more thoroughly in the next section because the steps are the same!
2. Drop a Waypoint on the Map to Find Your Way Back to a Special Place 
If you want to mark a special location on a map, for example, a great spot to pick an edible mushroom that is known to grow in the same place every year or the location of a buried time capsule, you'll want to select Waypoint in your Action Button settings.
Now, when you press the Action Button, you'll be able to label your current location and see it on a map with the exact coordinates.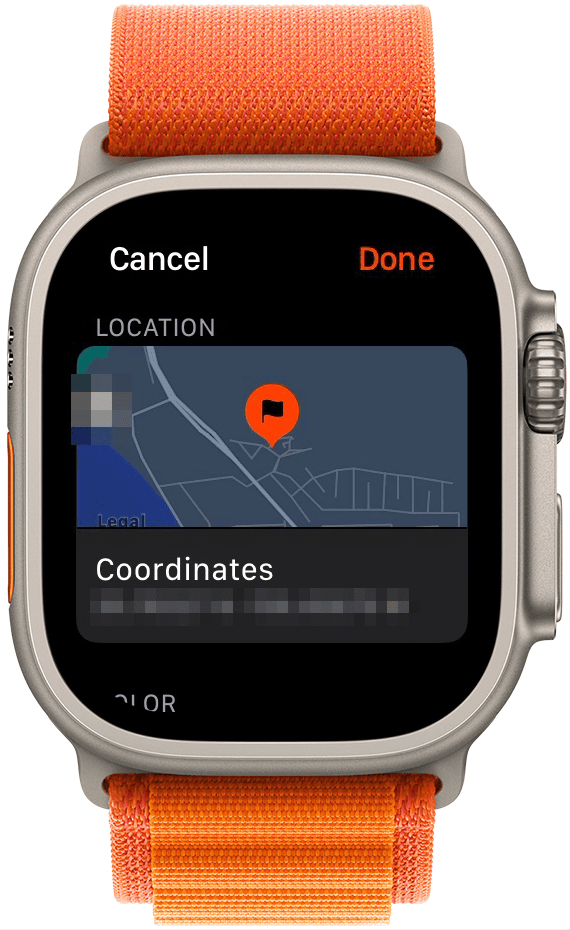 You will also be able to pick a color to color code all your marked locations.
Next, you'll be able to select an icon for easier reference. Unfortunately, there isn't a mushroom, which is disappointing, but maybe Apple will add some foraging icons in the future!
Finally, you'll be able to decide if you want your Waypoint to show up on a map or keep it a little more private.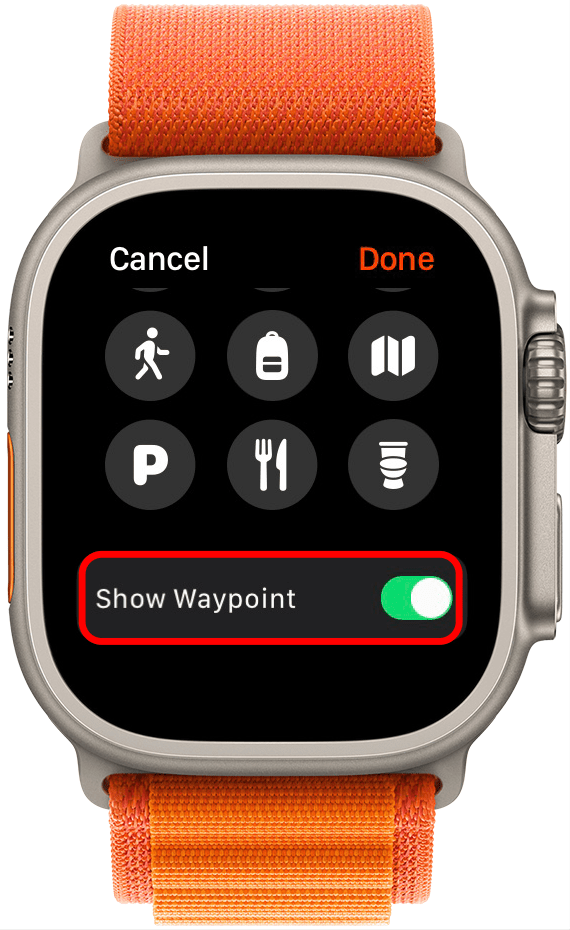 3. Start a Run with a 100 Calorie Burn Goal
To start an activity with a specific goal, you can review the steps in the 'how to customize your Action Button on your Apple Watch Ultra' section because I used it as an example. To recap, select Workout as the Action, then return to the main menu and tap First Press to see your options. 
Make sure Start a Workout is toggled on and scroll down until you see the gray text under the workout type showing specific goals. I see options such as 5x5 s, Tempo Run, 1 min Hill Repeats, 6 x 800m Repeats, 3.11mi (5k), 30 minutes, or 100cal, which I find the most intriguing! With this selected, pressing the Action Button twice will start the workout, and I'll get an alert once I've reached my goal of burning 100 active calories! How cool is that?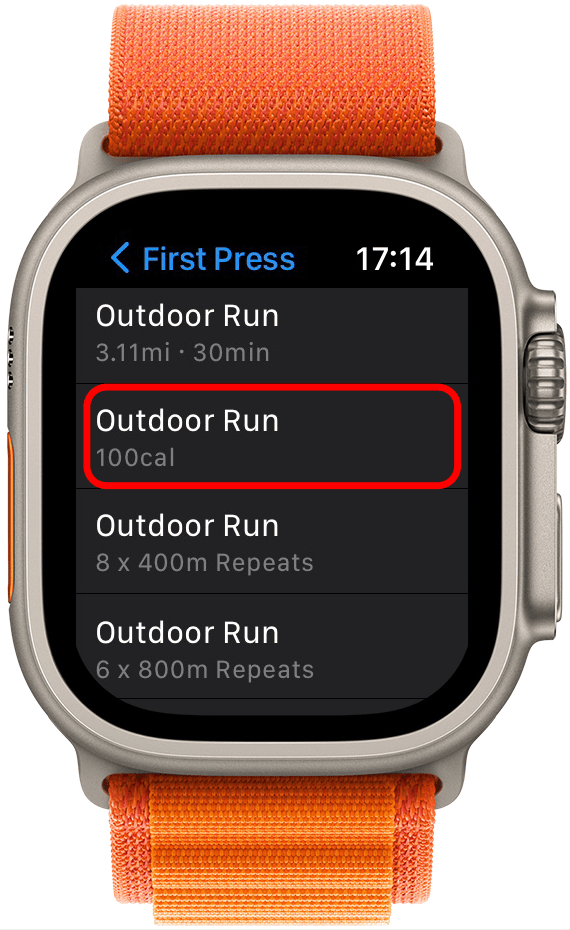 If you are a real athlete, are training for a special run, or just have an exercise minutes goal, you may find one of the other options more appealing!
Return to top
4. Mark a Lap with Stopwatch 
If you are training for a race or just against your best time in any activity (even if it's non-athletic like knitting or baking), Stopwatch is a great option to pick from the Action Button menu.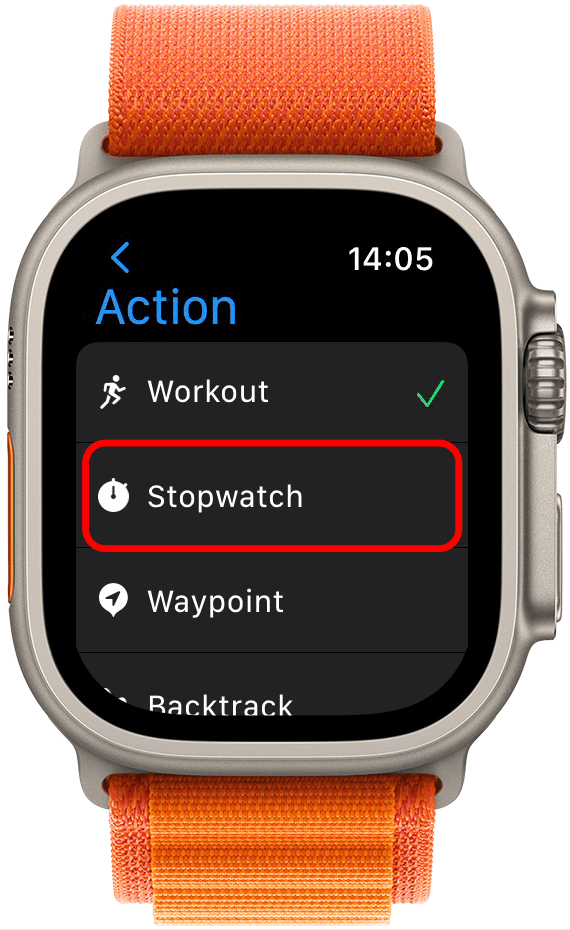 With this selected, you can press the Action button once to start your Stopwatch then again to stop it.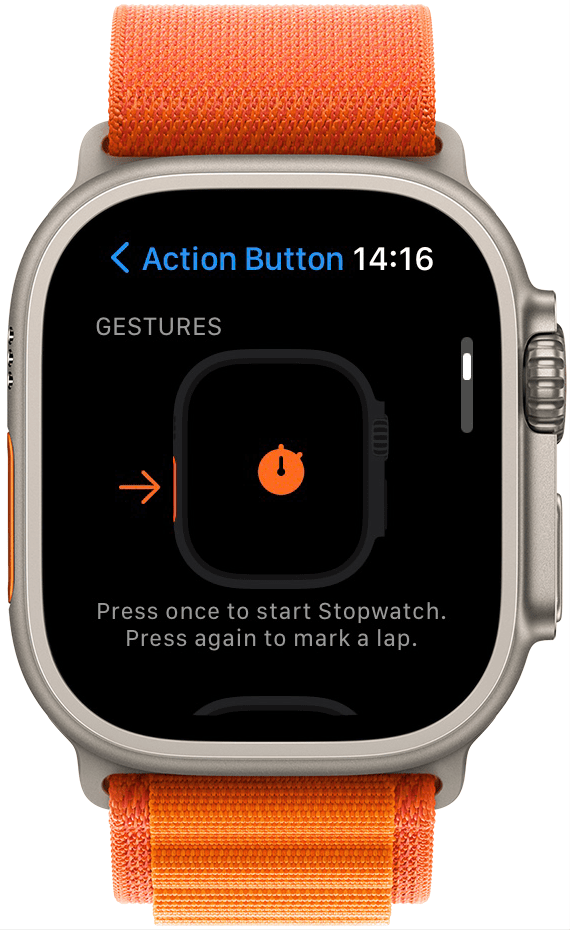 If you press the Action and Side buttons simultaneously, the stopwatch will be paused (or resumed).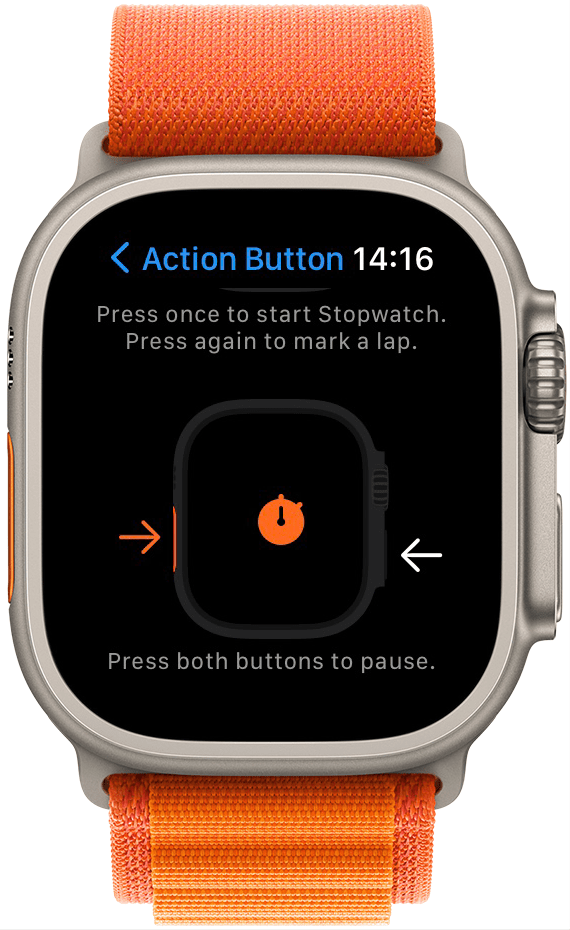 You can select different formats for your Stopwatch app that suits your needs best. Tap the text in the top left (that differs depending on the format you selected) to see or change these options. 
I like Graph for tracking sprints because it is a clear way to see your times and reflect on them.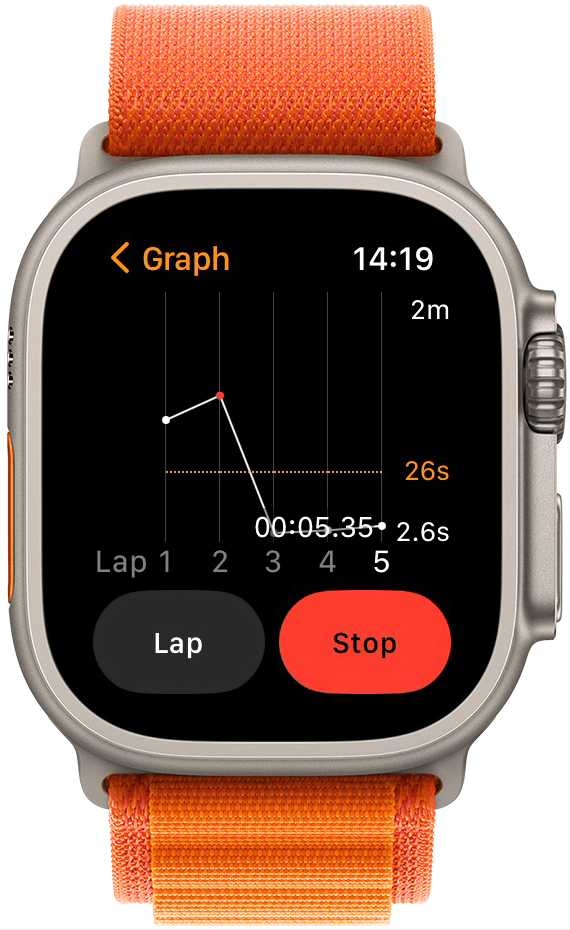 However, you might find that one of the other options suits you better!
Return to top
5. Turn Your Flashlight On & Off 
Since I rarely travel without my iPhone, I don't use the flashlight on my Apple Watch too often. However, I was intrigued by the option to set the Flashlight app as my Action Button.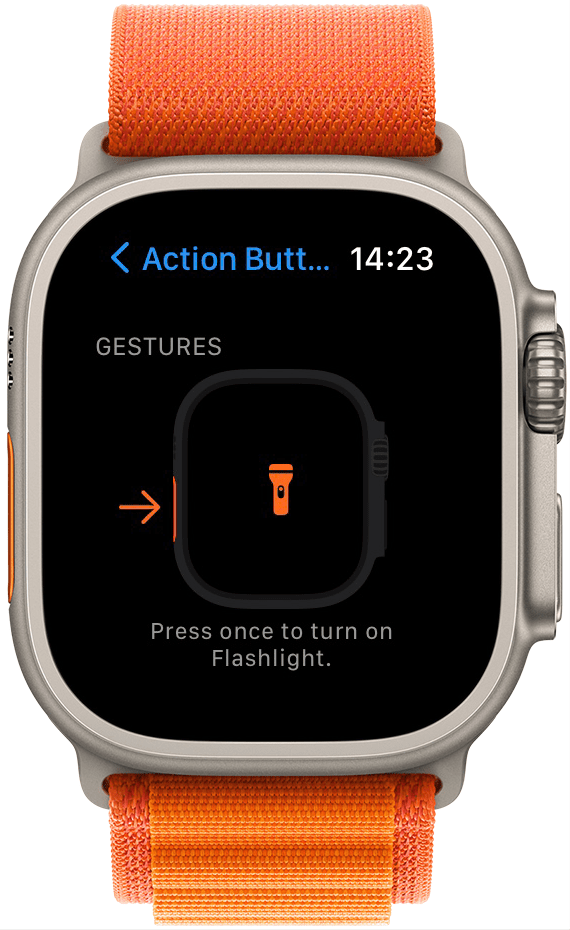 I can also see myself using it during a power outage since the Apple Watch Ultra has a much longer battery life than my iPhone. It could also be helpful on nighttime dog walks or for frequent cave explorers.
Return to top
6. Start a Dive or Perform Secondary Underwater Actions
What intrigued me the most about the Apple Watch was the Depth App that track the depth of a dive I just got certified to dive! I was already excited to track my dives with the watch, but discovering that I can pick Dive as an Action is even more exciting.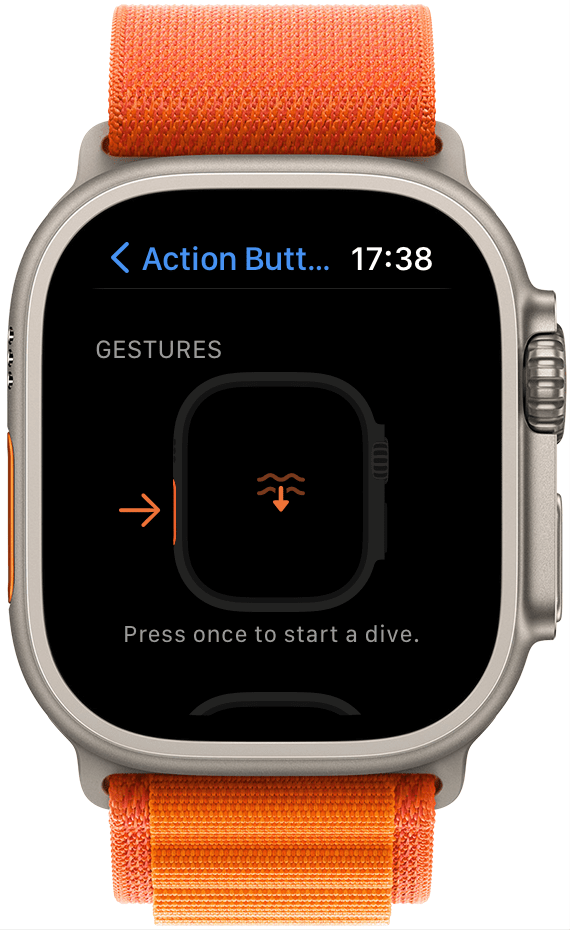 Right now, since I only have the native Dive app, I don't have any First Press options, so pressing the Action Button starts the dive and stops it, while simultaneously pressing the Action and Side buttons will pause it.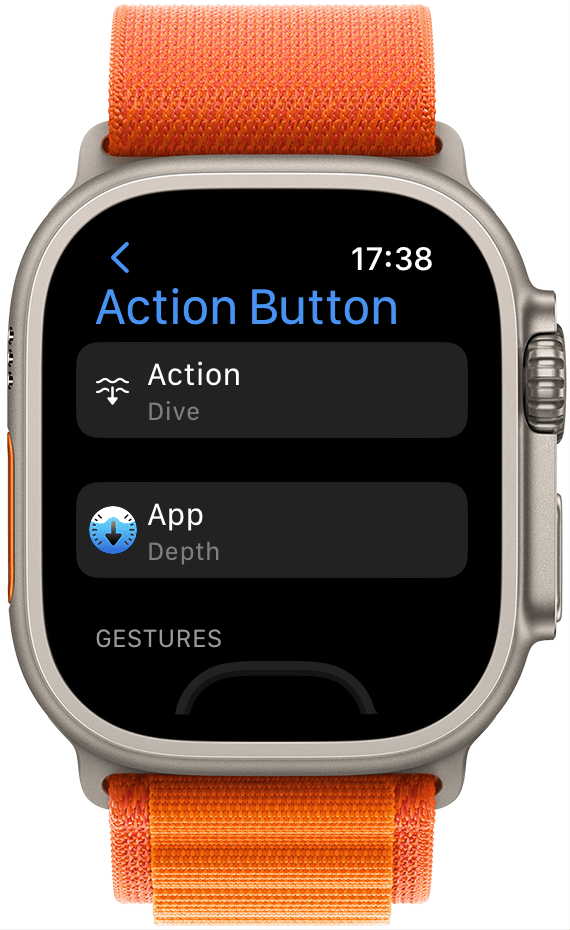 However, if you find a compatible app, you'll be able to activate a second action by pressing the Action Button. This is really exciting to me because you can't tap the display underwater, and this will be the only way to use my Apple Watch mid-dive. 
Return to top
7. Create a Shortcut for Your Bedtime Routine 
As promised, I saved the best (and hardest) Action for last! If you pick Shortcuts in the Action Button menu, you can make the button do almost anything, which is a little overwhelming. I decided to use it to create a bedtime routine because I'd like to automate the many little tasks I need to do before I can finally rest.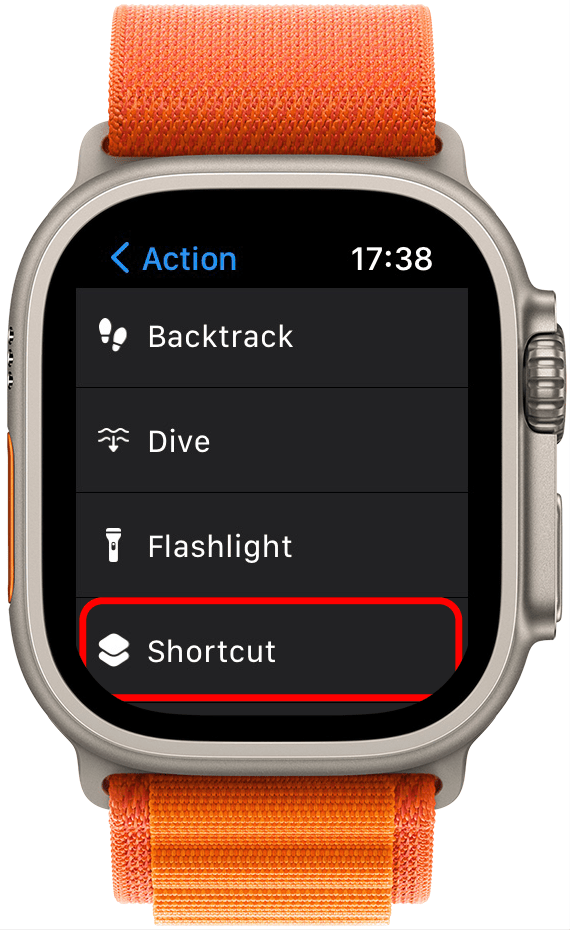 Next, you can pick which Shortcut runs when you First Press the Action Button. The first on my list is Shazam, which listens to any music playing near me and identifies the song. You can set up a shortcut to open any Apple Watch compatible app.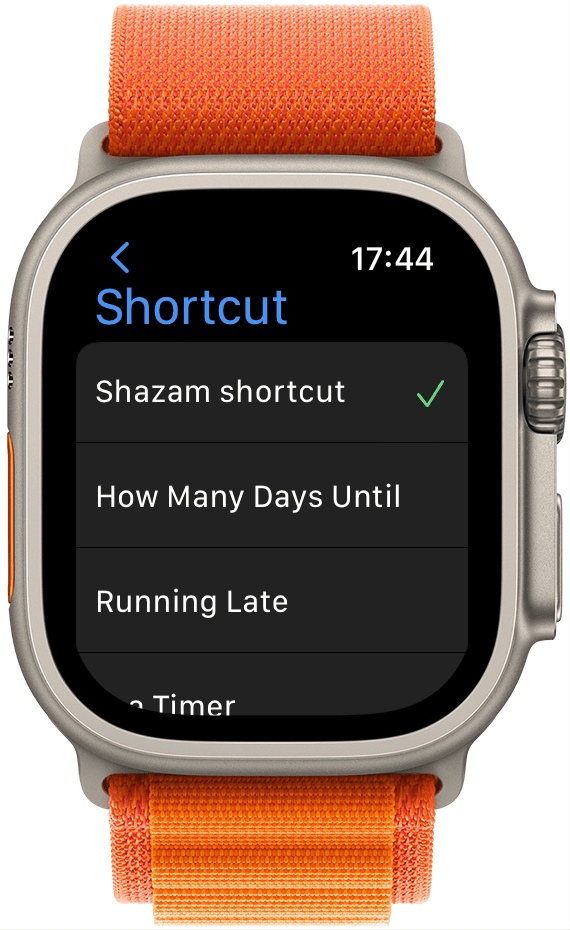 The caveat here is that in order to do what I'm about to describe, you need several hundred if not thousand dollars worth of smart home equipment. Before I blow your mind, I'd like to point out that a shortcut can also be something simple yet valuable, like sending your loved one an automatic good night text, setting your alarm, or ordering a pizza. There really isn't much you can't do with the Shortcuts app once you get the hang of it!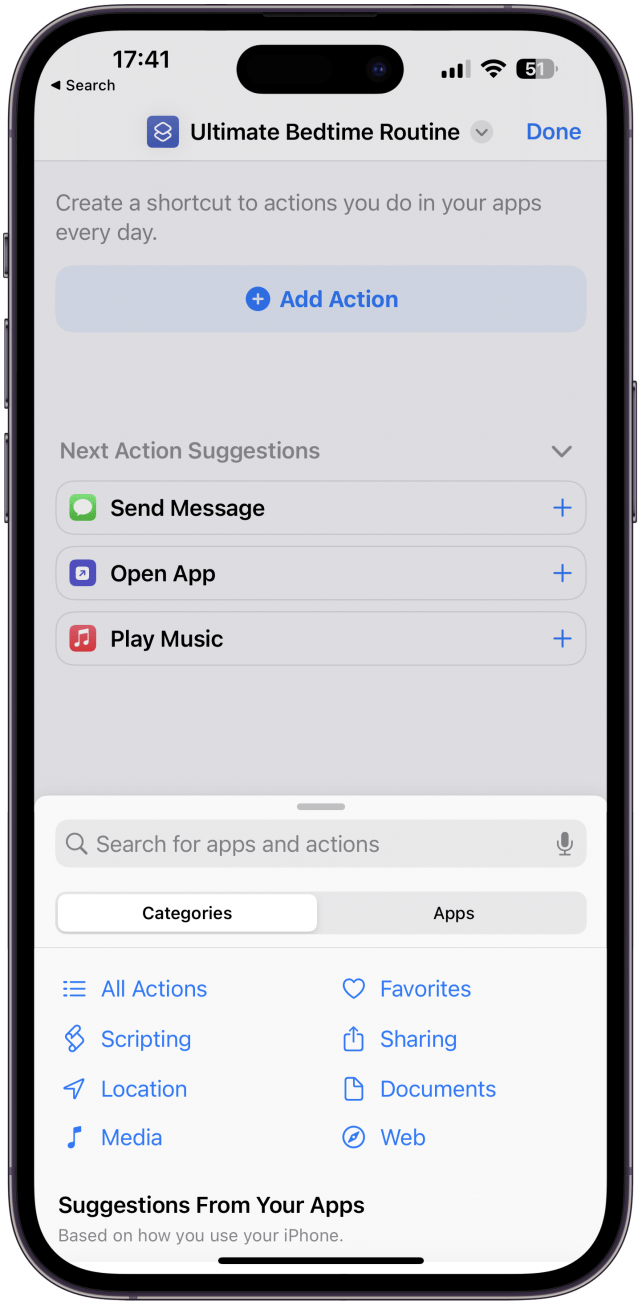 I won't get into the nitty-gritty because this would be a 100-step tutorial, but you can create a Shortcut on your iPhone to do an entire series of actions in order, one after another. The list of Actions below shows some great examples that can all be triggered in your preferred order with one press of your Action Button, as long as you have compatible devices and apps. Shortcuts can have your:
Homepods/smart speaker(s) start playing music or white noise
Lights turn off/on
Smart plug disable/enable your doorbell
AC turn on/off
Furbo toss your pet a treat/record a video
Heat turn on/off
Thermostat auto-set to a preferred day/night/summer/winter temperature
Windows and doors lock/unlock
Stove turn on/off
Sleep apps start/stop recording your snoring/tracking your sleep cycle
Smart faucet pour a specific amount of water (you'll have to place the cup under it yourself, though)
Smart car warm up/cool down before you get in
Security camera begin/stop recording
Roomba start a cleaning cycle
The list goes on and on, with new apps and smart home gadgets coming out regularly!
Return to top
Now you know the many exciting ways to use the Action Button on your Apple Watch Ultra. Which one is your favorite? Please share with us and leave a comment below! Next, make sure to read out Apple Watch Ultra review.