By

Olena Kagui
Updated 06/12/2023
What to Know:
The best Apple Watch sleep tracker app is the native one that integrates with the iPhone Health app.
There are many third-party Apple Watch sleep-tracking apps: AutoSleep, Sleep Cycle, Sleep++, Prime Sleep Recorder, and more.
Sleep Watch by Bodymatter is the best free sleep-tracking app for Apple Watch. It helps you keep track of external factors that impact your sleep quality.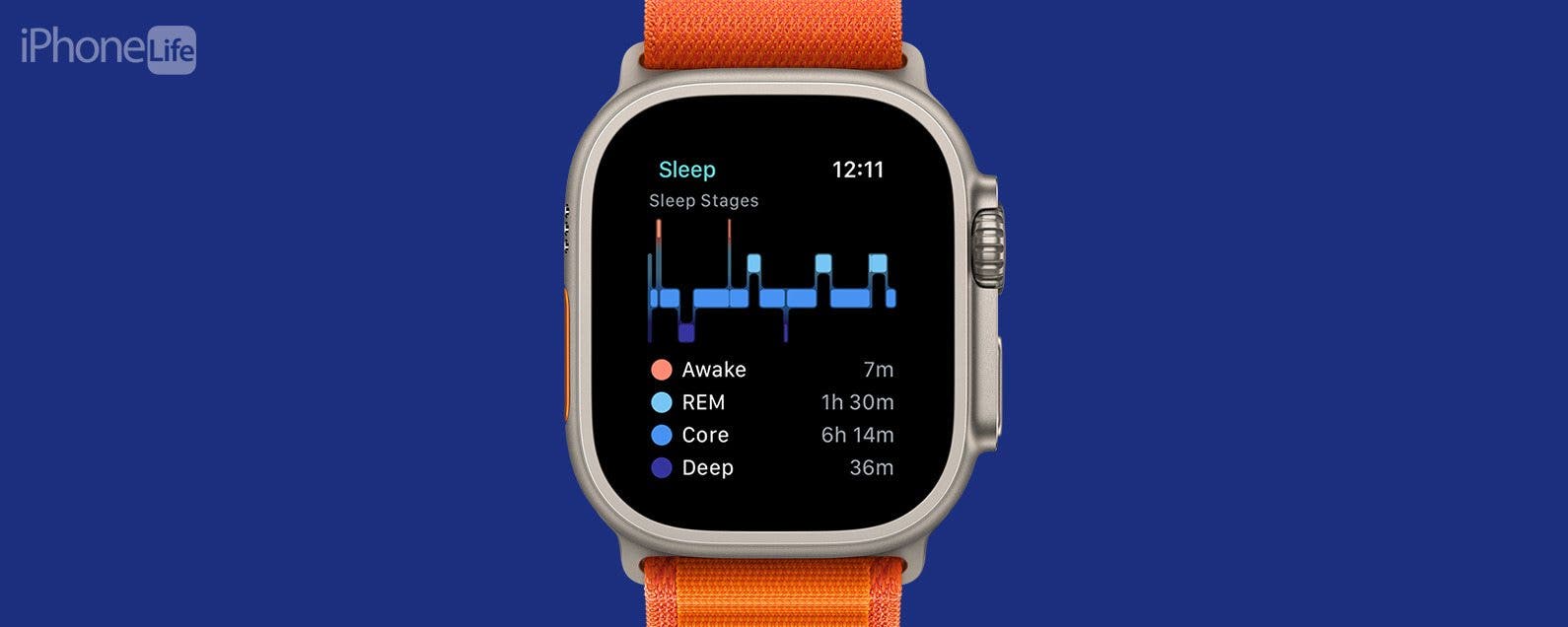 The Apple Watch has a comprehensive built-in sleep tracker that can analyze your sleep graph, create a healthy bedtime routine, and even monitor your nightly heart rate, body temperature, breathing rate, and more. If you want to dive deeper into sleep tracking, I'll introduce you to paid and free third-party apps that use artificial intelligence to help track, analyze, and improve your sleeping habits.
Jump To:
Apple Watch Sleep Tracking Features
There are so many sleep-related functions that your Apple Watch is capable of performing. These include:
Sleep goals to help you sleep the right number of hours
Reminders that you should get ready for bed to make sure you get enough sleep
A selection of alarm sounds and haptics to start your morning off right
Sleep mode to help you wind down and avoid distractions prior to hitting the hay
Vitals and motion tracking to measure how restful your sleep is
Nightly body temperature tracking (Apple Watch 8 & Apple Watch Ultra)
You can manage all of these in the Health app once you set up tracking. To learn more, such as how to track your breathing while you sleep with your Apple Watch, sign up for our free Tip of the Day newsletter.

Discover your iPhone's hidden features
Get a daily tip (with screenshots and clear instructions) so you can master your iPhone in just one minute a day.
How to Set Up Apple Watch Sleep Tracking
You don't really need fancy apps to track your sleep, since the built-in Apple Watch sleep monitor syncs with the Health app on your iPhone and a really thorough sleep monitor. To set up sleep tracking on an Apple Watch, follow the steps below. To skip down to the third-party app options, tap here:
Open the Health app on your iPhone.


In the Browse tab, tap Sleep.



Tap Get Started, then tap Next.


Set a Sleep Goal using the plus and minus icons, then tap Next.



Set up your schedule by dragging the bed icon to your preferred bedtime and the alarm icon to your preferred wake-up time. You can also select the days for this schedule and have a different schedule for certain days of the week. Tap Add, then Next.


Tap Enable Sleep Mode to automatically turn on Do Not Disturb at your scheduled bedtime. You can also tap Skip to skip this step.



Tap Enable to track sleep with Apple Watch, then tap Done.


Pro Tip:
When you have this set up, your Apple Watch will alert you if you before your scheduled bedtime if don't have enough battery life to track your sleep. If you have a newer Apple Watch with a fast charger, you might only need to charge it for a few minutes to have enough battery life to last the night. You can learn more about Apple Watch battery life here.
Once this is set up, all you need to do is go to sleep with your Apple Watch on, and it will do the rest. Make sure that your watch is more than 30 percent charged, or the battery might run out in the middle of the night.
Where to Find Your Sleep Graph on Apple Watch
The Apple Watch sleep tracker will put all your sleep stats in an easy-to-understand graph. It will also break it down by individual days to see when you go to bed and wake up. You can even see your average sleep duration based on the data it gathers! To see your sleep graph and other valuable sleep data:
Open the Health app on your iPhone.


In the Browse tab, tap Sleep.



Tap Show More Sleep Data.


You'll now see a more detailed screen that includes the sleep graph and other information.


Even if you don't sleep in your Apple Watch, the time with your watch off and charging will be recorded as time in bed. Although, the days you wore your watch will be a darker shade of blue, while the days you didn't will be light blue. 
How to Edit Apple Watch Alarm Sounds & Haptics
We all have individual preferences on the best ways to wake up. Your Apple Watch offers haptics, a unique kinetic way of communicating with you through vibrations. These can be set to different intensities and rhythms based on your preference.
Open the Health app on your iPhone.


In the browse tab, tap Sleep.



Under Your Schedule, tap Edit. You will have to set up your schedule before you can edit this.


Under Alarm Options, you can toggle on Wake Up Alarm. 



Next, tap Sounds & Haptics.


Here you can tap the different options to hear and feel how they will wake you up. The haptics begin first to wake you up more gently, and then the music begins playing quietly and gets progressively louder as the alarm continues.



Tap Vibration.


Here you can pick your favorite haptic rhythm or even create a custom one. You can also tap None if you prefer a sound-only alarm.



Your changes will save automatically. Tap Sounds & Haptics and then Back to keep editing your settings.


Next, you can drag the volume slider to change the loudness of the alarm and the intensity of the vibrations.



You can also tap the Snooze toggle if you want the option to snooze your Apple Watch alarm.


Tap Done to save your changes.


Once this is set up, the alarm will go off on your Apple Watch if you wear it to bed, or on your iPhone if you're not wearing your watch.
Pro Tip:
If your schedule changes unexpectedly, you can always change your alarm for just the upcoming day. Open the Clock app and tap Change under Sleep | Wake Up. Once you toggle off the alarm, you'll be asked if you want to change the alarm schedule altogether, or just for that day.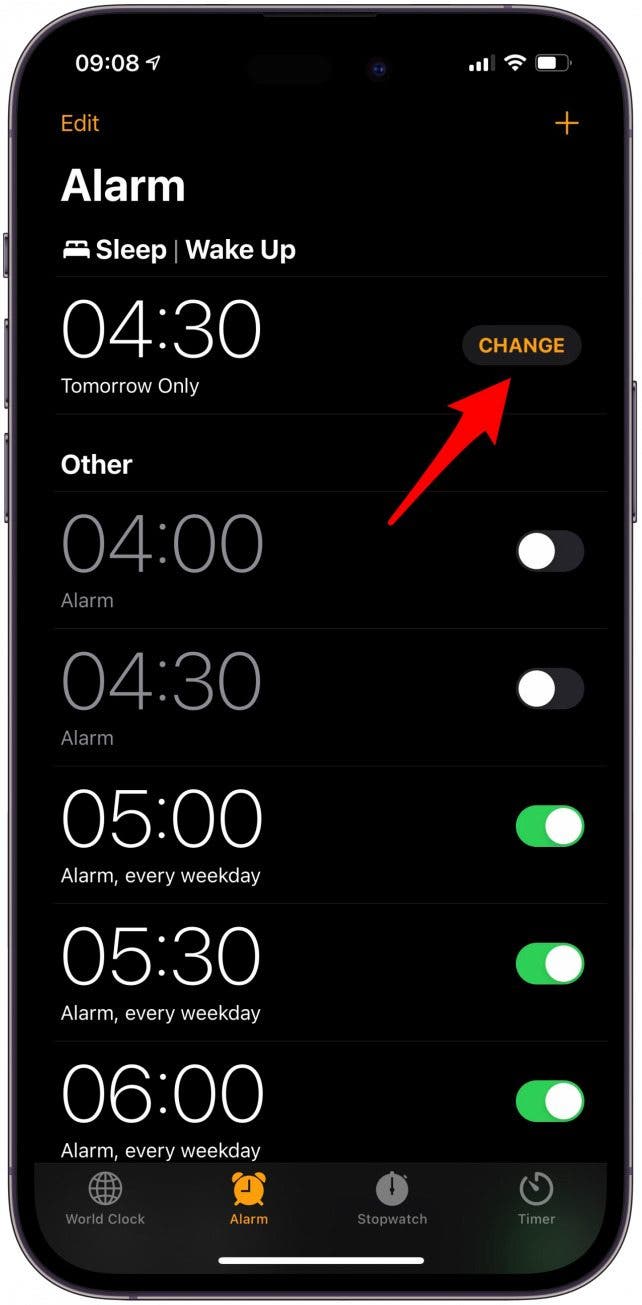 Best Apple Watch Sleep Tracker
Although the stock Apple Watch sleep tracking features are excellent, some great third-party apps offer more in-depth analysis of your sleep patterns, such as the ability to detect how long you remain in various stages of sleep.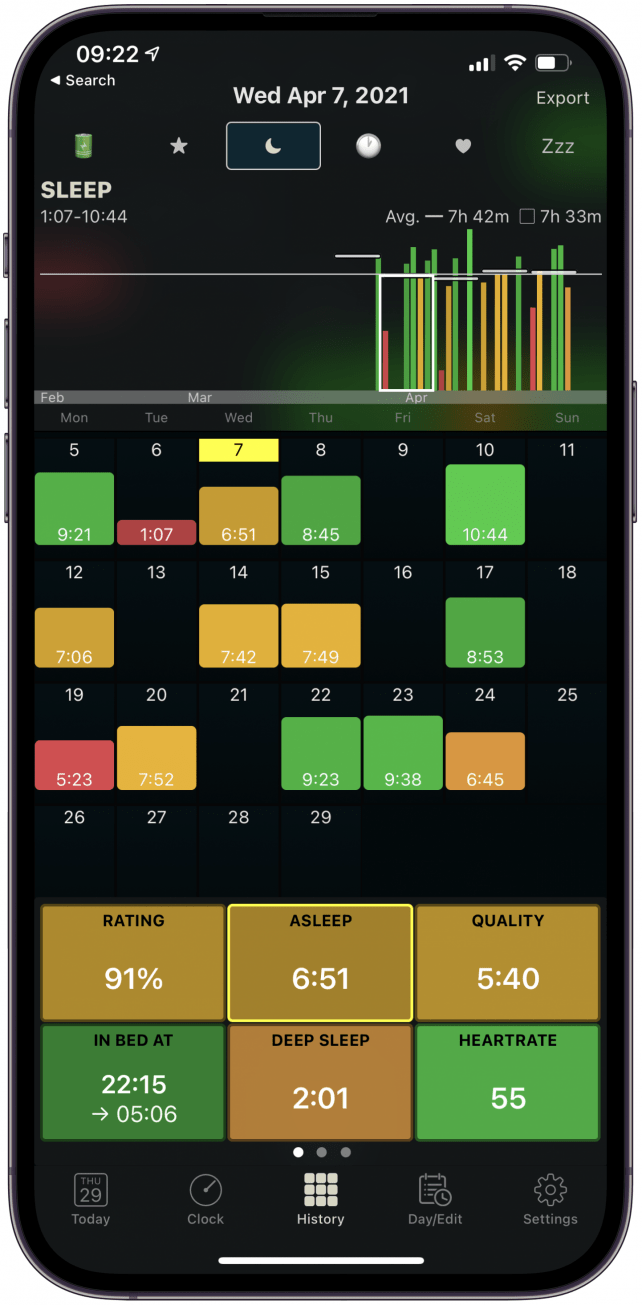 AutoSleep has a similar look to the sleep graph in your Health app, but it offers a lot more insight. It analyzes the quality of your sleep and provides a slightly confusing but very thorough graph of the exact times you were in deep sleep, light sleep, or restless. Since it's a paid app, you won't have to deal with ads at all. For a one-time $3.99 fee, you can enjoy a seamless sleep tracking experience that you can't always get from free sleep apps.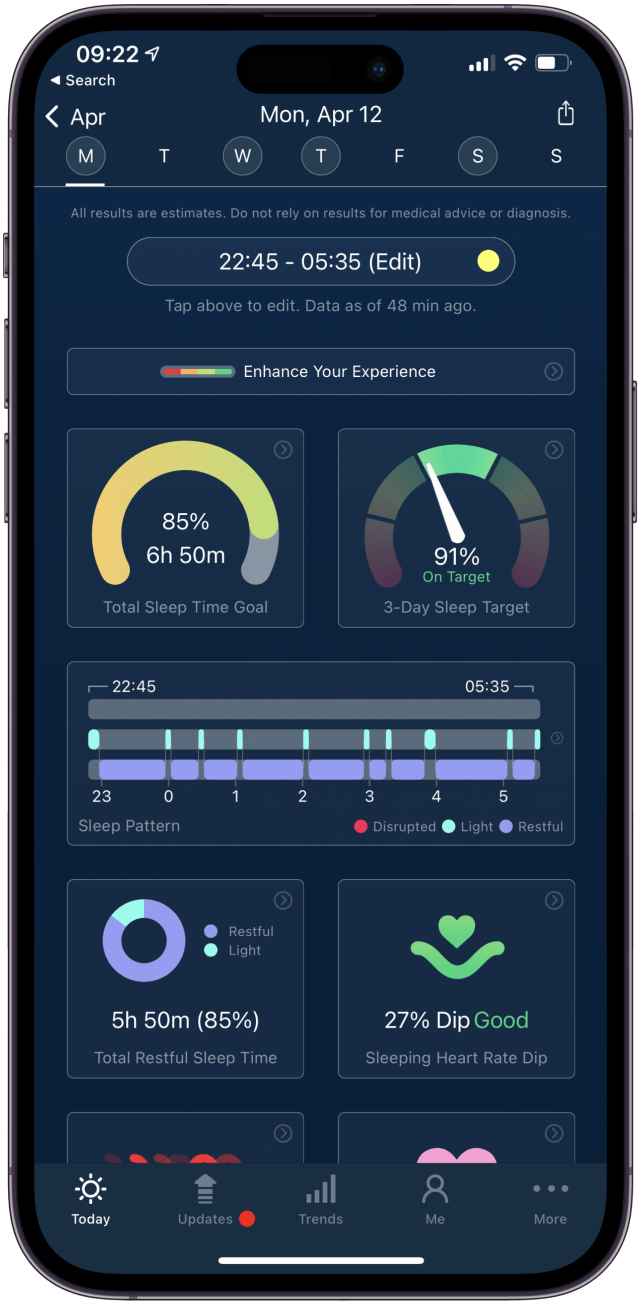 Sleep Watch is a free app that focuses on health. It uses your Apple Watch to automatically track your sleep, using artificial intelligence to help track and analyze your sleep in order to improve your sleeping habits. One of the coolest functions of the Sleep Watch app is sleeping heart rate dip analysis. Every night it will tell you how much your heart rate went down while you slept. Generally, lower dips are considered better (as long as they're within a healthy range), because they tend to indicate more restful sleep.
Every morning, the app will ask you how rested you feel. If there is anything unusual about your sleep, it will also ask you what you did differently. In my experience, I noticed that on days I exercised more or did a physical activity right before sleep, I experienced a much lower dip than on nights when I drank caffeine or was more sedentary. The easy-to-use interface and holistic health focus of this app makes it one of the best free options.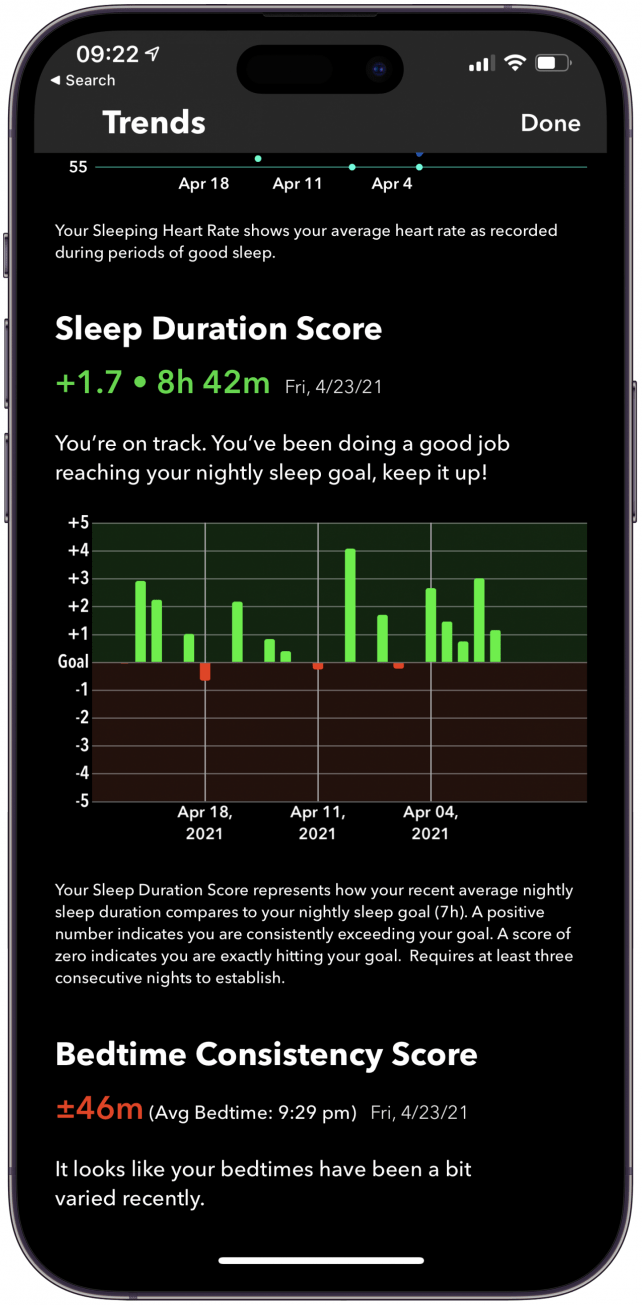 Sleep++ is a free sleep-tracking app made by the same developer as Pedometer++, my favorite step-counting app. This app is a little more simplistic than Sleep Watch, but it does offer a lot of information about your sleep quality and duration. It also includes a great Trends page, showing you your nightly trends, sleeping heart rate, sleep duration score, and bedtime consistency score.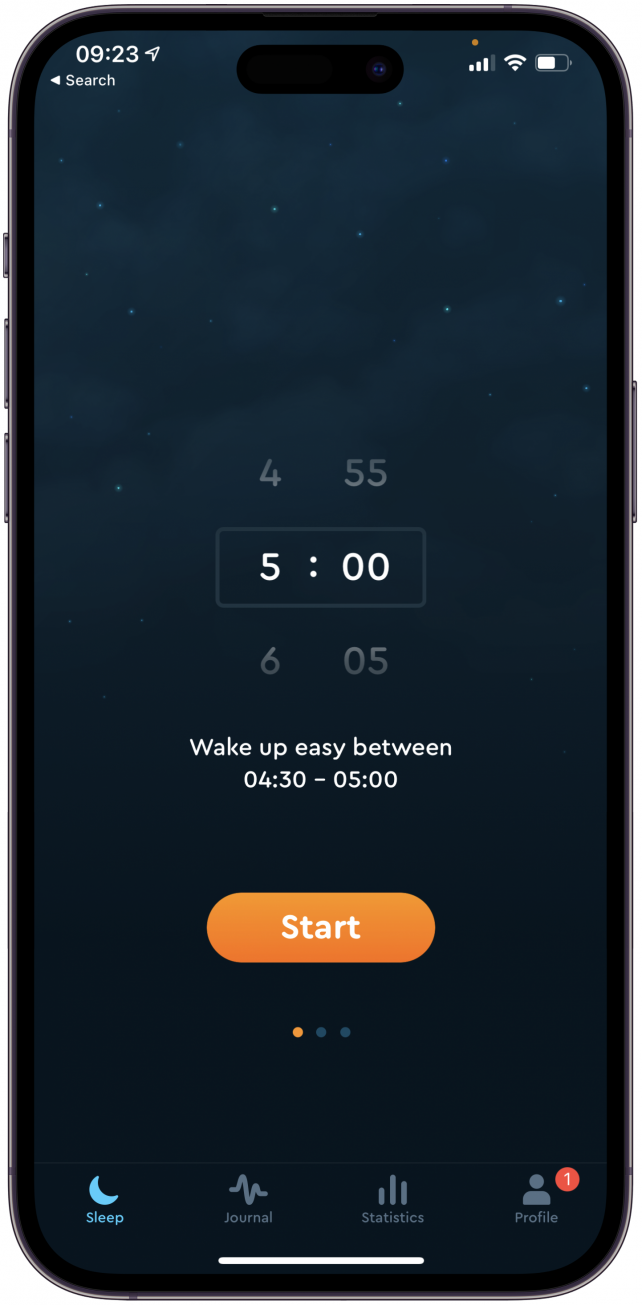 Sleep Cycle is a free app, although they do have a paid version for $29.99 per year. The premium option offers many extra functions like smart alarms, sleep aid, and mood recordings for when you wake up. Sleep Cycle's free version will record any sounds that happen at night, and detects sleep talking, coughing, and more. One thing that isn't ideal is that the app requires you to have your phone placed flat next to your bed, so if you have a wireless charging station that holds your phone upright, you may need to use a different charger.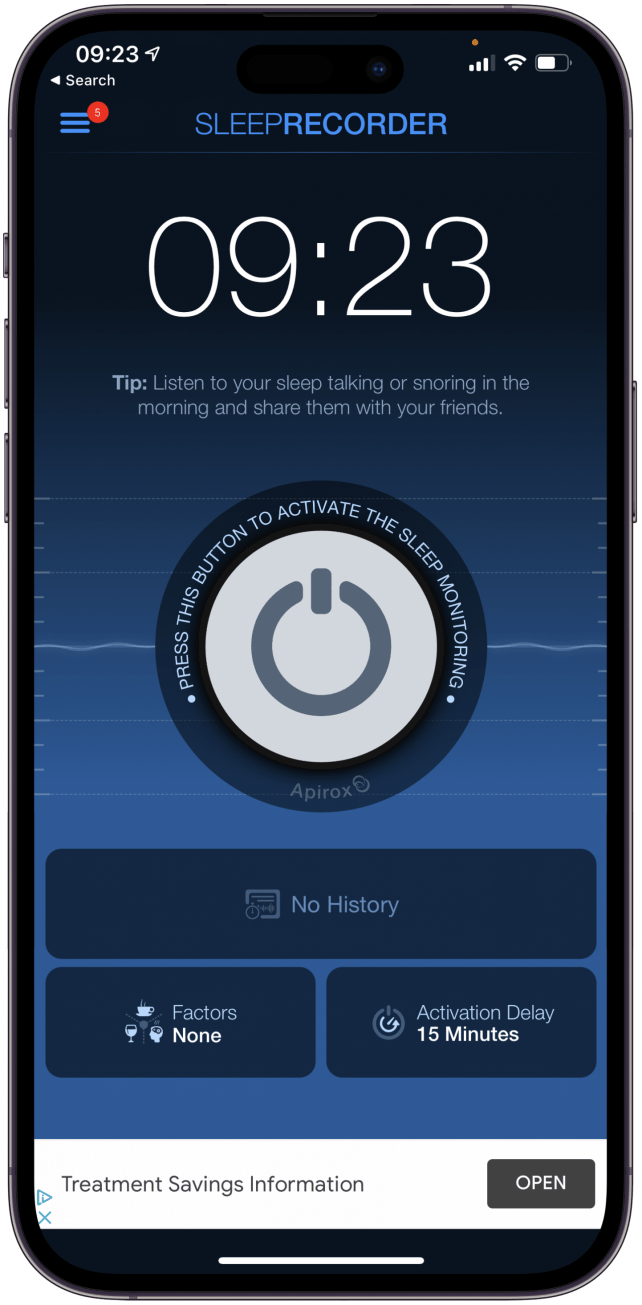 With a 4.5-star average rating from over 9,000 users, you can assume that Prime Sleep Recorder is doing something right. This free app records you talking and snoring while you are asleep and lets you listen to it in the morning. The paid version of the app costs $3.99 per month, or $11.99 if you opt for the one-time fee. 
There are also a few paid extensions you can choose if you do pay the one-time fee. These include smart alarms for $3.99, stop snoring for $3.99 (this uses light haptics to stop you from snoring), and sleepy sounds for $3.99. Another great thing about the app is that it uses artificial intelligence and machine learning to improve its accuracy.
The answer to "does my Apple Watch track sleep" is a definite yes! However, there many options to choose from, both included with your Apple Watch and available by third-party developers. The Apple Watch's built-in sleep tracker is a great choice, but it doesn't offer the most user-friendly sleep cycle graph. In my opinion, the best sleep tracking app for Apple Watch is Sleep Watch by Bodymatter. Which ones have you tried?