Learn about the average Apple Watch charging time as well as a few factors that might be affecting your battery life.
By

Rhett Intriago
Updated 01/19/2023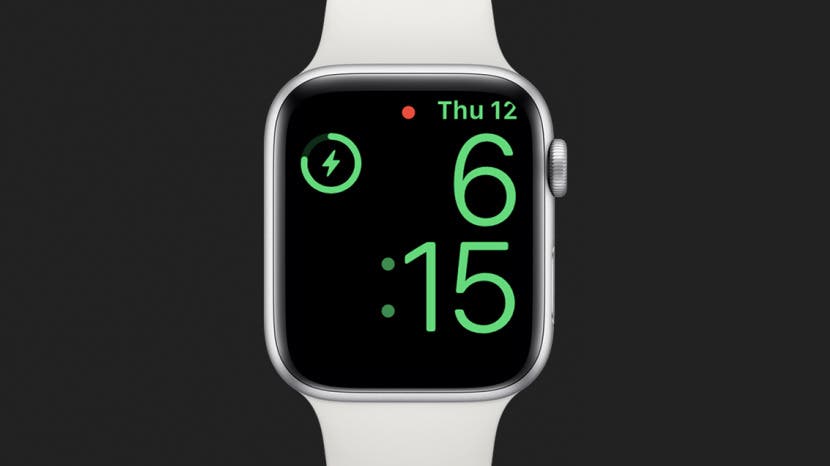 The Apple Watch is a versatile device, allowing you to quickly check notifications, respond to messages, or track your workout progress. Depending on the features you use and how frequently you use it, your Apple Watch battery can last all day or it might be depleted rather quickly. So, how long does charging the Apple Watch take? We'll cover this and explain some of the factors that might be affecting your battery life.
Jump To:
How Long Does It Take to Charge an Apple Watch?
Unlike the iPhone, the Apple Watch does not have a lightning port or USB port to plug in a charging cable. Rather, the device is charged wirelessly using a cable with a magnetic puck that attaches to the back of the watch.
Thankfully, because the Apple Watch consumes a relatively small amount of power and the battery is also comparatively smaller than the one found in the iPhone, charging an Apple Watch does not usually take long at all. So, how long does it take to charge an Apple Watch? According to Apple, using the Apple Watch Magnetic Fast Charging Cable, it takes about 45 minutes to charge a dead battery to 80 percent, and 75 minutes to charge the battery to 100 percent. Of course, other factors can make this time vary, such as which Apple Watch model you have, how much battery life it already had before charging, and whether or not you are using a fast-charging cable. For more Apple Watch tips, sign up for our free Tip of the Day Newsletter. Now, let's cover some of the factors that might be affecting your Apple Watch battery life.
Related: How to Add Workout to Apple Watch Manually
How Long Does an Apple Watch Battery Last?
Because of the nature of the device, an Apple Watch is expected to have a long-lasting battery. Your Apple Watch can have a battery life of up to 18 hours, although the specific time will vary depending on what features you use and how often. Apple designed the watch to consume as little power as possible with a variety of features. For example, the Apple Watch screen uses an OLED display panel, which saves much more power compared to other display types. By default, the screen is also off and only turns on when you raise your wrist or tap the screen. Some Apple Watch models feature an always-on display that keeps the screen on but leaves the backlight off until you raise your wrist or tap the screen. 
Even with the power-saving display, the watch can consume more power depending on how you use it. Animated watch faces like the Mickey Mouse or Liquid Metal ones will use up more processing power, which in turn means using more battery. And if you work out frequently or for long periods of time, the watch will need more power to use the various sensors that track your progress and heart rate. Keeping your screen brightness at maximum will use more power to keep the backlight running. Also, leaving apps such as Walkie-Talkie running in the background when you're not using it can also more quickly deplete the battery. Because of this, the best way to conserve power on the Apple Watch is to use static watch faces, keep the screen brightness low, and avoid leaving unnecessary processes running if you're not using them. Using dark watch faces can also help since black pixels on an OLED display consume less power than color pixels (the dark watch face happens to look pretty cool as well).
Even if you only utilize one or two of these suggestions, you're still well on your way to maximizing your Apple Watch battery life! That said, we completely understand if you decide against getting rid of your awesome animated Mickey Mouse watch face (some features are just worth the extra battery life).