By

Olena Kagui
Wed, 10/25/2023
What to Know:
Time Sensitive Notifications are more critical, so they break through your Focus modes and can interrupt your flow.
You can completely turn off Time Sensitive Notifications or adjust which apps can send them.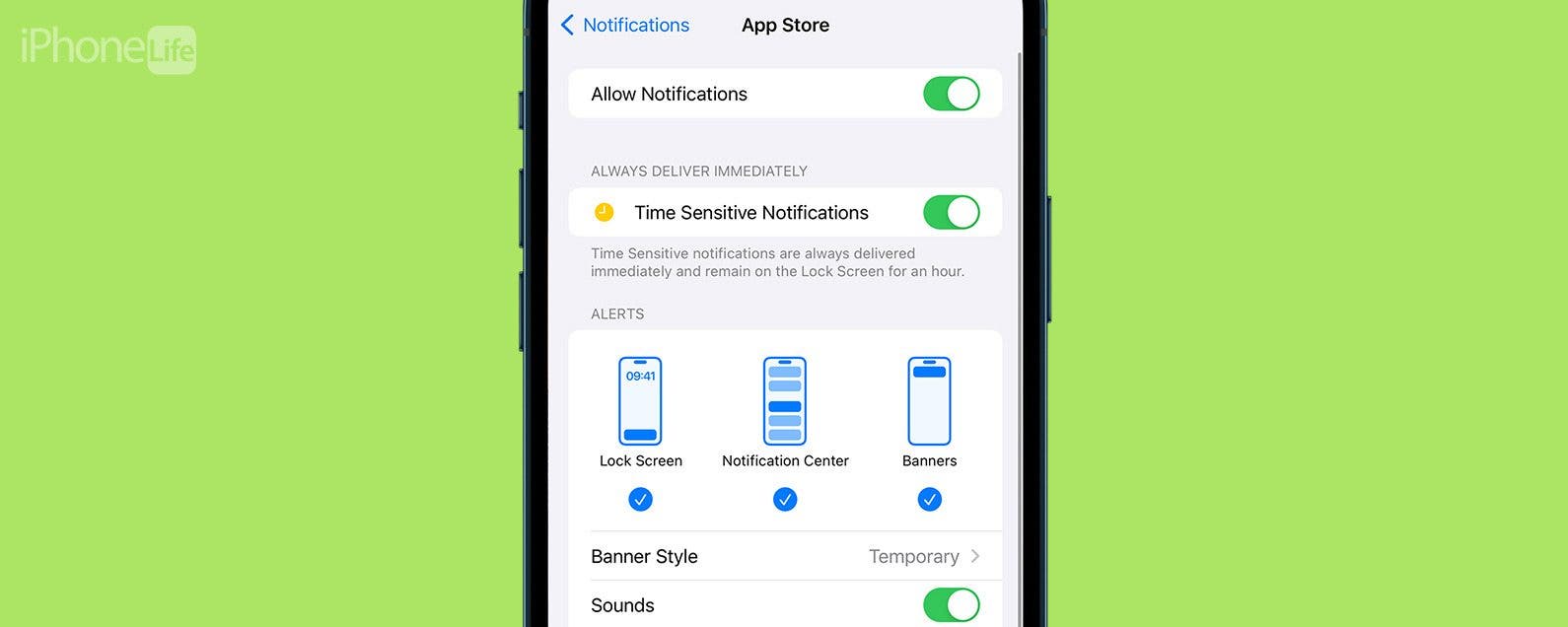 Time Sensitive Notifications can be annoying because they break through your Focus modes and can cause interruptions. However, they can also give you critical information that you don't want to miss. While it is possible to turn them off completely, I recommend limiting which apps can send you Time Sensitive Notifications instead.
Jump To:
How to Turn Off Time Sensitive Notifications Completely or Partially
If you no longer want to receive Time Sensitive Notifications at all or if you want to limit which apps can send them to you, you can adjust your iPhone notifications settings.
Go through your apps and toggle this on or off, depending on your needs. Most third-party apps don't have Time Sensitive Notifications, although the app developer is able to enable them. I recommend leaving Time Sensitive Notifications for apps such as FindMy, Health, and Apple's Support app. For more iPhone productivity tips, sign up for our free Tip of the Day newsletter!

Discover your iPhone's hidden features
Get a daily tip (with screenshots and clear instructions) so you can master your iPhone in just one minute a day.
What Are Time Sensitive Notifications
Time Sensitive Notifications are more important notifications that can break through your Focus modes. For example, the Health app can send you a Time Sensitive Notification reminding you to take your medications. Because these can impact your health and safety, I recommend going through your apps and only turning off Time Sensitive Notifications that aren't important to you. 
The steps above will only allow Time Sensitive Notifications to break through your Focus modes. However, you can customize Focus modes to allow or not allow certain apps (and contacts) to send you notifications. Just keep in mind that if you allow notifications from an app, you'll get every notification despite your Focus mode being on, not just the critical ones.
Now you have a better understanding of Time Sensitive Notifications and know how to turn them off! Next, learn how to instantly clear out all your iPhone notifications.
FAQ: What Does Time Sensitive Mean on iPhone
What does time-sensitive mean? Time-sensitive means that time is of the essence, so a Time Sensitive Notification may need you to take action as soon as possible.
How to access notification history iPhone? You cannot view cleared notifications, but if you swipe up on your Lock Screen, you can open the Notification Center and view your more recent notifications.