By

Olena Kagui
Updated 11/07/2023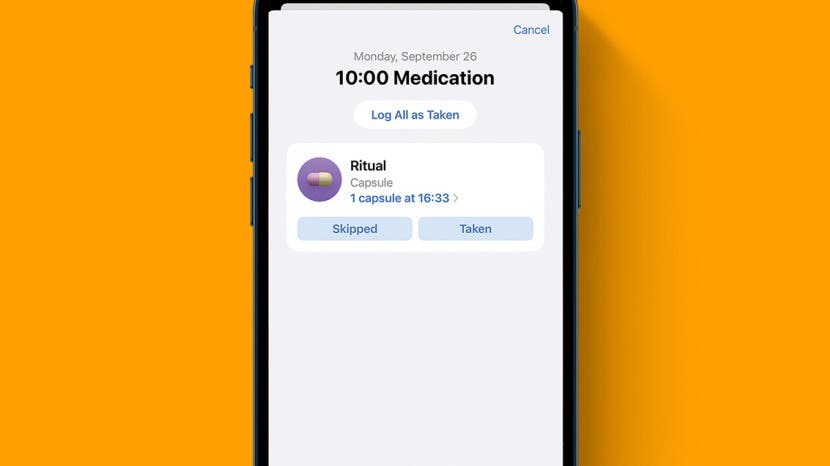 * This post is part of iPhone Life's Tip of the Day newsletter. Sign Up. *
Many people use reminders on their iPhones to remember to take their daily prescriptions and vitamins. With iOS 16, you no longer need to search for the best app for prescription drugs because your Health app can now track your medications, send you reminders, and even alert you of any interactions.
Why You'll Love This Tip:
Never forget to take your medications again with customized reminders on your phone.
Set reminders at different times for various medications to avoid potential interactions between your medications and other substances.
How to Use the Health App to Help Remember to Take Medication
Before you can do this, make sure you have updated to iOS 16, as this will not work with any older operating systems. To learn more about your iPhone, sign up for our free Tip of the Day newsletter! 

Discover your iPhone's hidden features
Get a daily tip (with screenshots and clear instructions) so you can master your iPhone in just one minute a day.
Open the Health app.


Scroll down until you see Set Up Medications. You can also tap Browse and search for Medications.



Tap Add a Medication.


You can search for medication by tapping the Search bar. You can also add them by using your iPhone Camera.



Type the name of your medication or supplement.


Tap the correct result. If you don't see it, you can add it manually.



Depending on the type of medication you are adding, you may have to pick a medication type. For example, a capsule, cream, tablet, or oral solution. If you don't see the correct medication type, tap Show more.


Tap to select the correct medication type. Tap Next.



Now you'll need to select the medication strength. You can also Add Custom to enter the correct strength if it isn't offered. Depending on the medication, you may be required to enter a custom medication strength.


Select the correct option, then tap Next.



Next, you'll enter the Frequency with which you take your medication. The default is Every Day. Tap it to change it.


Next, select the Time of Day you take your medication by tapping Add a time.



Tap the time and swipe up and down to select the correct time. This is when you'll be reminded to take your medication, so make sure to select a time it will be convenient for your iPhone to remind you to take your medication. Tap outside of the time menu once you are done. 


The default is one capsule (or application, or another method of dosage, depending on what you selected), tap the dosage to change the amount.



You can add multiple times of day per medication if necessary. Once you've done that, tap Next.


Choose the shape of your medication. Then tap Next.



Choose a color for the left side, right side, and background. If you take various medications that look different, this is a good chance to make it look like the actual medication you take so that you can identify it easily, even if you mix it with your other medications. Since I only take one medication, I chose happy-looking colors.


Tap Next.



Next, you'll be able to review the details of the medication you've entered. You'll be able to add an optional display name and notes if you wish. Tap Next or Skip to move on.


The first time you add a medication, you'll also be taken through steps to set up possible drug interactions. The options that you can toggle on are Alcohol, Tobacco, and Marijuana, and for the purposes of this tutorial only, I toggled on all three. You will only be asked to select these once, and you can toggle them on and off later on. If you've already set this up, you can tap on Drug Interactions to see if any factors can interfere with your medication. Tap Done when you are finished.


Now you'll be taken to your medications page. You will be able to mark them as taken, add more, delete or archive existing medications, learn more about your medications, and see Drug Interactions. You will now keep track of all your medications in one place! Not only is this convenient, but this can be potentially lifesaving if you take time-sensitive medication. However, you can also use it to track vitamins and supplements or drugs such as ibuprofen that you only take as needed. Knowing exactly when you took something can help you figure out any dangerous drug interactions and report back to your doctor when testing out various medications to solve an unknown health concern. 
Pro Tip: If you have medication that you only take as needed, you can set the frequency to As Needed. That way, your medication will show up in your Health app, but you won't receive any reminders. You will be able to log when you take them if you wish to keep track of them.
Do keep in mind that even though Apple does a good job protecting your privacy, leaks can occur, and some may find putting their medical information on their phone to be a privacy concern. Your Health app is only as secure as your iPhone, so setting up a strong passcode of at least six digits as well as Touch or Face ID can help keep your data safe. According to Apple's Privacy statement, Apple cannot read your Health app data, and you have total control over who can access it. While I feel comfortable sharing my medications with the Health app, there are many reasons why you may prefer not to do this. Next, learn how to set reminders for medications or change the frequency. Or, discover how to find out your anxiety and depression risks without leaving the Health app!