By

Rhett Intriago
Updated 08/17/2023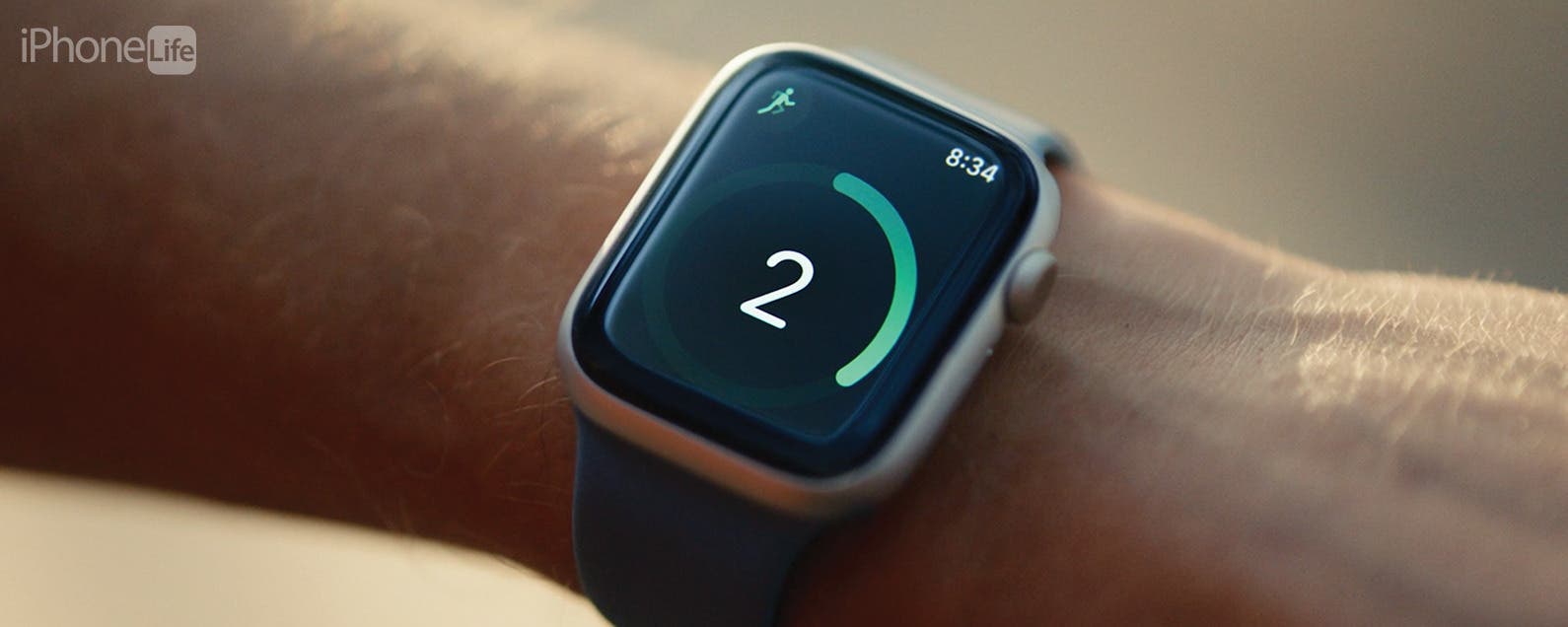 Apple has packed a lot of power into a small case with the Apple Watch. As a result, many users miss some of the best functions that Apple doesn't highlight. I've compiled this handy list of the coolest features that you might not have heard of to help you get the most out of your wearable.

Read Your Watch Screen More Easily
The Apple Watch display can be a bit small, so if you have a hard time reading information on the screen, you can change the font size. You can find this option by swiping up on your watch face to open the Control Center. Scroll down and tap the Text Size button, which looks like two As. You can turn the Digital Crown to increase or decrease the font size on your Apple Watch.
If you don't see the Text Size button, you might need to add it first. Simply tap Edit, find the button, and press the plus icon to add it to your Control Center.
Fix a Frozen Apple Watch

Discover your iPhone's hidden features
Get a daily tip (with screenshots and clear instructions) so you can master your iPhone in just one minute a day.
If your Apple Watch is frozen or acting strangely, you can force it to restart by pressing and holding the Digital Crown and the side button at the same time for about ten seconds until the screen turns black. After a few seconds, you should see the Apple logo, indicating that your Apple Watch is turning back on.

Conserve Your Apple Watch Battery
Since the Apple Watch is much smaller and not nearly as powerful as the iPhone, it doesn't consume as much battery. However, many people still find the Apple Watch battery life leaves much to be desired. If you're out and about and your Apple Watch battery is running low, you can turn on Low Power Mode. Simply swipe up on your watch face to open the Control Center. Tap the battery percentage to open power settings. On this screen, you can see the remaining battery of your Apple Watch, as well as of your AirPods, if you have them connected. You'll also see a toggle for Lower Power Mode—tap it, read the explanation, and tap Turn On. This will disable nonessential background processes so your Apple Watch can conserve as much power as possible.
Quickly Switch Between Apps
On the iPhone, you can swipe across the Home Bar to switch between recently used apps. You can do the same thing on your Apple Watch, but instead of swiping on your watch screen, all you have to do is press the Digital Crown twice. Now, if you're listening to music or a podcast, you can quickly switch between your currently playing audio and any of your other frequently used Apple Watch apps.

Silence Incoming Calls with Ease
When your iPhone is ringing, your Apple Watch will also vibrate and an incoming call screen will pop up. You can easily silence the call by placing your hand over your watch screen for three seconds. Your Apple Watch should lightly vibrate to confirm that the call has been muted.
You can also mute alerts the same way. Simply cover the watch with your palm when a notification comes in. If this trick is not working for you, confirm that you have the option enabled by opening the Settings app on your Apple Watch, tapping Sounds & Haptics, scrolling down, and checking that the Cover to Mute toggle is green.

Speak to Siri by Raising Your Wrist
Siri on Apple Watch is just as responsive as the iPhone. You can access Siri on your Apple Watch by pressing and holding the Digital Crown or by saying, "Hey Siri." There is also a third, easier way to summon your virtual assistant. First, open the Settings app on your Apple Watch and tap Siri. Make sure the toggle next to Raise to Speak is turned on.
Now, you can raise your Apple Watch to your face and begin speaking to Siri. You don't even have to say "Hey Siri!"

Calculate the Tip in Seconds
You've just finished up a delicious meal at your favorite restaurant and the check is here. That means it's time to tip your server. The Apple Watch makes tipping simple with an easy-to-use tip Calculator built into the default calculator app. All you have to do is open the Calculator on your Apple Watch, enter the total of your check, then tap Tip. You can use the Digital Crown to change the tip percentage and tap People to input how many people are with you. Not only will you see how much you should tip, but you'll also see how to evenly divide the bill between everyone!

Locate Your Lost Phone with the Touch of a Button
Everyone loses their phone. Sometimes it's as simple as setting it down in another room and forgetting where you put it. Apple Watch has a built-in feature for that type of situation to make finding your iPhone easy.
In watchOS 9, wipe up on your Watch Face to pull up the Control Center. In watchOS 10 press the Side button to open the Control Center. You'll see an icon that looks like an iPhone with signal waves radiating from it. Tap that and your iPhone will emit a short, loud tone to signal its location. This works even if your iPhone is on silent. As long as it's somewhere nearby, you're sure to find your phone quickly.
Discreetly Check the Time Wherever You Are
Sitting through a long movie and want to know if it's almost over? You can discreetly check the time on your Apple Watch by turning the Digital Crown while the screen is off (like when Theater Mode is active). When your Apple Watch display is off, turning the Digital Crown up will gradually increase the brightness of the screen so that you can take a quick glance at the time. Turning the Digital Crown down will decrease the brightness until the display turns off again.

Remotely Control Your iPhone
If you're having trouble with your iPhone touchscreen, the Apple Watch allows you to take back control of your device. Just open the Settings app, tap Accessibility, and then tap Control Nearby Devices.
Your Apple Watch will search for your iPhone or iPad. Tap your device when it pops up and you'll be presented with a variety of controls that you can use to navigate it. By default, the available controls are Home Button, App Switcher, Notification Center, Control Center, and Siri. The icon that looks like a circle surrounding three dots allows you to access extra controls and assign hand gestures to specific actions (e.g. a pinching gesture can open the App Switcher).
Those are some of my favorite, lesser-known Apple Watch features. Now, you're ready to start getting the most out of your Apple Watch. Have you discovered any hidden Apple Watch tips we missed? Email us at editors@iphonelife.com to let us know!