The best things you never knew you could do on your iPhone.
By

Amy Spitzfaden–Both
Updated 01/25/2023
What to Know
Access your iPhone's fun (and often overlooked!) features.
Use hidden shortcuts to accomplish your goal with fewer steps.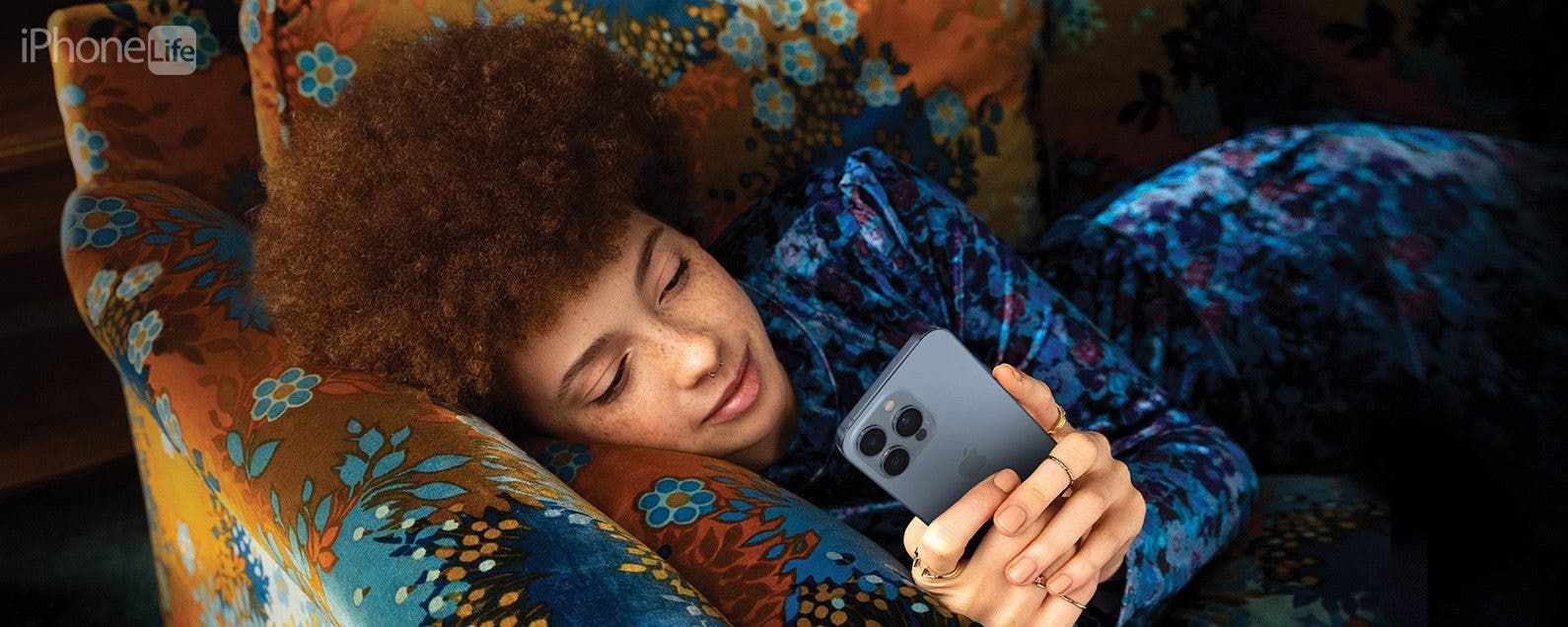 Our iPhones are capable of so much, yet many of us only scratch the surface with our daily use. Expanding your iPhone skills doesn't mean you have to create feature-length movies or become a high-level app developer. You can simply learn hidden features that make your daily tasks easier. So, let's take a look at the best hidden iPhone tricks to make your iOS use a little easier and a lot more fun.
Have Some Fun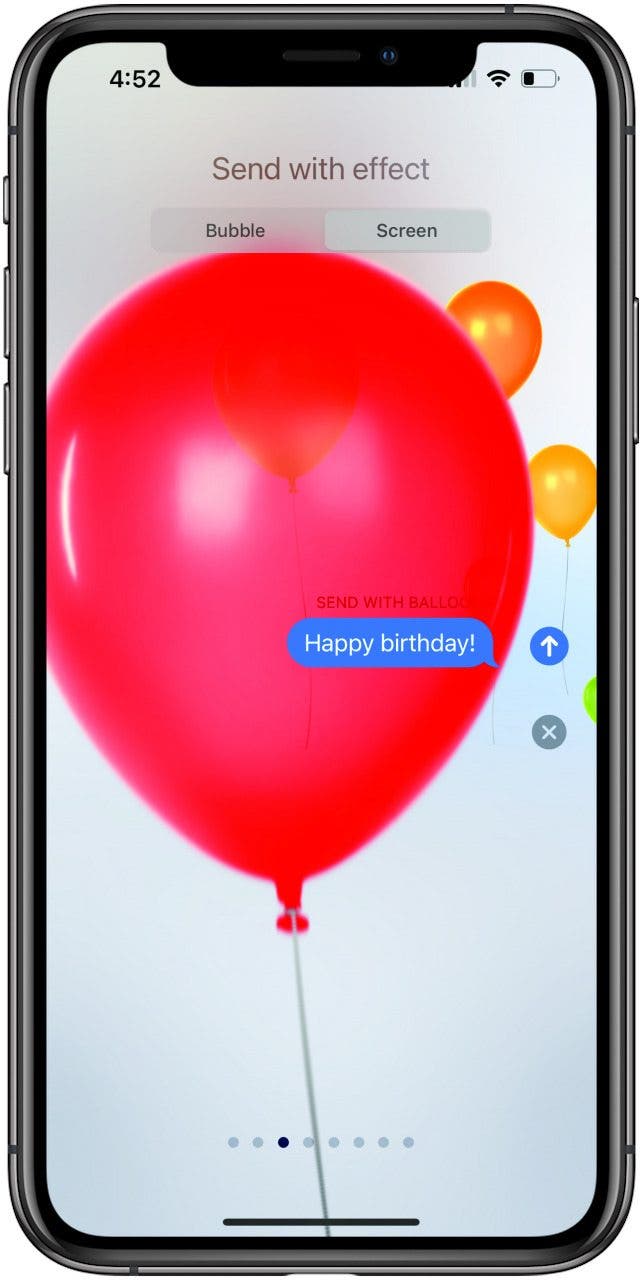 1. Send Your Message in Style
Apple wants to let you express yourself in messages, made clear with the advent of emojis, memojis, animojis, and every kind of 'moji you can think of. But did you know you can animate your messages themselves? Type in the message you want to send in an existing chat or enter a contact to create a new message thread, write your message, then long press on the blue Send arrow. You'll be treated to a menu of fun animation options, and if you tap the Screen tab and swipe right, you'll get even more, from balloons to fireworks and more.
2. Caption Your Photos
Captioning your shots is as handy as it is enjoyable. Captions help your iPhone identify people, places, and things in your photos. They make it easier for you to search photos by name or phrase, and for screen readers to describe the picture. You can also add your own thoughts and memories, just like in a scrapbook or journal. To add a caption, just swipe up on a photo, tap the field that says Add a Caption, type in your caption, then hit done. Swipe down to close out. To view the caption, just swipe up on that photo again.
Take a Load Off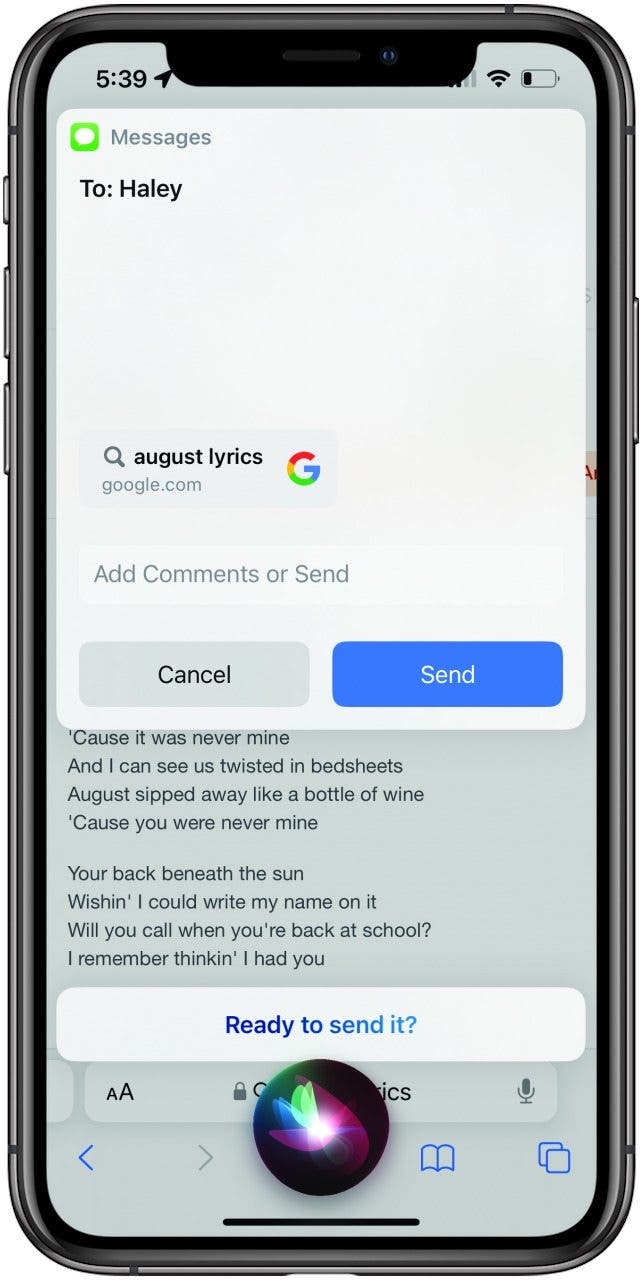 3. Use Siri to Share
Using Siri to share is not only an easier way to send pictures, videos, and websites, but it also offers those with limited mobility a much better sharing option. Not every app has Siri sharing enabled, but many do. To share using Siri, just open the webpage, photo, or other content you want to share, and say, "Hey Siri, share this with..." then the name of the contact you want to send it to. Siri will have you confirm and show you a draft of the message. Either say yes to confirm or tap the send arrow yourself. Don't worry, if Siri sharing isn't possible, your iPhone will let you know!
4. Clean Up Your Home Screen
Having too many app icons on your Home Screen can slow you down or even pull you off track entirely. We usually want to have a lot more apps on our iPhones than we use on a daily basis (for example, I keep Uber even though I only use it when traveling), and we don't need them all on our Home Screens. Luckily, you can remove an app icon from your Home Screen but still find it in the App Library. All you have to do is long press on the app icon in question, tap Remove App, then tap Remove From Home Screen. Now, it'll be off your Home Screen and in your App Library.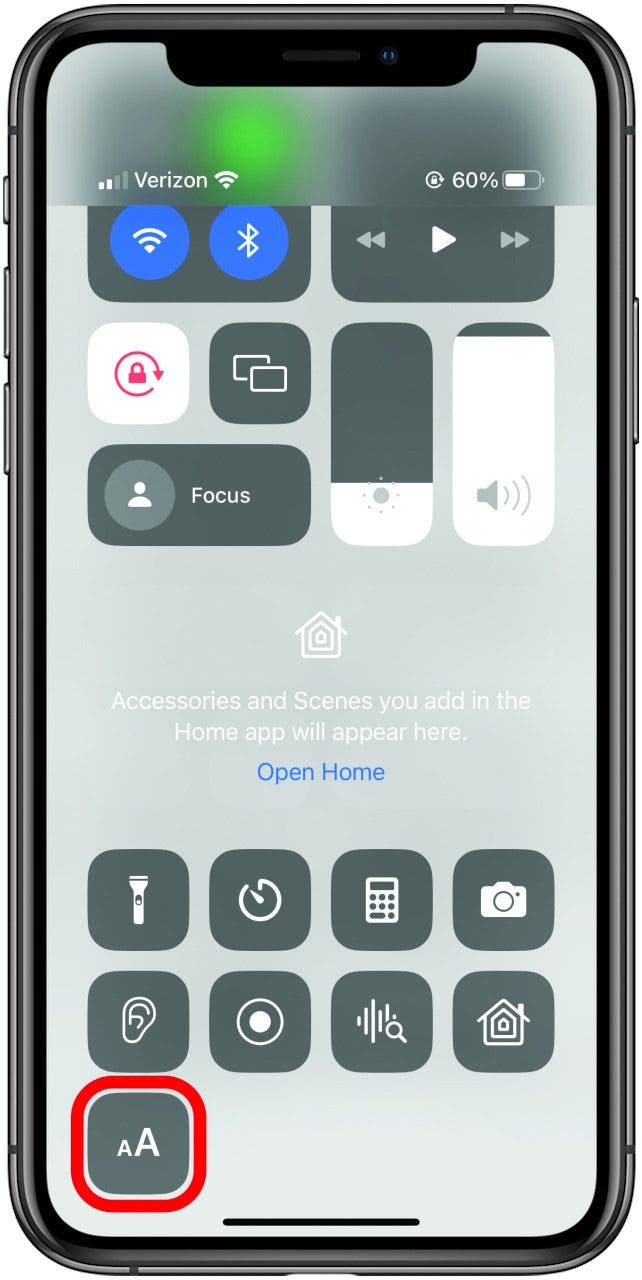 5. Personalize Your Font Size by App
Each app has its own default font size, but you might want to adjust them individually, rather than do an all-over zoom on your iPhone screen. First, you'll need to add the text size option to your Control Center. In Settings, tap Control Center. Toggle on Access Within Apps. Scroll down to the More Controls section and tap the green arrow next to Text Size. Now, when you open an app, swipe to open your Control Center, and tap the text icon (two A's). A slider will appear on your screen, and you can swipe up or down to adjust your text size within that app.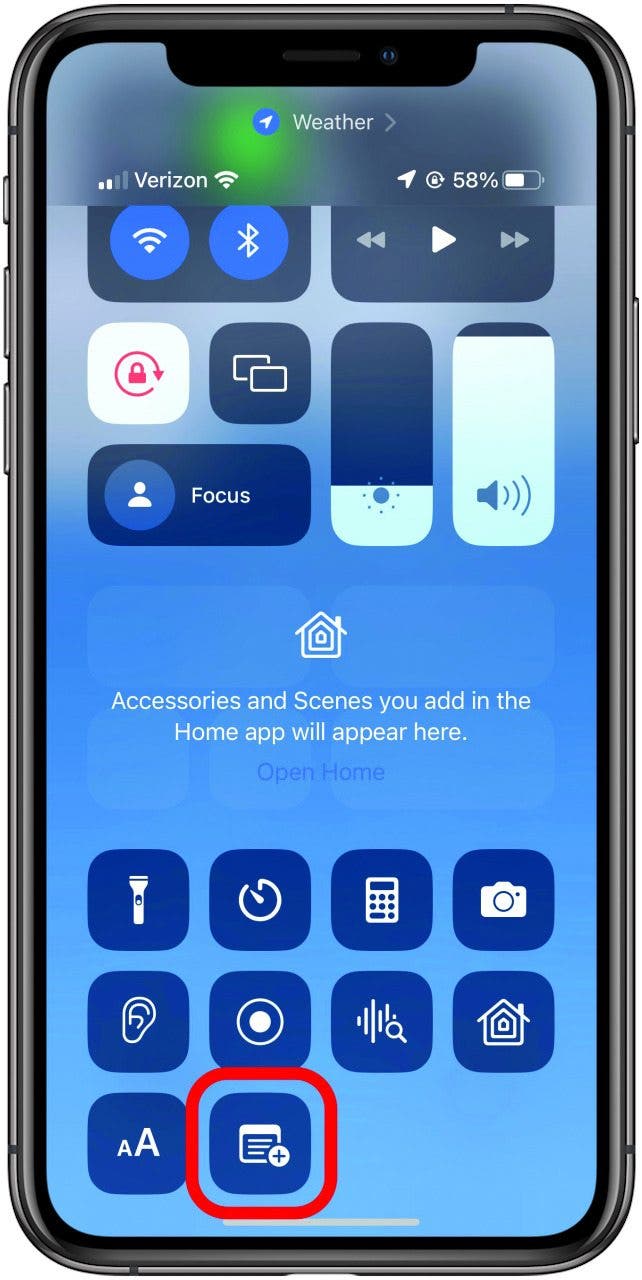 6. Write Notes from Your Lock Screen
Frequently, I'll want to write a note so quickly that unlocking my iPhone can make the difference between remembering what I wanted to say and forgetting it forever. Luckily, you can circumvent your Lock Screen and open the Notes app directly from your Control Center. In Settings, tap Control Center, then tap Notes. Next, in Settings, tap Face ID & Passcode and toggle on Control Center so you can access your Control Center when your iPhone is locked. Now, all you have to do is swipe to open the Control Center and press the Notes app icon, and you're good to go!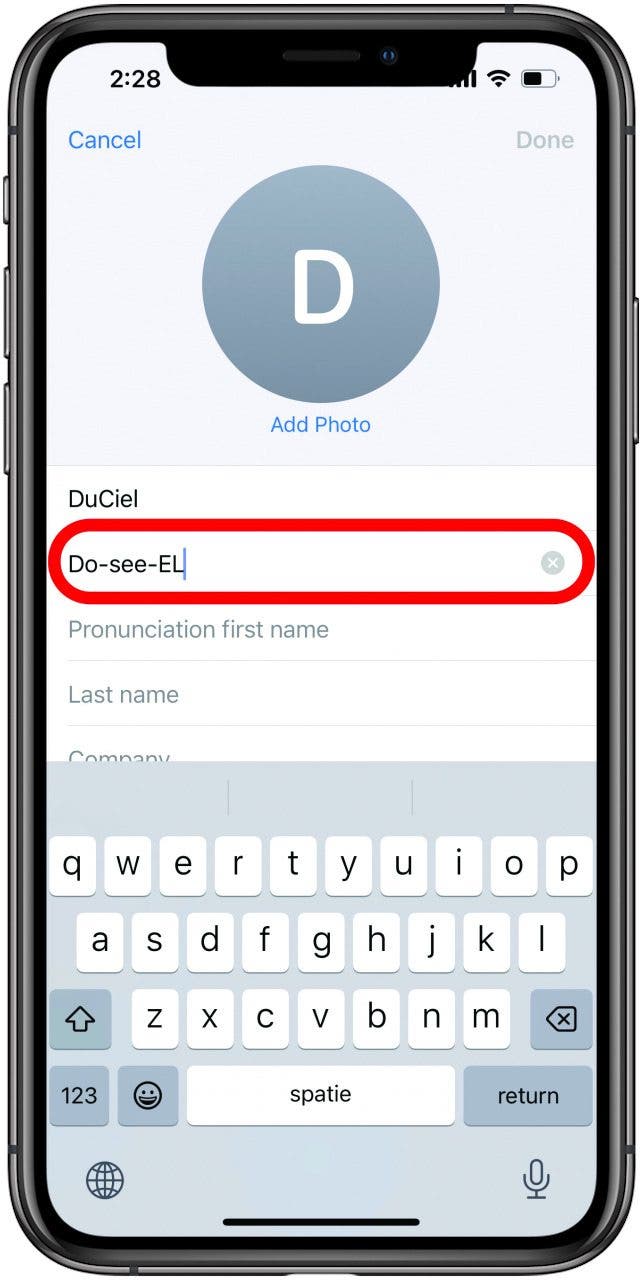 7. Teach Siri to Pronounce a Name
Many of us have names we have to break down phonetically, and Siri, despite its best attempts, usually misses the mark entirely. Teaching Siri to pronounce the name of a contact correctly makes it a lot easier to use Siri to call that person, saving you from pronunciation gymnastics as you try to get them to understand. Open Contacts, tap on the name of the contact, then tap Edit. Scroll down until you see "add field"and tap it. Choose Phonetic First Name, Phonetic Middle Name, or Phonetic Last Name. Enter in the phonetic pronunciation of the name you want and tap Save.
8. Have Siri Take a Screenshot
Whether your hands are full or you have limited mobility, having Siri take a screenshot is a super helpful trick that not many people know is possible. Believe it or not, it's as simple as saying, "Hey Siri, take a screenshot." Siri will take a picture of the screen and save it to your Photos App as usual and you'll also be able to find it in your Screenshots folder. However, you will need a cellular or Wi-Fi connection for Siri to carry out this command, so if you're somewhere without any service, manually taking the screenshot might be your only option.
Do It Fast
9. Automatically Answer Calls
There can be a host of reasons why you can't physically answer a call. Maybe you're elbow-deep in dinner prep, or maybe limited mobility hinders your ability to swipe the screen. Whatever the reason, having your iPhone automatically answer calls for you can be a big help. To set it up, go to Accessibility in Settings, tap Touch, then scroll down and touch Call Audio Routing. Tap Auto-Answer Calls, then in the next display toggle Auto-Answer Calls on. From here, choose how quickly your iPhone will answer. It can be as soon as three seconds, or you can give yourself a full minute to answer on your own.
10. Record a Video Fast
When you find the perfect moment for a video, you don't always have time to switch between Photo and Video mode on your iPhone. Luckily, there's a handy trick to start instantly recording in video even if you're on the regular Photo setting. Simply drag your shutter button over to the right. Your camera will start recording a video, which you can end by tapping the center shutter button, which now displays the red video recording icon. The white shutter button to the right will take a still. No need to hold the shutter button after you swiped; just swipe once and let it do its thing!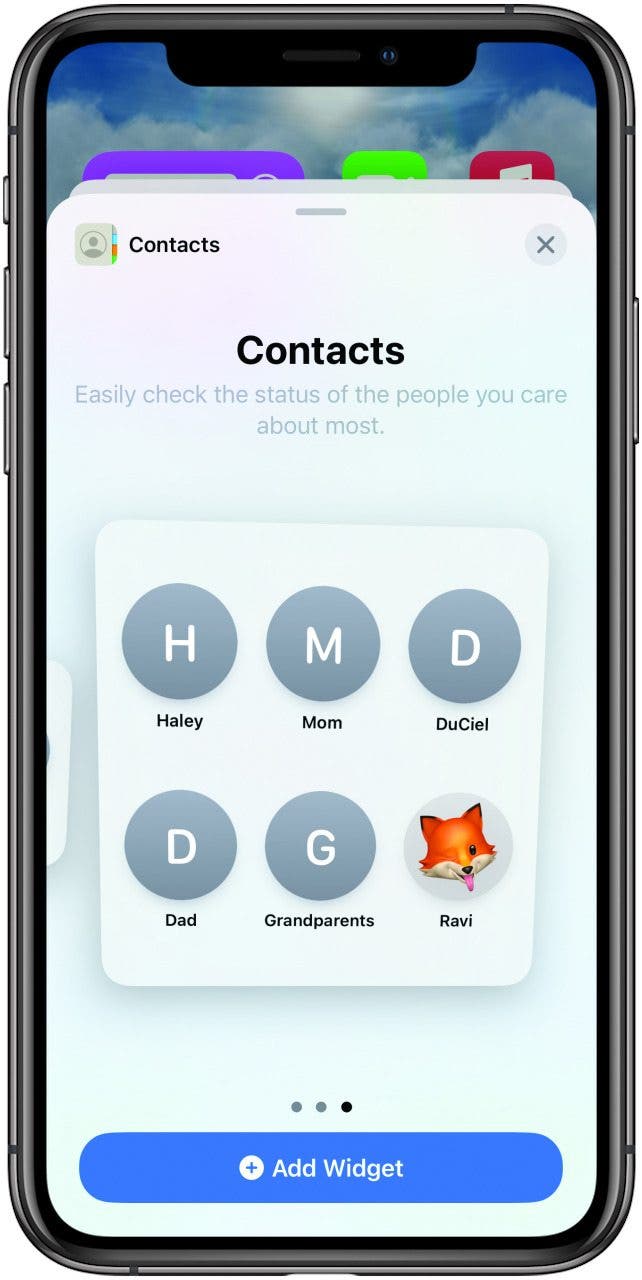 11. Keep Favorite Contacts on Your Home Screen
Do you have a handful of people you contact regularly? Instead of scrolling back through previous calls or message threads, you can add a widget to your Home Screen that displays your most contacted people. Just long press on a blank area of your Home Screen until it enters jiggle mode. Then tap the Add icon on the top left. In the box that pops up, scroll down until you see Contacts. Tap it, swipe through until you see the size widget you want, then tap Add Widget. Now, you just have to tap on a name in the widget for that person's contact info to come up.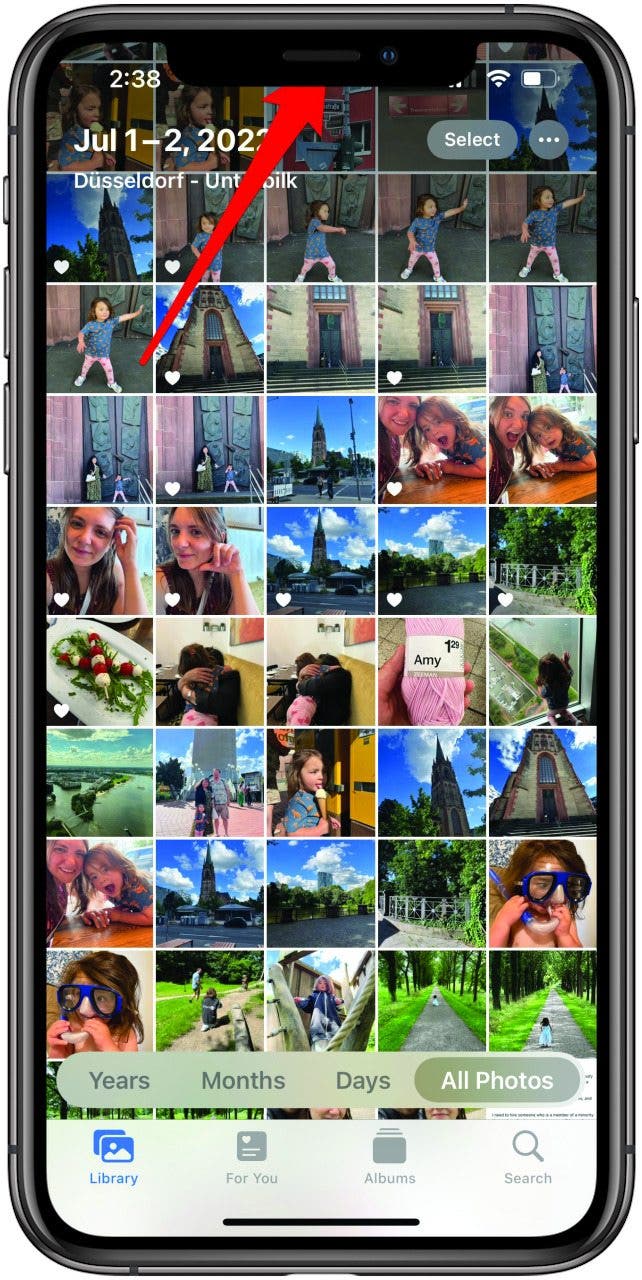 12. Jump Back to the Top of an App
Did you know that a simple iPhone gesture can save your thumb the workout of scrolling back to the top of most apps? Inside most apps with vertical scrolling, you can return to the top by tapping a specific portion of the screen. All you have to do is tap the center top of your iPhone, usually just below the notch if you have one. This will jump you back up to the top, so if you want to see where your photo collection really begins or look for the title of the long article you just finished reading, you can do it in one touch.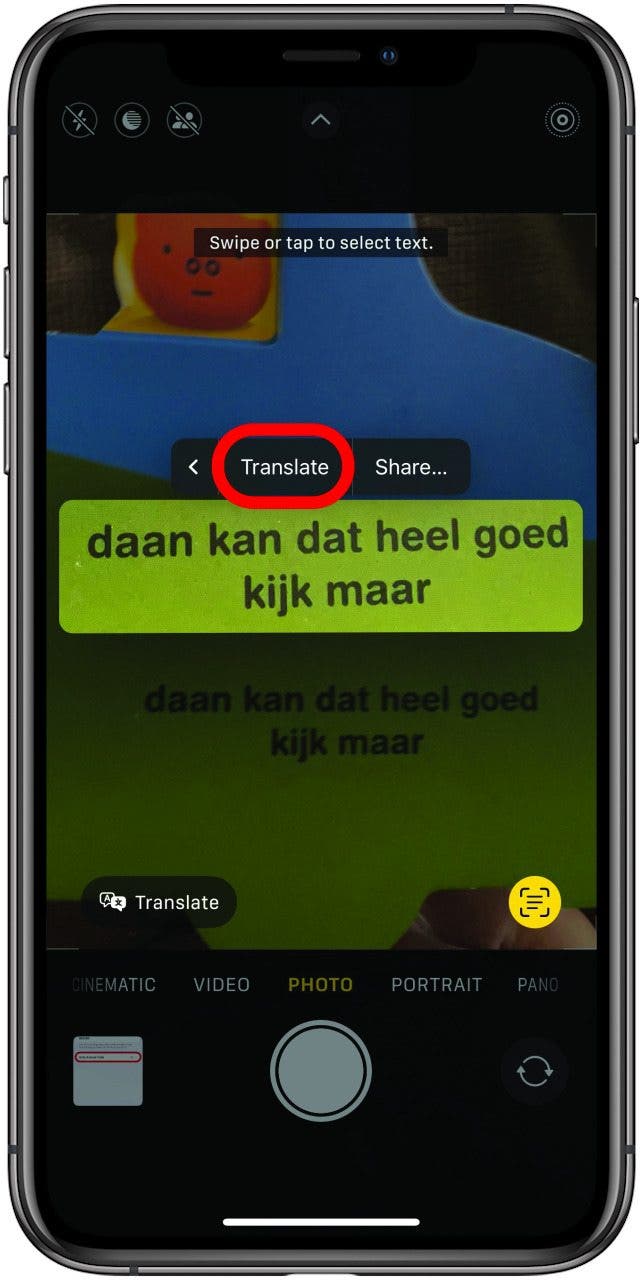 13. Quickly Translate Text
Whether you're traveling or just come across a phrase in a language you don't know, Live Text can translate for you without you having to type the phrase in and select the language yourself. Just take a picture of the text or just open your camera and point it at the text, and tap the Live Text button once it appears. Tap the arrow to the side and then tap Translate. Your Translate app will show you the translation and give you options to favorite, change the language, or copy the translation. When you're done, just tap the X in the top right corner to exit.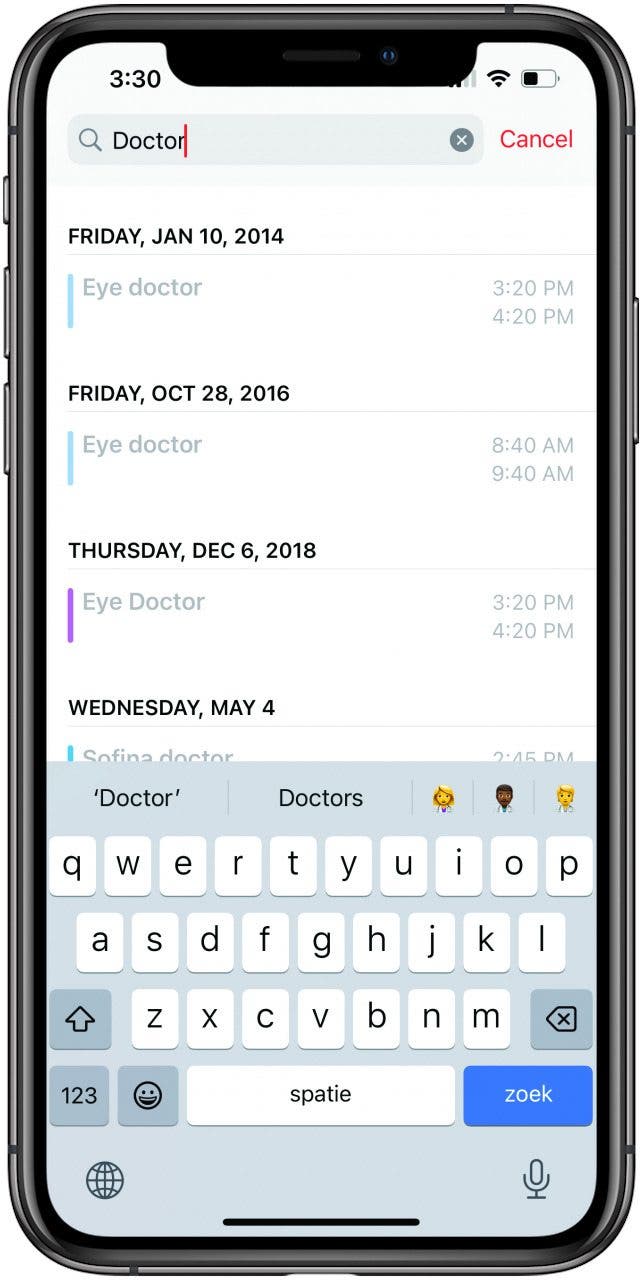 14. Quickly Find Events in Your Calendar
Know you have a birthday party to go to this month but can't remember the date? You can search the Calendar app on to find events and their dates. You'll need to have the events already saved to your Calendar, but most holidays are automatically entered in the Calendar app by default. Just open your Calendar app and tap the Search icon. Then enter the name of the event. The results will include all the events of that name, including ones that have passed, so make sure to check the year!