By

Olena Kagui
Updated 03/07/2023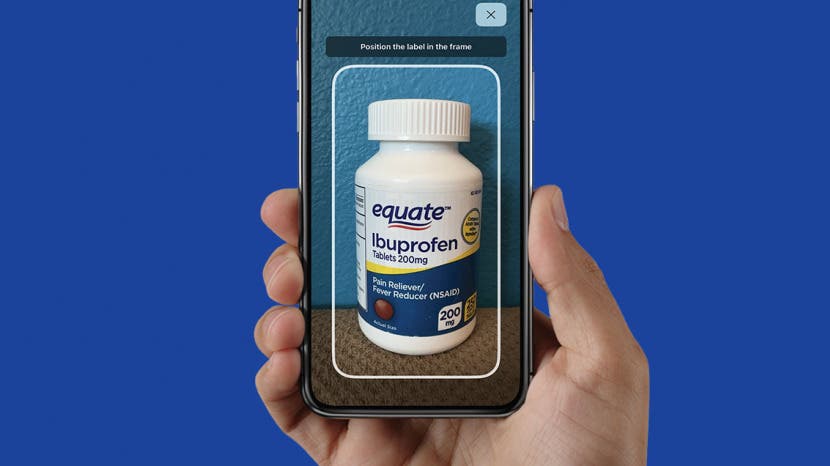 * This post is part of iPhone Life's Tip of the Day newsletter. Sign Up. *
Adding your medications using your iPhone camera rather than filling out all the information manually can save you time. This will require you to give camera permissions to your Health app, which you can disable later if you wish. Let me show you how to add medications quickly using your camera!
Related: How to Add Medical Records to Health App on iPhone

Discover your iPhone's hidden features
Get a daily tip (with screenshots and clear instructions) so you can master your iPhone in just one minute a day.
Why You'll Love This Tip
Save time by adding medications to the Health app with your camera.
Don't worry about misspelling complex medication names by scanning them directly.
How to Use Your Camera to Add Medications to the Health App
This tip works on the iPhone XR and later, so if you have an older iPhone, you'll need to enter your medications manually. And depending on the medication you are trying to add, using your camera might not work even with a newer iPhone. Multivitamins, for example, might not be listed, so these would also have to be added manually. For more fantastic tips about making the most of your Health app, sign up for our free Tip of the Day!
Before you can add your medications to the Health app using your camera, make sure you have updated to iOS 16 and give your Health app permission to use your camera. To use your camera to add prescriptions:
Open the Health app.


Tap Browse.



Search for "Medications" and tap it.


Tap Add Medications.



Tap the camera icon. 


The first time you do this, you'll have to give camera access to your camera. Tap OK.



Tap Get Started.


Position your camera over the medication as instructed. It should scan it really quickly.



You'll see some possible matches. If you don't see the correct one, tap Search by Name or Scan Again.


Tap the correct one.



If you didn't get an exact match, you may need to enter specifics about your medication, such as delivery method and strength. Next, you'll enter the Frequency that you take it. The default is Every Day. Tap it to change it.


Next, select the Time of Day you take your medication by tapping Add a time.



Tap the time and swipe up and down to select the correct time. Tap outside of the time menu once you are done. You can add multiple times of day per medication.


The default is 1 capsule (or 1 application, 1 injection, etc., depending on your medication's delivery method). Tap 1 capsule to change the amount.



Tap Next.


Choose the shape of your medication; this can help you identify the correct pill even if you keep several prescriptions mixed. If you scroll down, you can see options for powders, injections, nasal sprays, creams, and more. Once you've selected the shape of your medication, tap Next.



Choose a color for the left side, right side, and background. If you take various medications that look different, this is a good chance to make it look like the actual medication you take so that you can identify it easily, even if you mix it with your other medications. Since I only have one prescription, I chose colors that make me happy.


Tap Next.



Next, you'll be able to review the details of the medication you've entered. You'll be able to add an optional display name and notes if you wish. Tap Next or Skip to move on.


The first time you add a medication, you'll also be taken through steps to set up possible drug interactions. The options you can toggle on are Alcohol, Tobacco, and Marijuana. You will only be asked to select these once, and you can toggle them on and off later on. When you're done selecting which drug interactions you'd like to see information on, tap Done.



If you've already set drug interactions up, you can tap on Drug Interactions to see if any factors can interfere with your medication. Tap Done when you are finished.


Pro Tip: Once added, you can log your medications when you take them and even learn more about your medications directly in the Health app. Also, if you add several medications, you can also check to see if there are any Drug Interactions between them. However, it is always best to discuss this with your doctor because they may be able to give you valuable tips or an alternative medication that won't have any adverse interactions.
Now you know how to add your prescriptions using your iPhone camera! I like to do this because it lets me skip the dosage step, and I don't have to worry about misspellings when searching for the correct medication. Next, learn how to use the Health App to remember to take your medications, vitamins, and prescriptions.