By

Rhett Intriago
Thu, 11/17/2022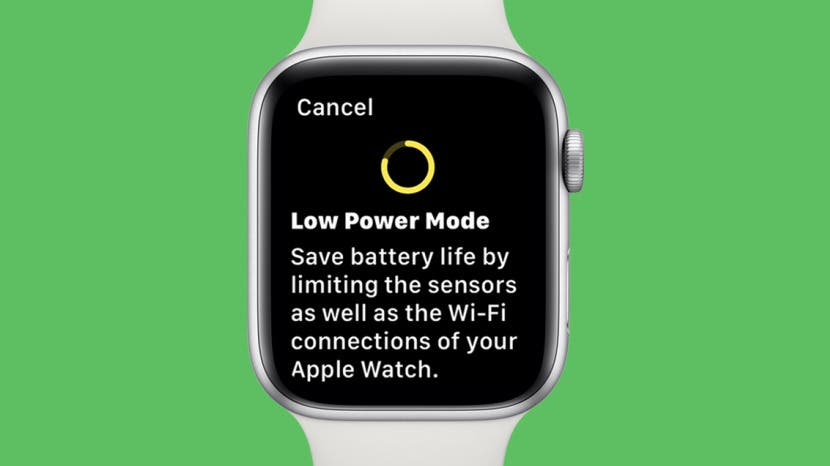 The Apple Watch has had a Power Reserve Mode for a while now, but the latest version of watchOS replaced it with a Low Power Mode that works more effectively. This feature allows you to continue using your watch while turning off nonessential functions to save as much battery as possible. We'll go over how this mode works, how it differs from Power Reserve, and how to switch it on and off.
Jump To:
What Does Low Power Mode Do on Apple Watch?
Low Power Mode disables background heart rate and blood oxygen readings, heart rate alerts, workout reminders, and, if your Apple Watch has it, Always On Display. With these passive functions turned off, your device can preserve as much battery as possible, while still allowing you to use your watch as normal. 
How Does Low Power Mode Differ from Power Reserve Mode?
While it functions similarly to Low Power Mode, the Apple Watch's Power Reserve Mode is an entirely different feature. It has been completely replaced by Low Power Mode in watchOS 9. In previous software versions, Power Reserve Mode disabled everything that makes the Apple Watch a smart device, effectively turning it into an ordinary watch. Tapping the screen or pressing either the Digital Crown or the side button would briefly display the current time. Other than that, the device couldn't do anything else while in Power Reserve Mode. With Low Power Mode, you can now continue using your watch as normal while still saving battery life.
How to Enable & Disable Apple Watch Low Power Mode
To learn more about your Apple Watch features, sign up for our free Tip of the Day Newsletter. When your Apple Watch battery life falls below 10 percent, you'll automatically be prompted to turn on Low Power Mode. However, if you would like to turn it on manually, there are two very simple ways to do this. Here's how to enable and disable the Apple Watch Low Power Mode:
Open the Settings app on your Apple Watch.


Scroll down and tap Battery.



Scroll down and tap the Low Power Mode toggle.


A brief description of Low Power Mode will appear. Scroll down and tap Turn On. With this method, Low Power Mode will automatically turn off when the battery is charged to 80 percent.



If you want to enable Low Power Mode for a set duration, tap Turn On For.


Select whether to keep Low Power Mode on for one, two, or three days, whether your device is charged to 80 percent or not.



You'll see a yellow circle at the top of the display to indicate that Low Power Mode is on.


To turn off Low Power Mode, tap the Low Power Mode toggle.



A quicker way to access the Low Power Mode toggle is to swipe up on your watch face to bring up the Control Center.


Tap the battery percentage.



You can toggle Low Power Mode on and off from here instead of navigating through the Settings app every time.


Now that you know how Low Power Mode works on the Apple Watch, you can start saving your device's battery life by enabling this feature when running low on power. Do you often use your Apple Watch to track your daily step count? If so, you might also be interested in learning how to enable this hidden setting so you can see steps on your Apple Watch face.