By

Cullen Thomas
Tue, 09/12/2023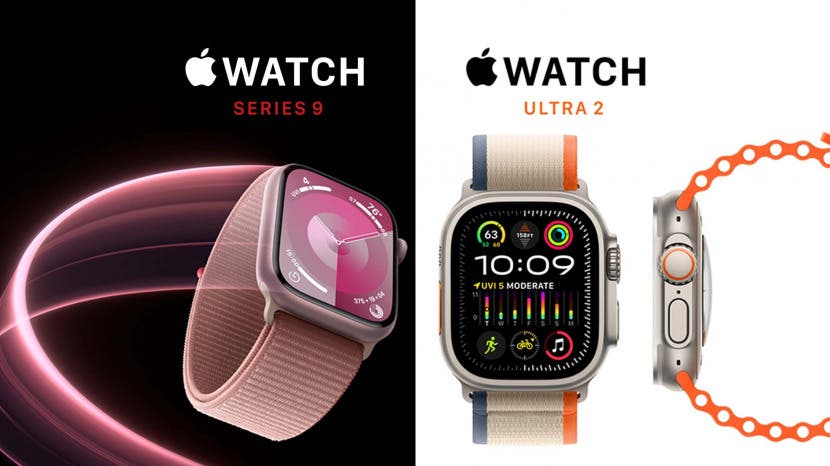 At Apple's September 2023 announcement event, the tech giant revealed the capabilities of its new Apple Watch Series 9 and Apple Watch Ultra 2. The yearly update to both devices improves the processor to a new S9 chip, which will include AI processing cores for the first time on an Apple Watch. These cores enhance the function of every task that relies on artificial intelligence, from processing photos, to interpreting voice commands, to more accurate typing with autocorrect. Those cores will allow Siri to process some commands on the Apple Watch, without needing to communicate with an iPhone or the cloud. The new chip also enables a whole new gesture the user performs on their watch-arm, without touching the screen. Here's everything you need to know about Apple's latest generation of Apple Watches.
2023 Apple Watch Price & Availability
Apple Watch Ultra
Price: $799 or $66.58/month
Colors: Titanium starlight
Size: 49 mm
Availability: Preorder now; available in stores starting September 22
Apple Watch Series 9
Price: Starting at $399 or $33.25/month
Colors:

Aluminum—Midnight, Starlight, Silver, and (PRODUCT) Red, Pink
Stainless Steel—Gold, Silver, and Graphite

Size: 41 mm, 45 mm
Availability: Preorder now; available in stores starting September 22
Apple Watch SE (2nd Generation)
There were no changes to the 2nd Generation of the Apple Watch SE, but Apple did announce that new purchases of it are now 100 percent carbon neutral when paired with recycled watch bands.
Price: Starting at $249 or $20.75/month
Colors: Aluminum Midnight, Starlight, and Silver
Size: 40 mm, 44 mm
Availability: Available now.
Apple Watch Series 9 New Features
The Series 9 updates focus on the features we use every day. An improved antenna allows for much more accurate locating of lost items in the Find My app, and pinging your iPhone to find it when it's fallen into the couch cushions (the thing I do most often) will now display the range to the lost device, and a pointer for which direction it's in.

Discover your iPhone's hidden features
Get one daily tip each day (with screenshots and clear instructions) so you can master your iPhone in just one minute a day.
Apple Watch 9 comes with a range-finder and a directional indicator on the watch. That same ultra-wide-band antenna can detect a nearby HomePod and offer suggestions for songs to play. You can even share your contact information using NameDrop.
The new series brings an upgraded processor, the S9 chip, which includes a 4-core neural engine for the first time on an Apple Watch. Neural cores—special processors dedicated to artificial intelligence tasks—will improve your Siri interactions, making them more reliable and accurate, while processing more of the interactions on your Watch, without talking to your iPhone or to remote internet servers. Side benefit: they'll also make dictation more accurate.
The new Apple Watch generation gets an upgraded screen capable of producing up to 2000 nits in brightness. For comparison, iPhones historically produced about 500 nits of brightness, most TVs produce about 400, and the very nicest TVs on the market might get up to 1600 nits of brightness. This extra brightness can make colors more vibrant using HDR color processing, but on a watch, it's mostly so you can see the screen in direct sunlight.
But maybe the most interesting new feature of Series 9 is an entirely new gesture. With the Series 9, you'll be able to pinch the fingers of the hand wearing the watch to issue commands. You can pinch to snooze an alarm, snap a picture, start or stop a timer or stopwatch, answer a call, or many other app-specific commands. That gesture, the finger-pinch, is designed to be used when your other hand is busy, and it's an exciting addition. A similar feature has existed for years, but it was buried in accessibility settings, and it wasn't responsive to which app you had open. I'm excited to see the polished version, ready for prime time. When you have two hands available, you'll usually reach for your iPhone, right? So the Apple Watch is most useful when you don't have both hands free, and this gesture is meant to make that even more true.
Finally, the purchase of an Apple Watch Series 9 can be up to 100 percent carbon neutral, depending on which band you buy. Apple claims to have achieved this by using recycled aluminum, recycled yarn in the watch bands, ocean-based shipping methods, and a program of carbon credit purchasing that involves investing in reforestation and ecosystem protection to offset the carbon costs of the watch's electricity use, including its recharging cycles throughout its expected use life.
This is Apple's first ever 100 percent carbon-neutral product.
The selection of upgrades, which doesn't include any new sensors, seems to affect precisely the features I actually use my Apple Watch for every day. Better at finding my iPhone in the couch. Better at snoozing my alarm. Better at taking dictation. Better at controlling smart home devices and ordering Siri around. Easier to see on a bright day. Oh, and one more thing: it comes in pink. It's everything I ever wanted from an Apple Watch.
Apple Watch Ultra 2 New Features
The second generation of Apple Watch Ultra also uses the same S9 chip as the Series 9, permitting on-device language processing. In addition to all the features coming to Apple Watch Series 9, the Ultra will improve its display brightness even further, all the way up to 3000 nits. The Ultra 2 also comes with a new watch face called Modular Ultra, designed to take advantage of the brighter display by adding more information widgets. Truly a watch for the gizmo geek.
Outside the domain of the traditional gizmo geek, the Ultra 2 can dive deeper and climb higher than the previous generation, with a dive depth of 40 meters and an altimeter that can measure altitudes between -500 and 9000 meters. There are a few other small updates: it can track cycling power zones and other advanced bicycling metrics through third-party Bluetooth devices, and it comes in a case made of 95% recycled metals.
As with the Series 9, any purchase of an Apple Watch Ultra 2 can be up to 100 percent carbon neutral, depending on which watch band you pair it with.
This is a modest update to Apple's ruggedized apple watch. If you were already using an Apple Watch Ultra, then upgrading to the Ultra 2 probably isn't worth it, unless you (like me) want that new gesture control. If you were considering an Ultra, then the second generation offers a good excuse to buy in.