Whether you're a student or a professional, check out these 6 notetaking apps for iPad.
By

Brian Peters
Updated 12/21/2022
One of the great things about iPads is their combination of portability and a large screen. This makes them perfect for reading e-books, digital comics, and magazines. It also makes them a potential replacement for a paper notebook, especially when paired with a good stylus like the Apple Pencil. Of course, to replace someone's sketchbook, journal, or notepad, the iPad needs a good notetaking app. As someone who used to love brainstorming ideas and writing short stories by hand, I've long been curious if the iPad could help me recapture that feeling. So, I decided to look at some of the most popular notetaking apps available for the iPad, all of which offer their core functionality for free (and most of which have premium versions with more features if you decide you love them).
6 Best iPad Notetaking Apps
 
1. Evernote (Free, $7.99/ month for Premium)
This behemoth in the world of notetaking apps needs to go first. It's been around a long time and is very popular, for good reason. Evernote is available on basically every platform, and your notes will sync across all of them so they're available to you anywhere. It has organizational tools and can incorporate images, video, sounds, and web pages into your notes. Evernote is an excellent option for notetaking, especially if your needs are professional. Evernote's primary downside is that it does not do much to take advantage of the iPad's unique features or provide any support for styluses, so your actual writing will need to be done via keyboard.


2. GoodNotes 5 (Free, $8.99 for Full Access)
My wife Tina recommended this app (and has used our iPad significantly more than I have), and I quickly saw why she likes it. This app makes solid use of the iPad's touchscreen and stylus support. It has many drawing tools and stickers, and the ability to add your own images, allowing you to use it like a digital journal or a simple sketchbook. It has extensive organizational tools, as well as handwriting recognition to make even your handwritten notes searchable. GoodNotes is an excellent all-around choice if you're interested in drawing, journaling, and professional notetaking without a strong preference for any one area.
Honorable Mention: Notability is another solid all-around notetaking app similar to GoodNotes.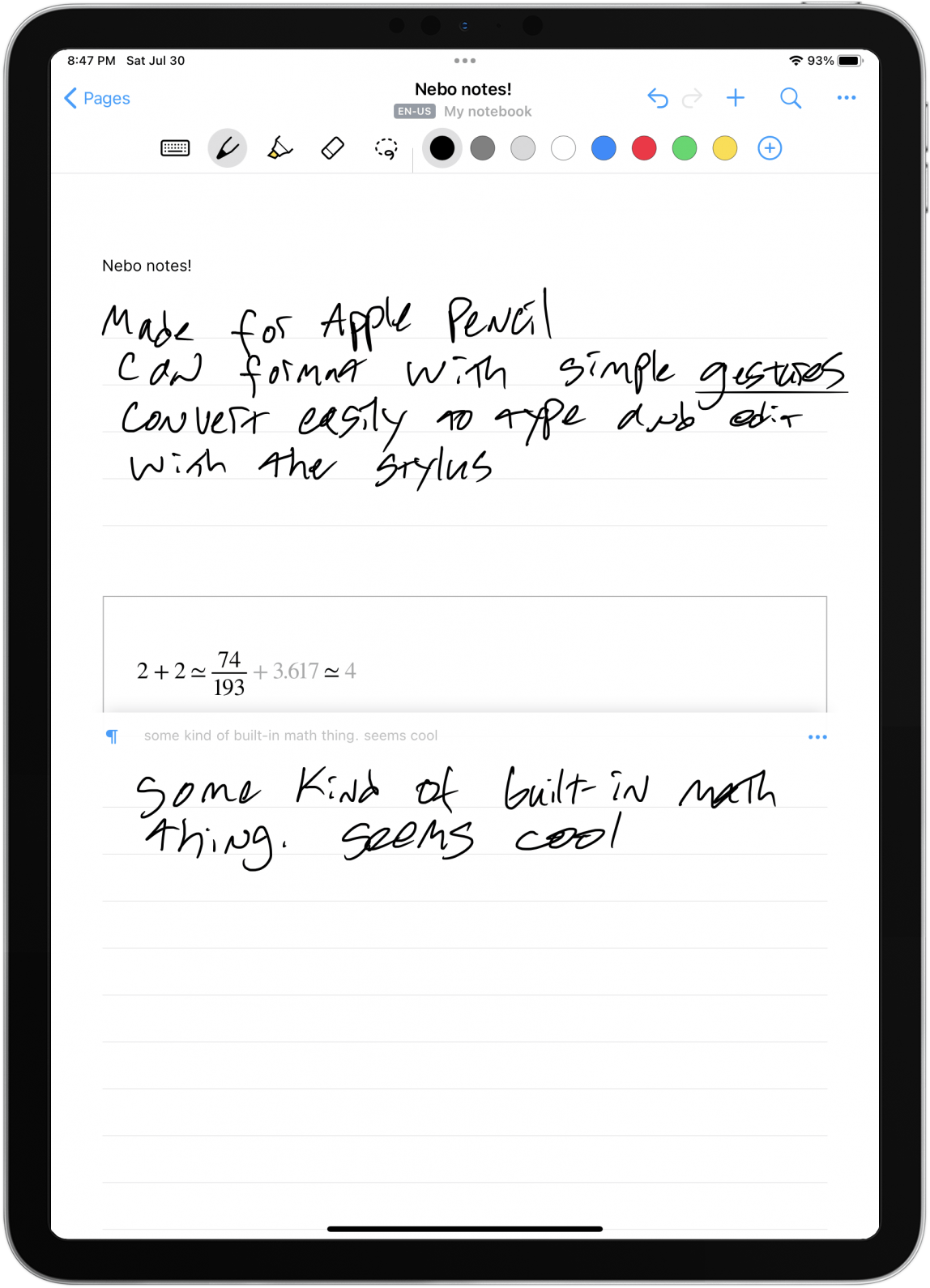 3. Nebo (Free, $7.99 for Full Access)
This app impressed me with its stylus-focused design. Nebo is all about making handwriting as functional and powerful as typewritten text. It features a gesture system to easily format text as you go and converts your handwritten text to type. My favorite handwriting recognition feature is the real-time preview, which lets you check that the app is reading what you write correctly. It also has a selection of basic drawing tools and more unusual features like interactive diagrams and the ability to write out math equations which it will then solve. Of the apps I looked at, this is the one I'm most eager to use regularly. While it allows for keyboard input, if you're not planning to make extensive use of handwriting, there are probably better options for you on this list.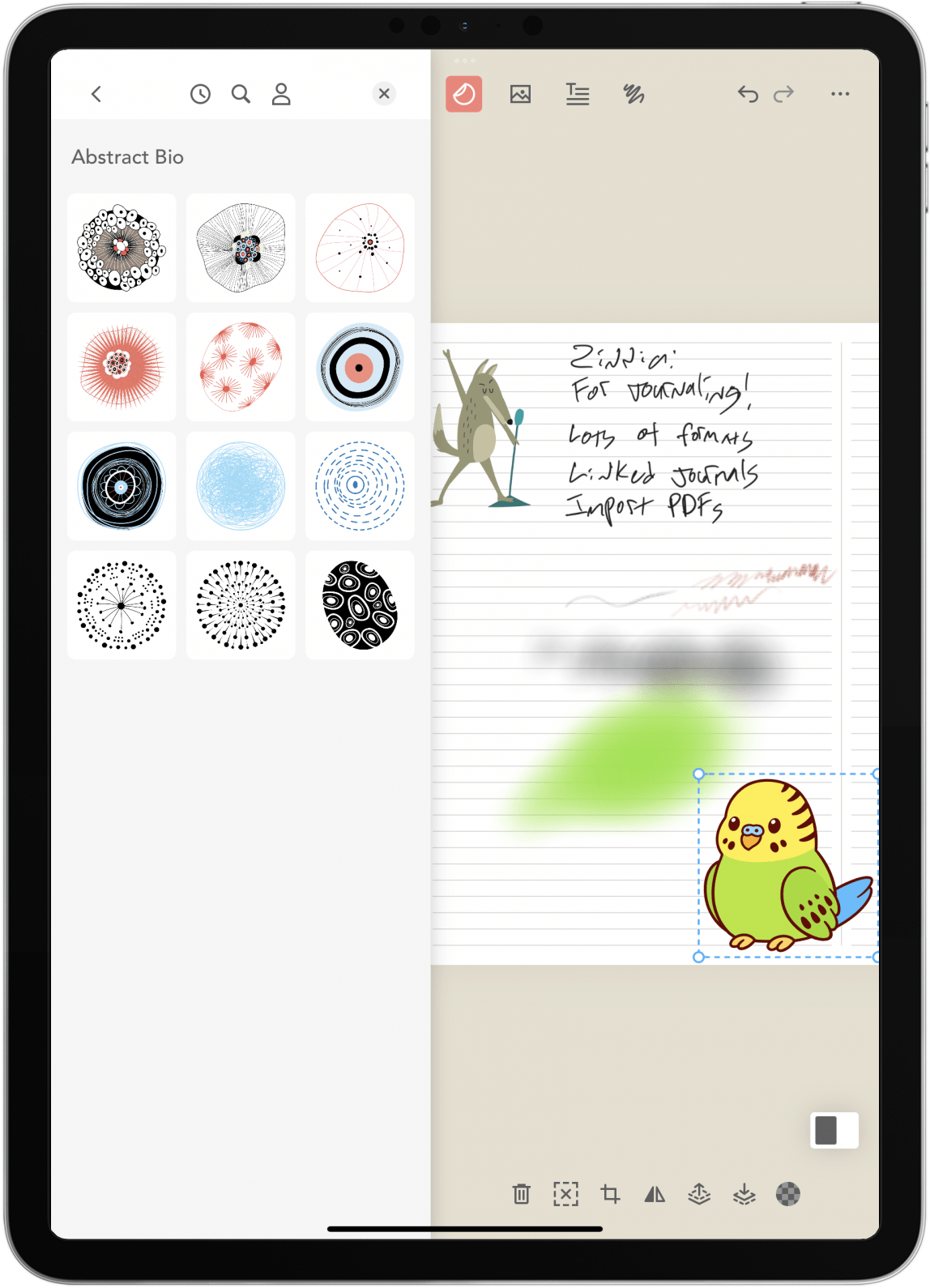 4. Zinnia (Free, $9.99/month for Premium)
This app is a digital journal and planner. Zinnia is the second app my wife recommended. She used to do a lot of journaling in physical journals, and I can easily see why she likes this as a replacement. Zinnia has a huge selection of digital paper types, stickers, drawing tools, washi tape, and more. Zinnia lets you decorate and organize your digital journal as much as you would a physical one. One standout feature is linked journals, which require some work to set up, but then allow you to tap a day on the calendar page of your planner and jump immediately to the page for that specific day.


Of course, no discussion of notetaking apps on Apple devices would be complete without mentioning Apple's own Notes. This free app is likely already on your iPad, and while it is quite basic and feature-light, it is also simple. If all you really want is the ability to take notes quickly and easily with your keyboard or a stylus, the Notes app has you covered, and with iCloud, it's easy to access notes made on one Apple device with another. Notes doesn't do anything too fancy, but it's free and easy to use.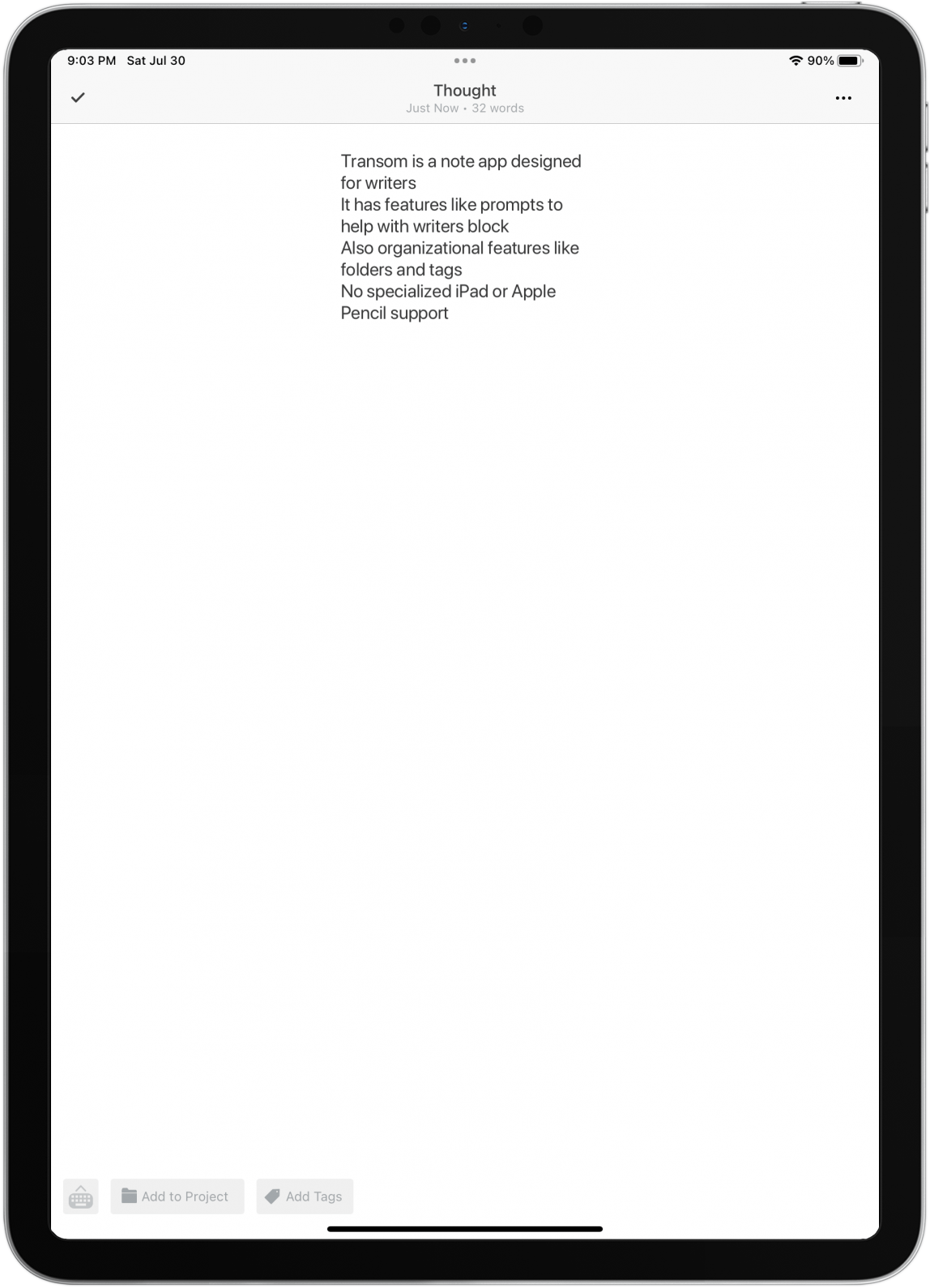 6. Transom (Free, In-App Purchases)
The last app I want to mention is Transom. This notetaking app is geared toward writers, and as someone who enjoys dabbling in fiction writing now and then, this drew my curiosity. In function, Transom is pretty basic. Like Evernote, there's no real handwriting functionality, which is disappointing, but the features intended to encourage daily writing and help break through bouts of writer's block are intriguing. The lack of handwriting support means it's low on my list for use on the iPad, but I plan to give it a try on my iPhone.