This iPhone Shortcuts app guide will teach you how to use the Apple Shortcuts app to create and edit Siri shortcuts for easy personalized navigation!
By

Tamlin Day
Updated 01/12/2023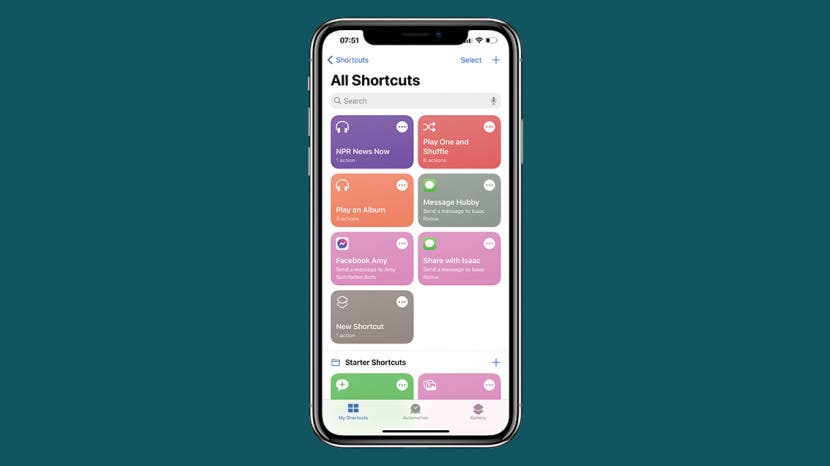 The iPhone Shortcuts app makes it possible to build automated workflows. The Shortcuts App is integrated with Siri, so you can pair phrases with your apps' actions to achieve ultimate iPhone automation. I'll teach you how to create a shortcut from scratch, use and edit one of the starter shortcut options, and I'll even teach you how to use the Shortcuts app to create custom app icons!
Jump To:
What is a Shortcut? An example of a Siri Shortcuts command is saying, "Hey Siri, I'm going for a walk." This simple phrase can be linked to a series of actions in your preferred order. For example, it can first prompt the weather app to tell you the temperature. Next, it can start playing your walking playlist. There can even be more steps associated with that one command, such as setting your Apple Watch to Silent Mode to avoid interruptions. You can add custom shortcuts or pick from the Starter Shortcuts. Here's how to add shortcut to iPhones running iOS 15.5:
Open the Shortcuts app.


Tap the + icon in the top right corner.


Select Add Action.


Here you'll see some suggestions or you can use the search bar to search for apps or actions.


To see a list of apps, tap Apps.


Select the app to create a shortcut for it.


Select an action. For example, send a message to a contact.


Tap Recipients.


Type the name, phone number, or email address of your contact.


Select one (or more).


Tap Done.


Name the shortcut. You will need to say "Hey Siri," and then the shortcut's name to activate it, so consider an easy-to-remember phrase.


Tap done.


To test if your shortcut works, try speaking the command. You can also tap on the shortcut in the Shortcuts app and press the Play button in the bottom right.


Now you know how to create a shortcut on iPhones running iOS 15.5! If you are using a different iOS, the steps will be similar but may look a little different.
Pro Tip: The Apple Shortcuts app does not automatically have access to all your apps. When setting up a shortcut, it may ask you to approve that access. When you tap on the shortcut in My Shortcuts, it will say something like, "This shortcut is not allowed to access your podcasts." Just tap Allow Access to solve this issue.
This shortcut will now be visible in the list under All Shortcuts. Learn how to delete shortcuts. When creating shortcuts, keep in mind that there is usually more than one way to do the same thing. The shorter your list of steps, the faster your iPhone processes the shortcut as a whole. To learn more about iPhone Shortcuts app and how it can be used to customize a share sheet, sign up for our free Tip of the Day newsletter.
There are many great starter shortcuts that you may find useful. Trying them out is also an easy way to get acquainted with the Shortcuts app. To browse and add starter shortcuts:
Open the Shortcuts app and tap My Shortcuts.


Scroll down to Starter Shortcuts.


Select one and the action(s) will play out.


Tap Done.


Some starter shortcuts are installed with steps that require user input before the shortcut can function. Some shortcuts are more straightforward to edit than others. Understanding how to edit a shortcut is essential whether you're using an existing shortcut or want to learn to build your own. To edit a shortcut:
Open the Shortcuts app and locate the shortcut you wish to edit.


Tap the three dots.


Depending on the shortcut, you may be able to make different changes. Here I'll tap 5 screenshots.


I'll change it to 3 screenshots by tapping the - sign twice.


Tap anywhere to save your changes.


Any Starter Shortcut can be edited based on your preferences.
How to Get Custom App Icons Using Shortcuts App
Did you know that you can create custom app icons using the Shortcuts app? If you are running iOS 14 or iOS 15, you can create custom icons for any app on your iPhone:
Open the Shortcuts app.


Tap the + icon in the top right corner.


Select Add Action.


Use the search bar at the top of the screen and type Open App.


Select Open App.


Tap on App.


Select the app of your choice out of the list in alphabetical order. You can also search the app in the search bar at the top of the screen.


Name the Shortcut.


Tap done.


Tap the sliders icon.


Tap Add to Home Screen.


Tap on the app icon under Home Screen Name and Icon.


From the drop-down menu, select Choose Photo. You can also Take Photo or Choose File.


Select the image you would like to use and confirm it by tapping Choose.


Tap Add.


You'll be taken to see the new app icon on your Home Screen. Learn how to reorganzie your Home Screen apps.


Now you know how to use shortcuts on iPhone. iPhone Shortcuts makes it possible to pair phrases spoken to Siri with actions on your apps. There are endless ways to use the Apple Shortcuts app to execute task sequences. Learning how to create a Shortcut can make it faster to send a message, shuffle your Apple Music playlist, or enable other iPhone automation. It can take some time to master Shortcuts, but once you do, you'll be running your iPhone with ease using just your voice!