By

Olena Kagui
Updated 03/06/2023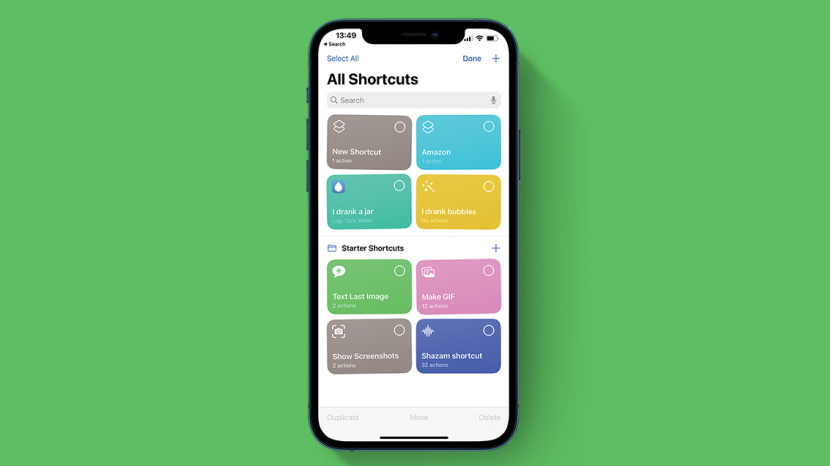 iPhone shortcuts have been helping users customize their devices since the iOS 12 update. They allow a simple tap or voice command to trigger an automated task or a sequence of tasks. But depending on your iPhone usage, these Apple shortcuts can become a nuisance. Learning how to remove shortcuts can help you navigate your phone with ease.
Related: Shortcuts App Intro: Selecting, Editing & Creating Basic Shortcuts on an iPhone
Jump to:
There are two types of shortcuts available on your phone. Shortcuts can be found in the iPhone Shortcuts app as well as via Siri Suggestions.

Discover your iPhone's hidden features
Get a daily tip (with screenshots and clear instructions) so you can master your iPhone in just one minute a day.
Open the Shortcuts app.


 
Under My Shortcuts, tap Select in the top right corner.


 

Select the shortcut(s) that you wish to delete.


 
Tap Delete in the bottom right corner.


 

Confirm to Delete Shortcut.


It is also possible to tap and hold the shortcuts in the My Shortcuts tab and then select delete. If you are signed in to your iCloud account, the shortcut will be deleted from all of your iCloud devices. To learn more about using Apple Shortcuts App on your iPhone, including using it to change app icons in iOS 16, sign up for our free Tip of the Day newsletter.
If your shortcut is bookmarked on your Home screen, deleting it in Shortcuts won't remove it.
Press and hold the shortcut icon until a drop-down menu appears.


 
Select Delete Bookmark.


 

Confirm to Delete Bookmark.


Siri is set up to automatically make suggestions based on your regular activities and the time of day to make your life easier. These suggestions act as shortcuts to activities such as sending a message to someone you text often or playing a frequently listened to playlist in Apple Music. You can use Siri Settings to disable Siri Suggestions.
Open Settings.


 
Select Siri & Search.


 

Under Siri Suggestions, use the toggle to disable suggestions while Searching, Lock Screen, Home Screen, or Sharing.


 
You can also scroll down in Siri & Search to see a list of apps compatible with Siri Suggestions. When you tap them, you can use the toggle under On Home Screen to disable suggestions from the App and more.


The Shortcuts App and Siri Suggestions can be a great way to customize your iPhone to suit your needs. However, it can get overwhelming to have too many iOS shortcuts. Now you know how to delete shortcuts in order to optimize your iPhone experience. Next, learn how to edit Shortcuts on iPhone!