Cut to the chase with Quick Actions.
By

Rhett Intriago
Updated 03/22/2023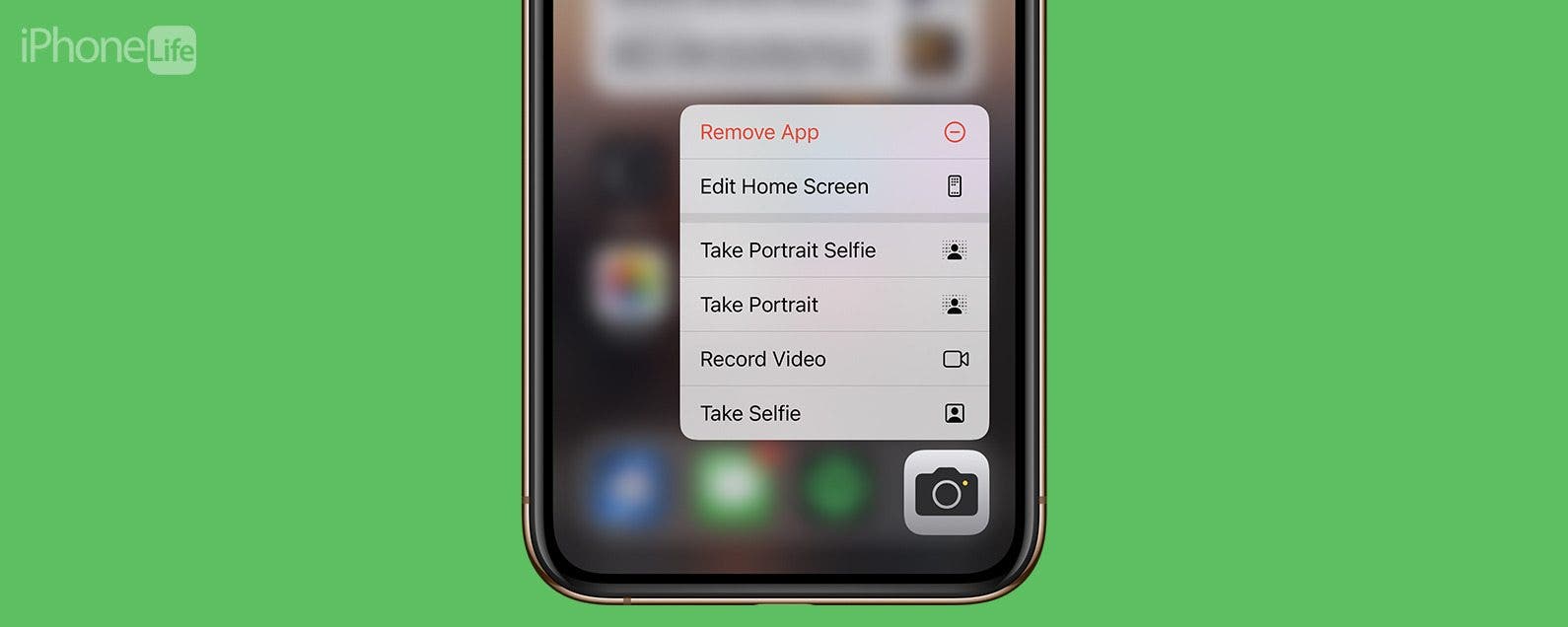 * This post is part of iPhone Life's Tip of the Day newsletter. Sign Up. *
Want to go straight to the video camera when opening the Camera app? Or maybe, you just want to quickly add an event to the Calendar app. What about third-party apps? Do you want to switch Instagram accounts before even opening the Instagram app? In this tip, I'll show you how to use your iPhone's Haptic Touch to perform Quick Actions.
Why You'll Love This Tip
Jump right into a specific setting or menu in your frequently used apps.
Perform specific tasks before you've even opened an app.
Use Quick Actions to Navigate Your iPhone Faster
You can use Haptic Touch (previously called 3D Touch on the iPhone XS and earlier) on your iPhone to open the Quick Actions menu for apps. It's so easy, it's crazy. The best part is that it cuts down on time spent fiddling with apps when you know exactly what you want to do anyways. For more iPhone shortcuts and tricks, be sure to sign up for our free Tip of the Day newsletter. Now, here's how to use Quick Actions:
On any given app on your iPhone's Home Screen, press and hold.


If the app has available quick options, you will be able to see them.


Here are some of my favorite quick actions for Apple native apps:
Record Video in the Camera app.
Go to Favorites in the Photos app.
Send My Location in the Maps app.
Open Bluetooth settings in the Settings app.
Open a New Message in the Mail app.
Copy Last Result in the Calculator app.
Start Timer in the Clock app.
Here are some fun ones for third-party apps:
View Orders in the Amazon app.
Send Money in the PayPal app.
Switch Account in the Instagram app.
Search in the Reddit app.
View your Saved Pins in the Pinterest app.
Go straight to the Crossword in the New York Times app.
Open your Subscriptions in the YouTube app.
Open an Incognito Search in the Chrome app.
Go to the Sleep section in the Calm app.
It is also worth noting that Quick Actions are not limited to the Home Screen; you can also use them in the App Library or in Search. Simply press and hold an app icon, and a menu of available Quick Actions will pop up.
Although I've covered many of the Quick Actions available in both Apple and third-party apps, there are countless others to be discovered. Be sure to press and hold any app that you might want a Quick Action for, you never know what kind of Quick Actions might be available for any given app. This has become such a staple for me, I can't believe I lived without it. Next, find out how to share apps right from your Home Screen!