By

Rhett Intriago
Updated 04/03/2023
What to Know
If your iPhone microphone is not working, it could be a software issue. Try checking for updates and restarting your device.
Clean your microphone ports and remove your phone case to ensure nothing is blocking the microphone.
Check your privacy settings. Your iPhone can block specific apps from using the microphone.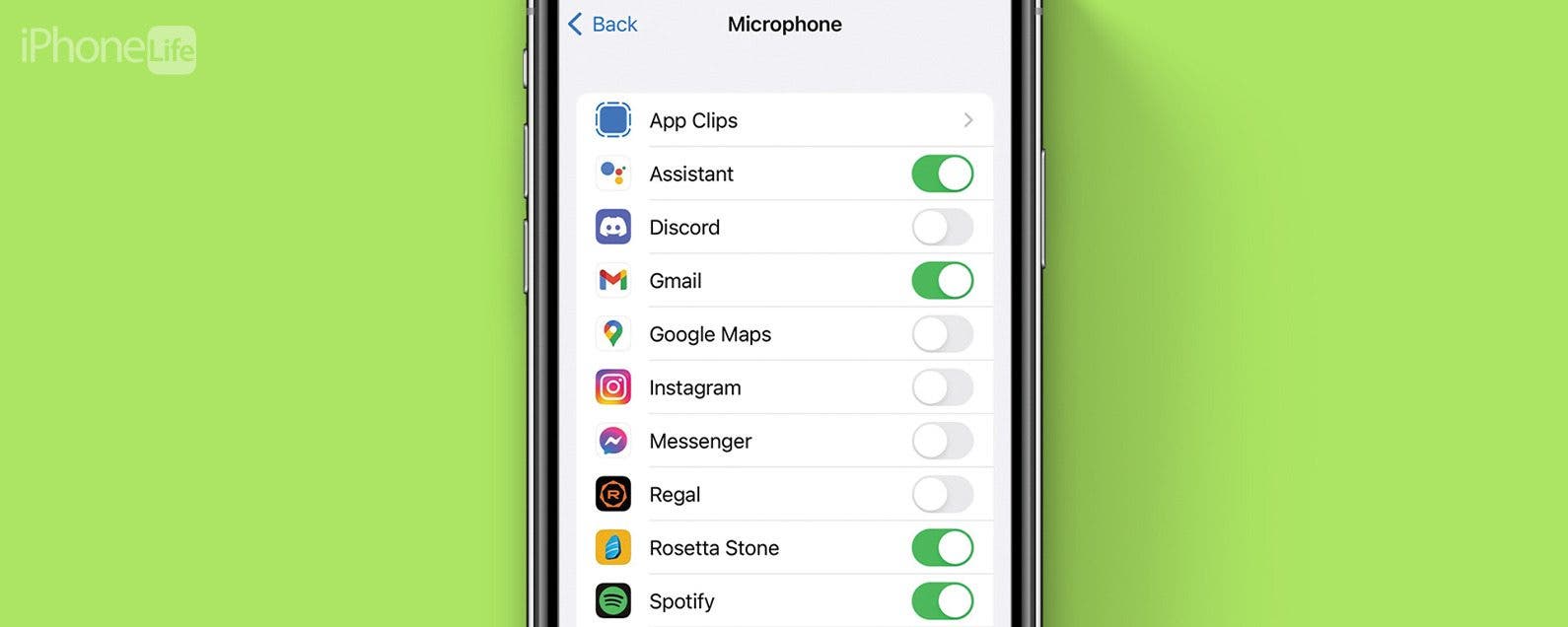 It can be incredibly frustrating when your iPhone microphone is not working. Losing this critical component means other essential functions stop working, like phone calls, FaceTime, Siri, voice recognition, etc. In this article, we'll go over some possible solutions to help you resolve iPhone microphone not working.
Jump To:
Troubleshooting iPhone Microphone Not Working
If you're wondering, "Why is my microphone not working?" or if people can't hear you on your iPhone, we are here to help! The microphone is one of the most important components of any phone, so if it stops working, you definitely want to get it fixed as soon as possible. We have a few solutions which may help resolve the problem. For more iPhone quick fixes, be sure to sign up for our free Tip of the Day newsletter.

Discover your iPhone's hidden features
Get one daily tip each day (with screenshots and clear instructions) so you can master your iPhone in just one minute a day.
How to Check for Updates on iPhone
When troubleshooting any tech device, you first want to confirm that you are using the latest software. If a bug was introduced in a previous version, a new update may help resolve the issue.
Open the Settings app.


Tap General.



Tap Software Update.


If your iPhone is up to date, you will see a screen similar to the one below. If you see a Download & Install button, be sure to tap it to install the available update.


Whether or not there is an update, the next thing you should try is restarting your iPhone. You can do this by pressing and holding the power button and either volume button until the power options menu comes up. Then, slide the power toggle to the right to power off your device. Wait a few seconds, and then press and hold the power button to turn it on again.
How to Change Audio Output on iPhone
If your iPhone microphone is not working, you may want to check your audio output settings. If you have audio accessories, like AirPods, connected, then your phone could be routing microphone audio to another source.
Swipe down from the top right to open the Control Center.


Tap and hold the media controls.



Tap the AirPlay icon. It should look like a triangle with circles radiating off of it. If you have AirPods connected, you might see an AirPods icon instead.


Here, you'll see a list of connected audio devices.



Tap iPhone to switch the audio output to your phone.


Now that you've confirmed that audio is being routed to your phone, test your microphone by making a phone call or taking a short video clip.
How to Clean iPhone Microphone
If your iPhone microphone is not working or if it seems like people can't hear you very well, the issue could also be that the microphone port has collected dust and needs to be cleaned. You can do this fairly easily using a dry toothbrush or cotton swab.
Where is the microphone on iPhone? The iPhone has three microphones in total. Depending on which model you have, your iPhone might look a bit different than the diagrams below. However, the approximate location of the iPhone's three microphones is generally the same across all models as far back as the iPhone 8. The first is found to the left and right of the lightning port at the bottom of the phone. You'll see two cutouts that house both speakers and the bottom microphone: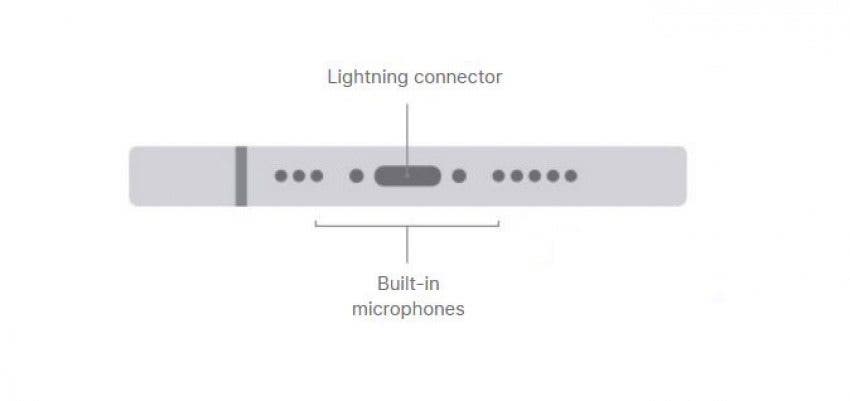 Image courtesy of Apple.com
The second microphone is found at the top of the phone in the speaker grill:
Image courtesy of Apple.com
The third microphone is found on the back of the phone. Depending on which iPhone model you have, the exact location might be a little bit different, but it will always be near the camera lenses: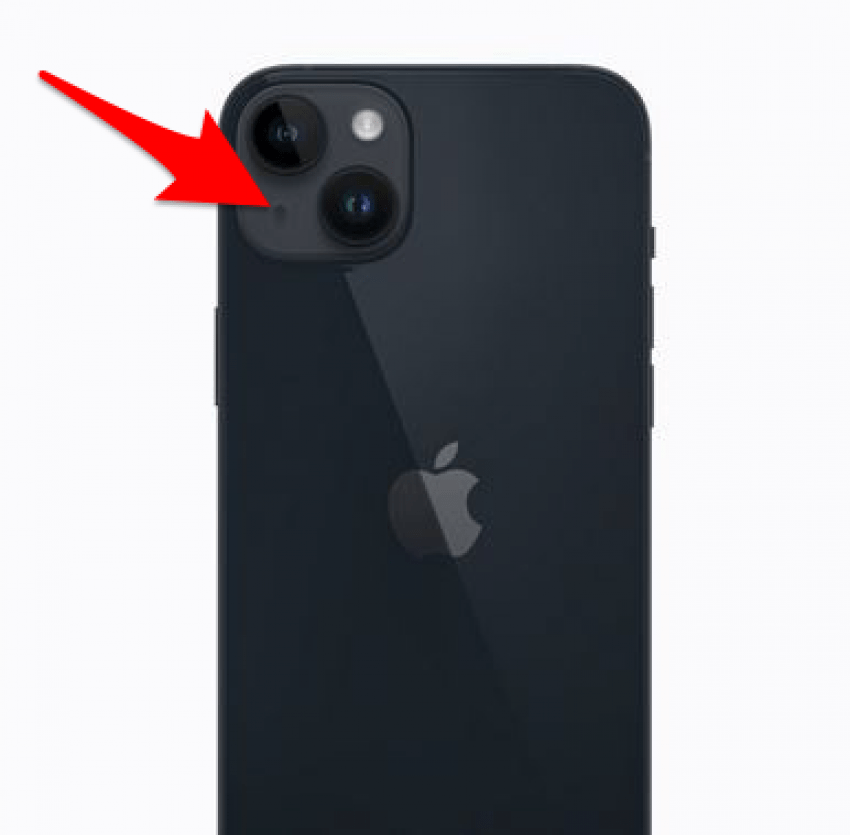 Image courtesy of Apple.com
Once you've cleaned the microphones, you can put them to the test by making a phone call or taking a short video clip. If your speakers are giving you trouble too, check out how to clean your iPhone speakers.
Cases Can Block the Microphone
If you use a case with your iPhone, it could be blocking the microphone, making it harder to pick up sounds. Try removing your case, then test your microphone by making a phone call, using voice memos, or recording a short video. If your microphone seems to work better without the case, you may want to invest in a different phone case.
How to Change iPhone Microphone Settings
If you're only having trouble with the microphone in a specific app, the issue might simply be your privacy settings. The iPhone offers privacy options to keep apps from listening to your microphone, so if the setting is turned off, the microphone won't work in certain apps.
Open the Settings app.


Scroll down and tap Privacy & Security.



Tap Microphone.


Find the app that needs microphone access and tap the toggle next to it. When the toggle is green, that app has microphone access.


After that, you can go back to the app that was giving you trouble and check if the microphone is working now.
Hopefully, one of the above solutions worked out for you. However, if your iPhone microphone is not working even after trying all of the steps we suggested, then you might be experiencing a hardware issue. If that is the case, you will need to contact Apple Support or visit an Apple Store for further assistance. Next, find out how to fix your AirPods mic not working!