By

Olena Kagui
Updated 05/22/2023
What to Know:
Some Tesla models have USB and/or USB-C ports to charge your iPhone, while other models have built-in wireless chargers.
Tesla-compatible third-party wireless charging options are also available.
Built-in or third-party wireless charger not working with your iPhone with protruding cameras? Try charging it with the display down.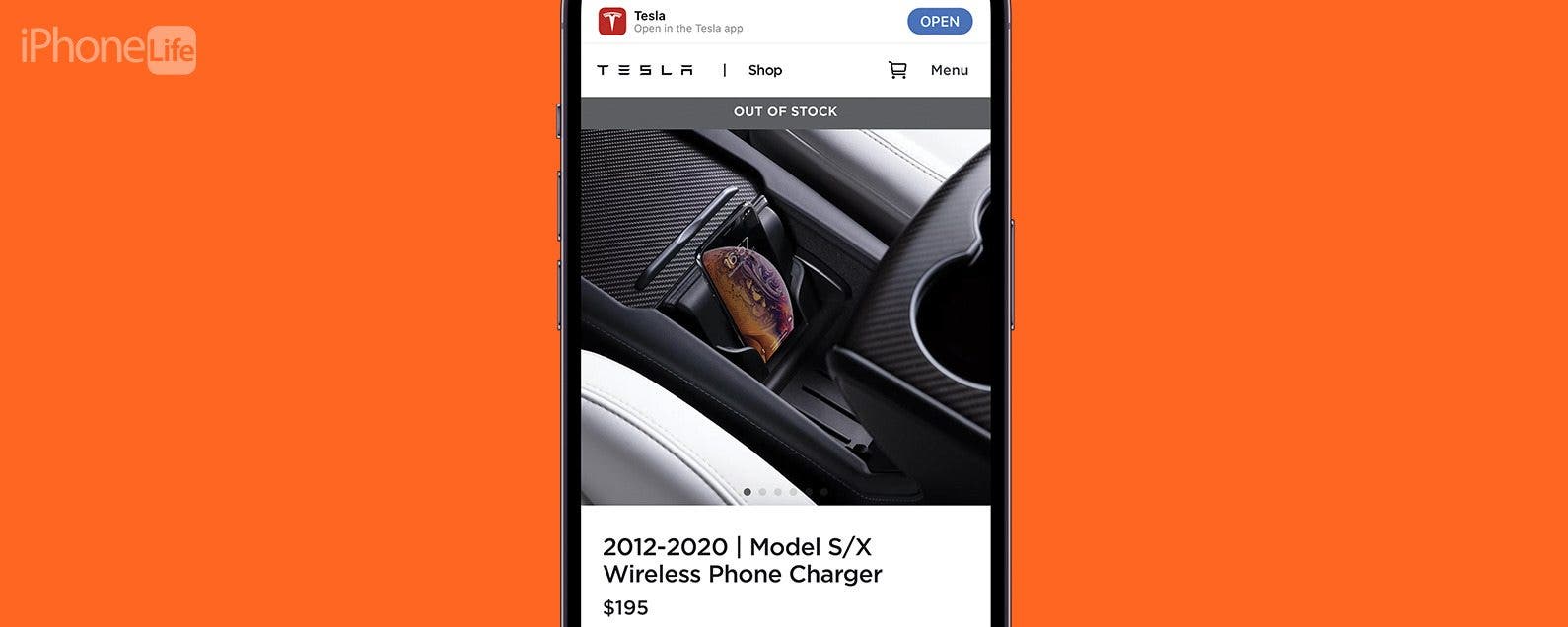 There are several ways to charge your iPhone in your Tesla. Depending on the model of your car, you'll have either USB ports, USB-C ports, or both! I'll also go over iPhone-compatible Qi-certified chargers and troubleshooting options for phones with protruding cameras.
Jump To:
Do I Have a Built-In Tesla Wireless Phone Charger?
Not every Tesla comes with a built-in wireless phone charger for iPhone or Android. If you have the current Model 3 and Model Ys, you will have a wireless Qi charger built-in. Other models and older models will have USB and/or USB-C ports but no built-in wireless chargers. However, you can purchase third-party wireless chargers for any Tesla model. For more tech tips, sign up for our free Tip of the Day newsletter.
Best Tesla Accessories for Charging Wirelessly
Tesla does sell official wireless chargers for their cars, such as this one for any 2012- 2020 Model S/X ($195), but they are often low in stock as well as pricey. Luckily many companies create compatible Qi-enabled phone chargers that you can use as your go-to wireless Tesla iPhone charger. When shopping for a wireless charger, make sure you buy the correct one for your model. Some chargers can be compatible with various Tesla models. 

Discover your iPhone's hidden features
Get one daily tip each day (with screenshots and clear instructions) so you can master your iPhone in just one minute a day.
This unique MagSafe-compatible charger sits behind the steering wheel and works on Tesla Model 3s and Tesla Model Ys. Please keep in mind that this charger has a USB-C cable, so if you have an older model Tesla 3 or Y with a USB port, you'll need a USB-C to USB adaptor. 
This charger mount can sit anywhere on the dash or behind the display of a Tesla Model 3/Y/S/X and even other cars, such as the Ford Mustang Mach E or a Jeep Wrangler. This is a fantastic option because you can use it to mount your phone anywhere you want, unlike more limiting chargers.
This is a popular option for older Tesla Model 3s, such as the 2017, 2018, and 2019 models, and can charge two phones at once! To install it, you must replace the original Tesla console and plug it into the USB ports. The great thing about this is that it comes with splitter cables so that you can still connect other accessories like the flash drive to record your dashcam footage, all while charging two Qi-enabled phones. You can even charge your wireless charging AirPods using this charger!
Third-party wireless charger options seem to be a little more limited for Tesla Model X and Model S. This cup holder charger is MagSafe compatible and works on any Tesla model and basically any model car, so you can bring it along on travels if you are renting a car. 
Troubleshooting Tesla Wireless Phone Charging
There are a few reasons why your Tesla phone charger might not be working as expected. The most common problems are protruding cameras or a bulky phone case getting in the way of wireless charging, a device not being Qi-enabled, or your wireless charger getting unplugged or damaged. Follow these steps to get your wireless car phone charger working again:
Confirm that your iPhone has wireless charging. If you have an iPhone 12 or newer, it should be compatible, but you can learn more about Qi-certified charging here.
Make sure your wireless charger is plugged in properly; it can become unplugged without you noticing.

If you have a case on your phone, make sure it is MagSafe-compatible. If it isn't, it might be too thick to charge correctly. Try taking it off to see if your phone starts charging.
Newer iPhone models have protruding rear cameras that can make wireless charging more difficult. You can still charge if you turn your phone over and place it screen down; make sure the charger is clear of any debris so you don't scratch your display.

Not every wireless Tesla charger is big enough to charge one of the larger iPhone models. If you think this is the case, you can reach out to the manufacturer and double-check if your phone is compatible.
Pro Tip:
Since we rely on our phones so heavily, especially if you use yours to control and lock/unlock your Tesla, it is a good idea to have a backup option. I always bring a charging cord or power bank just in case I experience issues with my wireless charger.
Now you know how to charge your phone in a Tesla! As much as I love wireless chargers, I personally prefer plugging my phone in because it is usually faster and more reliable. Next, discover the best Tesla apps that unlock hidden features and make owning a Tesla even more fun.
FAQ:
Does charging a phone in a Tesla reduce range/drain the battery? Yes, but very insignificantly. According to WhichEV, you can charge an iPhone 12 from 0-100% almost 5,400 times on a 2023 Tesla Model 3 battery. This means that it would only take around 1% to charge your iPhone over 50 times.
Does Tesla have USB charging ports? Yes! While every Tesla model is a little different, most Tesla models have five ports. Older models have USB (USB-A) ports, while newer models have USB-C ports. Two ports are located in the center console, two are in the rear, and one is in the glovebox compartment. Splitters can be used to charge even more devices simultaneously.
Does my phone have wireless charging? If you have an iPhone 12 or newer model, your phone is MagSafe compatible and can charge wirelessly.