By

Leanne Hays
Updated 06/12/2023
What To Know
There are several possibilities for why your iMessage keeps turning off, including a weak Wi-Fi signal or cellular connection.
Solve iMessage signing out randomly by opening your Messages settings, toggling off iMessage, then rebooting your iPhone and turning iMessage back on.
iMessage also may turn off because your iPhone or iPad has the wrong date and time set.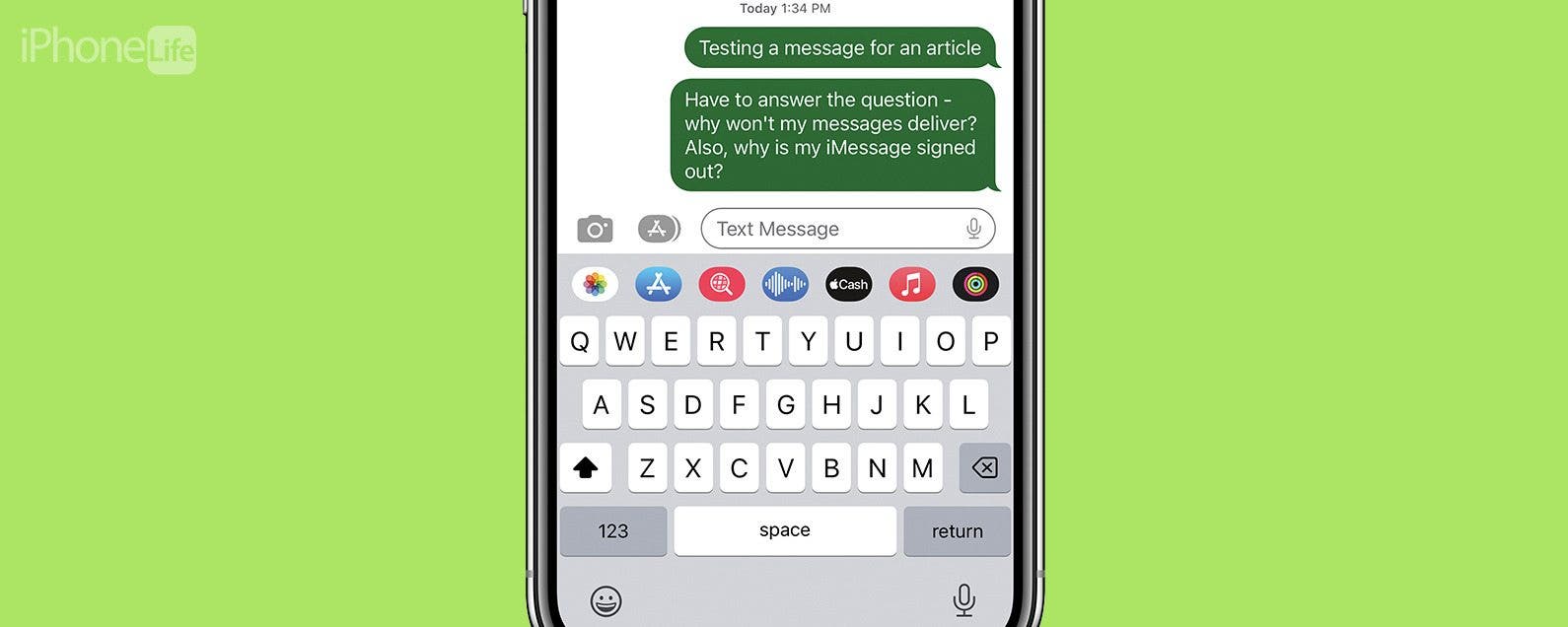 Why are my messages green? When your messages are green when they should be blue, it means that iMessage is not working, or you've been signed out of iMessage. If you're not the one who signed out of iMessage, I'm sure you're wondering, "Why is my iMessage signed out?" We're here to help you find that answer, and fix the problem; let's get started. 
Why Is My iMessage Signed Out? Fix It Fast!
It's inconvenient and annoying when iMessage is not working because you can't send or receive iMessages. Instead, you'll have to use standard SMS messages (indicated by green messages instead of blue). This can eat into your texting plan, and run up a bill if you go over your limit. There are several things you can do to keep iMessage signed in and active, including updating the software on your iPhone or iPad, updating carrier settings, making sure that your two-factor authentication password matches the one you've set for iMessages, and making sure messages are sending from your phone number, not your email address. If your iMessage signed out randomly, let's figure out "why did my iMessage turn off?" Check out our free Tip of the Day for more great Messages tutorials.

Discover your iPhone's hidden features
Get a daily tip (with screenshots and clear instructions) so you can master your iPhone in just one minute a day.
Check the Apple System Status Page
One of the easiest steps to take when iMessage keeps turning off is to check Apple's System Status Page. This is because, from time to time, various Apple systems can have issues or go offline, and there's nothing you can do but wait for the issue to be resolved. In this case, you'll navigate to the Apple System Status Page, then look for the status of iMessage. As you can see, iMessage has a resolved issue, so this could be the whole cause of the problem!
Turn Off iMessage & FaceTime, Then Reboot
A quick way to deal with iMessage and FaceTime issues is to turn off these features, reboot your iPhone or iPad, then turn the features back on. To do this:
Open the Settings app.


Tap Messages.



Toggle off iMessages.


Now, go back and tap FaceTime.



Now, toggle off FaceTime.


Now, reboot your iPhone or iPad, then go back into the Settings app and turn on iMessage and FaceTime on again. 
Are Internet Problems Causing iMessage to Sign Out Randomly?
There are several internet and Wi-Fi-related reasons why iMessage keeps turning off. You may have internet issues or a weak Wi-Fi signal, in which case there are a few steps you can take to improve your connection. 
First, check your cellular and Wi-Fi signal bars at the top-right corner of your screen. Your cellular signal is indicated by how many of the four vertical bars are white. Your Wi-Fi signal is indicated by how many of the three gradually larger semi-circles are white. If either of these has no bars or only one bar, it means your cellular, Wi-Fi, or both signals are poor.
If you have a weak Wi-Fi signal, move your Wi-Fi router closer to where you usually use your iPhone or iPad. Also, make sure your router isn't placed close to a microwave, which can interfere with signal strength, and elevate your router to boost its signal. Try moving to a location with a better cellular and/or Wi-Fi signal to see if iMessage stays signed in. If you live in or regularly travel to areas with poor cellular service, consider switching cellular service providers to one with better coverage. 
If your Wi-Fi signal looks good, but iMessage keeps turning off, you can run an internet speed test like fast.com on your iPhone or iPad to see how many Mbps, or megabits per second, your Wi-Fi signal is providing. To learn your Wi-Fi connection's download and upload speed, as well as Ping (the reaction time of your connection, measured in ms, milliseconds, try Ookla. 
If your Wi-Fi speed looks ok, try restarting by turning off your iPhone or iPad, then unplugging your modem and router for at least 30 seconds. Plug your modem and router back in, wait until no new indicator lights are blinking, then turn your device back on and see if things have improved.
iPad or iPhone Storage Is Full
If your iPhone or iPad has low or no storage, you'll see a lot of issues, including iMessage turning off by itself. You can check your iPhone storage and free up space if you discover that your storage is full, and this may get iMessage working properly again. 
Check Your Date & Time Settings
One issue that can cause iMessage to keep signing out is a problem with your device's date, time, and location settings. To make sure this isn't the case, or fix the issue:
Open the Settings app.


Tap General.



Tap Date & Time.


Toggle on Set Automatically. It will be green and to the right when enabled. If Set Automatically is already on, turn it off, then on again. 


Reset Apple ID Password
If iMessage signed out randomly, it's possible that your Apple ID has been compromised. Just in case this is the cause, change your Apple ID password. 
Reset Network Settings on Your iPhone or iPad
It's possible that your iPhone or iPad is having an internet connectivity issue that can only be solved by resetting your network settings. This is a fairly quick process and will remove your Wi-Fi connection, so you'll have to enter your password again. That's a minor inconvenience, considering how many issues this step can resolve!
Factory Reset & Restore Your iPhone or iPad from a Backup (iCloud, iTunes, or Finder)
As a last resort, you can restore your iPhone or iPad from a backup, whether that be iCloud, iTunes, or a Finder backup. When you do this, be sure to choose a backup made before iMessage started signing out randomly, so that you can back up from settings and data saved before this glitch started occurring. 
By now, your Messages app should be working again. If not, contact your cellular service provider to make sure it's not an issue on their end. If things still aren't fixed, it's time to contact Apple Support. Be sure to read our other troubleshooting guides whenever you have a tricky problem with your Apple devices!