By

Olena Kagui
Updated 08/08/2023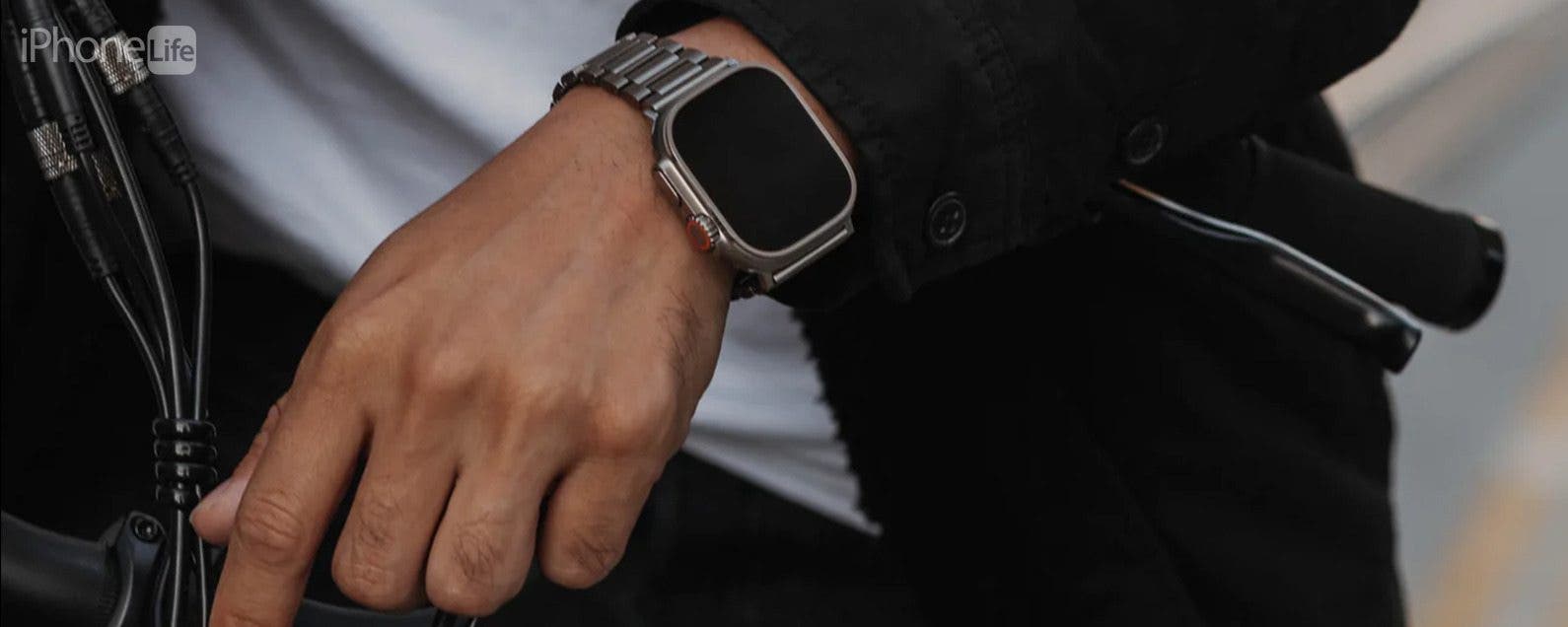 The Apple Watch Ultra is not your average Apple Watch. While buying one of these rugged Apple Watches may be an easy decision, picking the right band for it is a whole different story. As a self-proclaimed Apple Watch fanatic, it has been my mission to find the perfect Apple Watch Ultra band. Here are my top 10 picks, with something for every lifestyle, aesthetic, and budget.

I like to call the ErgonBand the Apple Watch Ultra of watch bands because it is unlike anything we've seen before. The reason the ErgonBand belongs in a category all of its own is because it doesn't sit on the wrist, but rather on your hand. This is perfect for anyone who has heavily tattooed wrists that interfere with the Apple Watch sensors, or those who do workouts or activities that don't allow for a wristband. It is available for both left-handed and right-handed people.
Wearing the ErgonBand lets you move your wrists freely without accidentally pausing your workout or interfering with wrist weights. Unlike with regular Apple Watch bands, you can adjust your ErgonBand in several ways to ensure the perfect fit no matter how you wear your Apple Watch. Ergon is short for ergonomic, and it lets you wear your Apple Watch at the perfect angle for viewing your watch—it even makes texting on your Apple Watch feel comfortable! 

Discover your iPhone's hidden features
Get one daily tip each day (with screenshots and clear instructions) so you can master your iPhone in just one minute a day.
Another great thing about this Apple Watch band is that you can wear it over gloves. While there are certain features that don't work well without the sensors touching your skin, this gives you options to stay warm in colder climates without losing sight of your watch. Wear it over bike gloves to help you navigate without taking your hand off the handlebar. Or keep an eye on your altitude or speed while skiing without the risk of frostbite!
But the ErgonBand isn't only great for workouts. In fact, I use this leather watch band most while working. I spend most of the day typing away at my laptop, and even the softest Apple Watch bands end up digging into my wrist and causing discomfort. But you will never see me without my Apple Watch Ultra, so instead of pushing through the pain, I slip on my ErgonBand while I work. Even though my hands are small and the Apple Watch Ultra is the biggest and heaviest Apple Watch yet, wearing it on the ErgonBand provides a huge relief.
It's impossible to talk about the ErgonBand without mentioning the elephant in the room. This band is so unique that it makes people stop and stare. It is a great conversation starter, and it always gets a strong reaction because it makes a huge statement. The ErgonBand originally caught my eye because of the unique design, but it will remain one of my go-to Apple Watch Ultra leather bands because of the comfort it offers. You can match the ErgonBand to your favorite outfit because it comes in black, red, brown, navy blue, and aqua teal.

The Apple Watch Ultra has a titanium case to make it tough yet lightweight, and Sandmarc's Titanium Edition band is the perfect companion. Not only is this Apple Watch Ultra band as durable as the watch itself, but it also looks like a classic watch band. The Apple Watch Ultra band by Sandmarc looks great in a professional or formal setting, but it also holds up at the gym. You can use it to accessorize your Apple Watch Ultra for a wedding, then take it diving to the bottom of the ocean.
This watch band was made with the Apple Watch Ultra in mind. It matches the watch in color and strength, so it is able to withstand any and all adventures and extreme sports you might take on. This high-end band emanates quality, looks super elegant on your wrist, and comes with easy-to-remove links to ensure a good fit. Even though it is a metal band, it is really comfortable and doesn't pinch those pesky arm hairs.
My favorite thing about the Sandmarc band for Apple Watch Ultra is the clasp, which makes it really easy to take the watch on and off. It also doesn't have any sharp or pokey bits that dig into my wrist. I hate the expression, "beauty requires sacrifice," because I don't believe that dressing up my Apple Watch should cause me any discomfort, and with Sandmarc's Titanium Edition band, it doesn't! I can wear this band at work, at the gym, and I even sleep in it most nights.
Finally, another perk of having a titanium Apple Watch Ultra band is how easy it is to clean. Anyone who lives in a watch knows how funky a watch band can get, especially if you take advantage of the Apple Watch Ultra's incredible battery life and wear it for two days straight. I like to throw my Sandmarc Titanium Edition band in my ultrasonic jewelry cleaner for a quick and easy clean without worrying about damage because it's waterproof.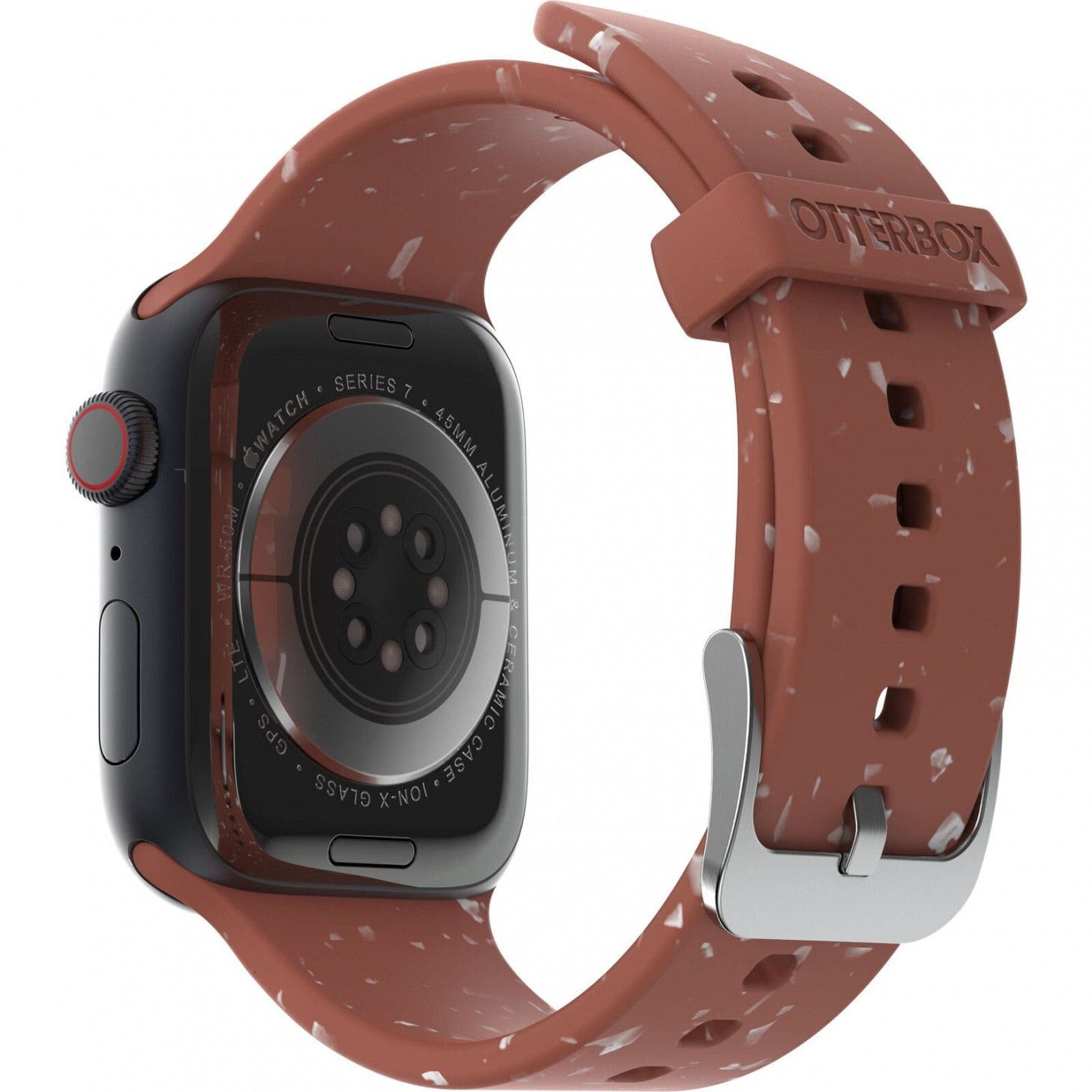 My least favorite thing about most Apple Watch bands is that they just aren't eco-friendly. While it is almost impossible to buy a brand-new band without leaving any carbon footprint whatsoever, picking an OtterBox Terrus band is a step in the right direction. What makes the Terrus Apple Watch Ultra bands so unique is that they are made out of recycled materials! Instead of leaving these hidden, the Terrus band highlights the recycled concept in their design.
These silicon bands are cute, comfortable, and flexible. They're available in stonework black, clay and sand red, moss and sand green, and ocean and sand blue. The metal components of the band are made with stainless steel, making these watch bands sweat- and water-resistant, perfect for everyday and all-day wear. Between the great choice of earthy tones and the sustainable materials used, the Terrus band is a great choice for anyone who is eco-conscious.
The Terrus bands by OtterBox are smooth and thick, giving them a high-quality feel, so you don't need to worry when bringing them on adventures or to the gym. In addition to being sustainable, these Apple Watch bands are also affordable! While helping protect the planet by battling pollution, these Apple Watch Ultra bands are also budget-friendly. Since they are cheaper than most official Apple bands, it is much easier to justify the purchase, potentially even in every color! 
Another notable fact about the Terrus bands is that they are made by OtterBox, a company known for making quality cases and accessories for Apple Watches, iPhones, iPads, and many other products. Their reputation makes them a go-to for reliable Apple Watch bands, cases, and anything else your tech might need to protect it or spruce it up. My Apple Watch band collection is never complete without one (or five) bands from OtterBox.
Sometimes you want your Apple Watch band to steal the show, but other times, you may prefer to keep things discreet. The metal band collection by Nomad has a great selection of sleek and simple bands that look amazing without being flashy. Pick between titanium, steel, or aluminum, with a silver-color option and a black/gray in each material. 
Once you pick one out, you don't ever have to take your Nomad Apple Watch Ultra band off, because it is made with everyday wear in mind. My favorite feature of this band is that it is naturally curved, even when it isn't on your wrist. This takes a lot of pressure off your wrist and keeps you comfortable in the watch, no matter what you're doing while you wear it.
The sophisticated design makes this watch band appropriate for the workplace or a formal event, yet it is low-key enough for everyday life. This Apple Watch Ultra band by Nomad is adjustable, and it comes with all the tools you need to add or remove links to get the right fit. On top of everything else, the clasp is magnetic, which makes it extra easy to get the band on and take it off.
For many Apple fans, Nomad is a go-to company for Apple Watch (and other Apple product) accessories. Their selection of Apple Watch Ultra bands truly has something for everyone, from luxurious leather to waterproof sports bands. You can't go wrong buying a Nomad Apple Watch band, no matter what model Apple Watch you have. Finally, all metal watch bands by Nomad are covered in diamond-like carbon for extra scratch resistance, making this the last Apple Watch band you ever need to buy.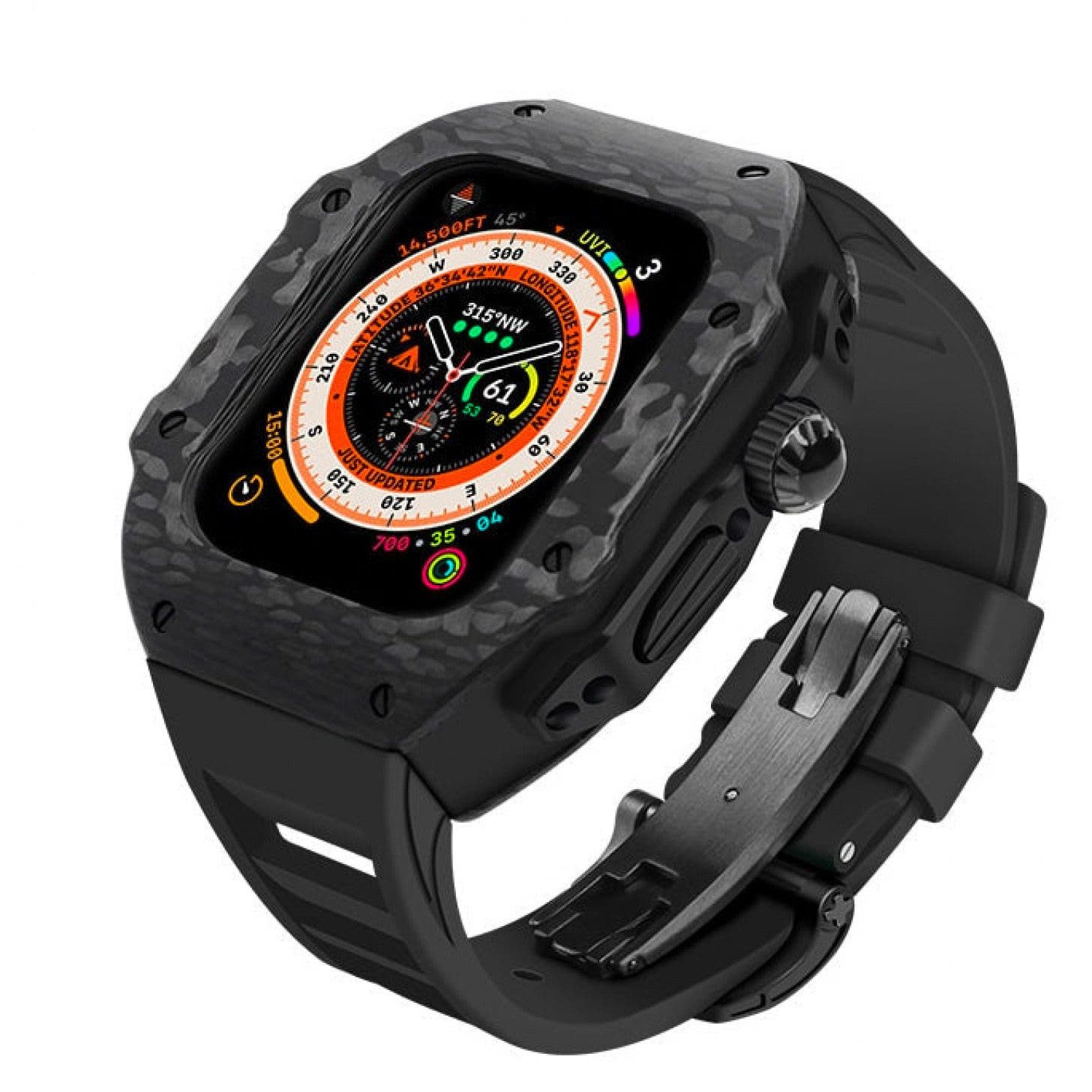 Some companies specialize in Apple Watch bands, while others focus more on cases. What makes Gold & Cherry so unique is that they sell both in one! Instead of just accessorizing your Apple Watch Ultra, this case and band protect it too! Even though this is one of the largest Apple Watch bands I've ever had, it is extremely lightweight because it is made from carbon fiber and black titanium.
When shopping for your Gold & Cherry band, you have a few color options to consider. The metal details on the band can be either black or silver colored, and the straps come in a nice selection of colors and they are super easy to swap out. The case part of the band is extremely secure and tightened with four tiny screws, so it won't fall out and requires a small screwdriver to open and close. If carbon fiber and titanium are not your material of choice, Gold & Cherry does have plenty of other options and styles too.
Besides being the most protective and rugged Apple Watch band for the Ultra or other models, it still looks cool on your wrist and makes a fashion statement. Although this case is meant for grand adventures and braving the outdoors, it looks good to boot! Since it's made with such high-quality materials, it has a luxurious feel to it.
To up your Apple Watch Ultra game even further, Gold & Cherry sells packs of high-end Apple Watch faces. These Apple Watch Ultra faces can upgrade your smartwatch and make it look like a classic Rolex, Omega, Cartier, etc. These are really fun digital Apple Watch Ultra accessories! You can keep the look of your favorite traditional watch with all the perks of the high-tech Apple Watch Ultra.
We hope you enjoyed these Apple Watch Ultra watch bands! I have enjoyed sharing the best of my collection with you. I also hope you're enjoying your Apple Watch Ultra, sometimes called an iWatch Ultra or Apple Watch 8 Ultra. If you don't have one yet, I recommend you check out my new
Apple Watch Ultra review
next.