By

Ashleigh Page
Thu, 10/20/2022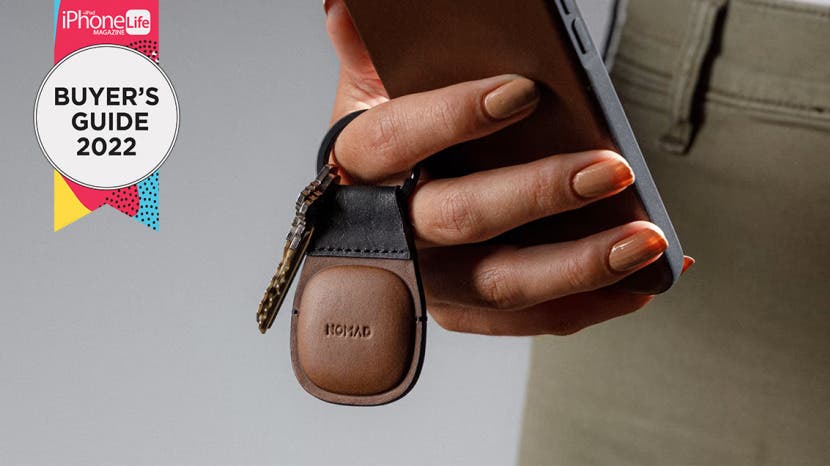 When it comes to cases and other accessories for your Apple AirTags and Apple AirPods, there is a wide range of third-party options in various styles and prices. Check out some of the best AirPods and AirTag gear.

There's a lot to love about this AirTag case, starting with the fact that your purchase includes two sizes of carabiners, making it incredibly versatile. This case can be used as a keychain or easily attached to any messenger bag, lanyard, or piece of luggage. With an open front and back, this slender and protective case pops on easily and forms a snug fit around your AirTag, with raised edges protecting it from bumps and dings. This is an especially great option for those who opted to customize their AirTag, as it shows off your initials and emojis.
Is your beloved pet a mischievous Houdini, gifted with special talents at escaping leashes and backyard fences? This migraine-busting AirTag dog collar holder allows you to track the location of your pet if they are ever lost. Designed by Smartish, this affordable and water-resistant AirTag collar option will help keep your pet safe (and you in a sane state of mind). I love the design, which securely holds the AirTag against your pet's collar. One word of caution: this tag fits collars from 0.5 to 1.5 inches wide, so while it is great for most dogs, it is likely too bulky for your cat's collar.

Discover your iPhone's hidden features
Get one daily tip each day (with screenshots and clear instructions) so you can master your iPhone in just one minute a day.
Offered in a large variety of artsy prints and with engravable options, the CASETiFY AirPods cases are as unique as they are thoughtfully crafted. A standout feature of this butterfly case is that it is 100 percent compostable and biodegradable, which means it will disappear back into the earth, leaving no toxins behind. Similar to rubber, this bamboo-based compostable material has some flexibility, which makes it easy to slip your AirPods case inside. Don't worry, your AirPods aren't going anywhere without you! This case protector has a snug fit that keeps your AirPods case firmly in place. Take a look at our guide on cleaning AirPods to make sure they're good and clean before wrapping them in a new case, and sign up for our free Tip of the Day newsletter to keep up with all the features for new Apple devices.
If you're thinking that a leather option means extra bulk in your backpack and pocket, think again! Crafted from Horween leather, this keychain has a slim and durable casing that fully encloses your AirTag. Everything about this Apple AirTag keychain feels high quality, from the leather to the black stainless steel key ring. Nomad's keychain also earns bonus points for the clever design: with a strong magnetic clasp at the top, you simply slip it in at the top beneath the key ring. It's easy to place your AirTag inside, and impossible to accidentally open.

Crafted from plant-based materials, this 100 percent compostable case is soft and flexible with a little bit of grip. I love the feel and design of this case, which manages to be both minimalist and elegant. Offered in a variety of rich colors, this case will protect your AirPods from scratches, nicks, and accidental drops. With the small key ring on the case, it can also be easily attached to lanyards and bags. As a bonus, your purchase also helps the environment, as Pela donates a percentage of proceeds to the Ocean Cleanup and Preservation Initiative.
Top image credit: KrikHill / Shutterstock.com