When the front and back of your phone is glass, a case sounds like a good idea, but is it necessary?
By

Rhett Intriago
Updated 01/25/2023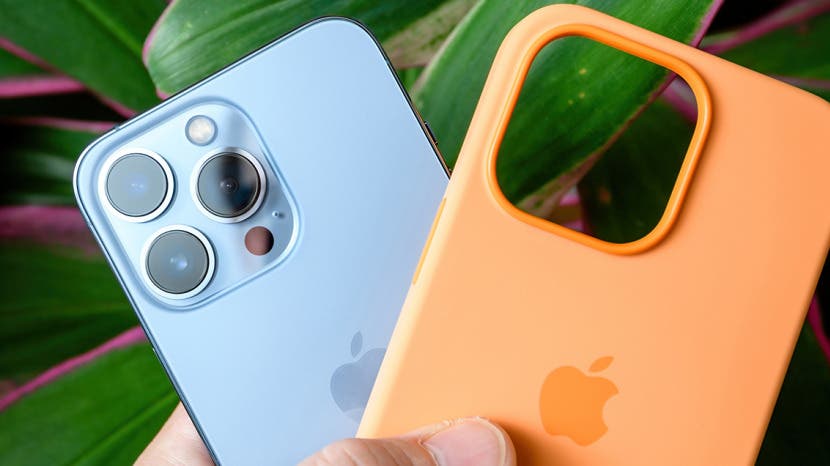 In the past, the iPhone was notorious for its fragility. If yours didn't have a cracked screen, you always had that one friend whose iPhone was smashed to bits. Having a case was a necessity. Nowadays, all phones are constructed from much more durable materials, so does the iPhone need a case still? In this article, we'll go over the pros and cons of using a case versus not using a case.
Jump To:
Why You Would Want to Use a Case
Using a case can be good for a variety of reasons, the most obvious one being for extra protection. A case can give you the peace of mind that if you accidentally drop your device, it'll be safe from any significant damage. On top of that, a case can offer better grip if you're prone to dropping your phone or if you find the edges to be too slippery. A glass screen protector can also help protect the front of the device.
However, a case doesn't always have to be about protection. A case can add a touch of personalization to your iPhone. Some people like to match their case to their personal aesthetic, their outfit, or even their mood. If there's a fandom you're particularly passionate about, you may want to purchase a case to represent it.
If you plan to resell your iPhone when you are done with it, a case might be a smart idea, even if you're confident you won't damage your phone. This is so that you can ensure the device is in pristine physical condition when you are ready to sell it. You also want to make sure it functions well when you sell it, so be sure to sign up for our Tip of the Day newsletter to keep your iPhone in tip-top shape!
Why You Might Use Your iPhone without a Case
Many people use their iPhones without a case simply because they might not need or want one for a variety of reasons. For example, many iPhone users love the design of the phone and do not want to hide it behind a case. Cases also add some form of bulk to your device, so if you already have a large phone, making it bigger is less than ideal.
If you're not one to drop your phone frequently, you also might not need that extra layer of protection that a case provides. Additionally, if you purchase AppleCare+ coverage for your iPhone, you don't have to worry about damaging it, since you can simply have it repaired for a small fee.
Does the iPhone 14 Need a Case?
Like many of Apple's recent iPhones, the iPhone 14 uses Ceramic Shield glass for the front and back of the device, which Apple boasts is tougher than other smartphone screens. According to Apple, it is more resistant to scratches and cracks, ensuring your device can survive hard falls.
The frame of the standard iPhone 14 models is made of aerospace-grade aluminum, while the iPhone 14 Pro models use surgical-grade stainless steel. Aluminum is not as durable as steel, so if you're using one of the standard models, you may want a case to at least protect the edges of the device.
In the end, getting a case for your iPhone is a personal preference. Do you need a case for your iPhone? It will probably survive without one but if you're worried about cosmetic damage or you just want to personalize your device, a case is the way to go. On the other hand, if you want to show off the design of the iPhone, a slim, clear case could be just what you're looking for. If you're looking for the most durable iPhone case, be sure to check out our 2022 Buyer's Guide! Next, find out if your AirTags need a case!
Top image credit: Hadrian / Shutterstock.com