By

Amy Spitzfaden Both
Updated 06/20/2023
What to Know
If Spotify is not opening on your iPhone, first try updating the app. If that doesn't work, uninstalling it and reinstalling or logging out and in it might fix the issue.
If Spotify says "No internet connection," check your Wi-Fi and your iPhone's Wi-Fi connection.
Check the Spotify server status as well as your account status to see if either of those are the cause of the problem.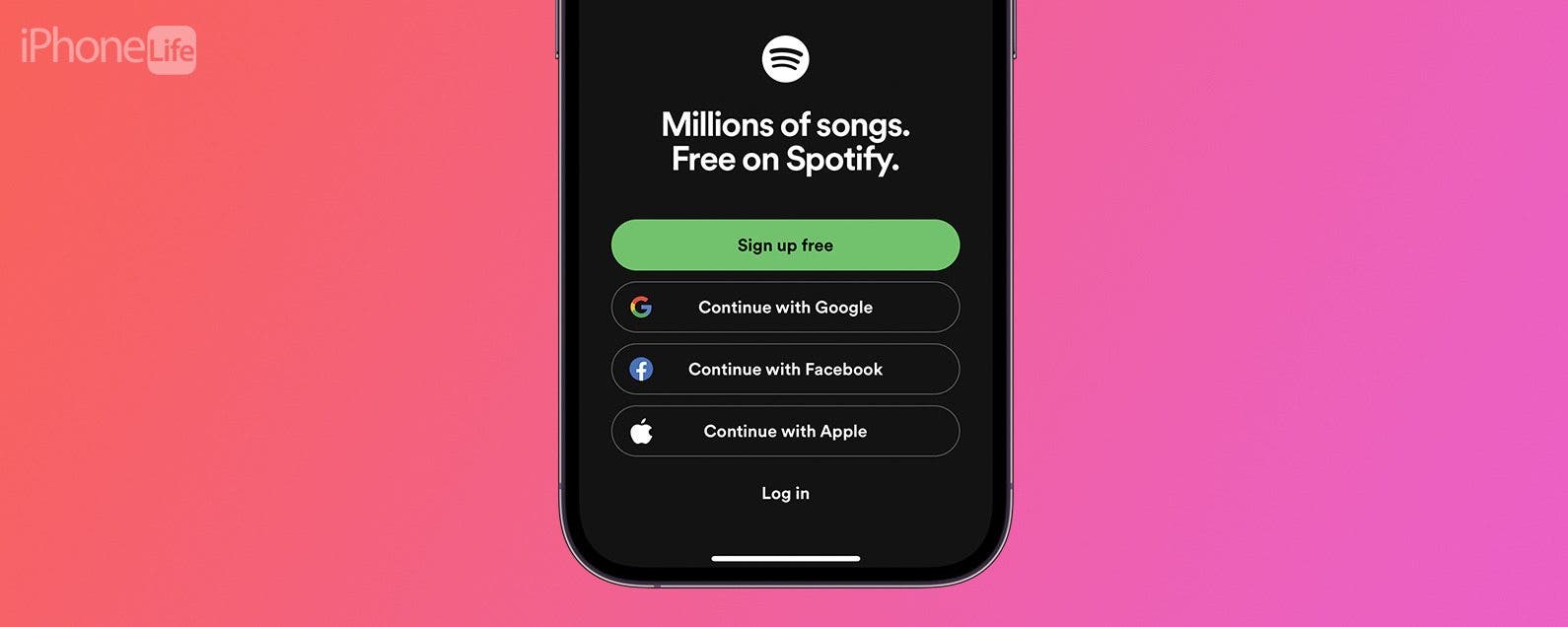 When Spotify is not responding, it can ruin everything from a workout to your day's whole vibe. Fortunately, there are many things to try, from restarting the app to checking with Spotify itself, so let's get started learning what to do when Spotify is not playing the songs you so desperately want to hear.
How to Fix Spotify Not Working on iPhone
Restart the App
As always, if an app isn't working, the first thing you want to do is restart the app. This may correct whatever bug is causing the issues and get your app smoothly singing again.
Update Spotify
Bugs and glitches are frequently addressed by app updates. If restarting Spotify didn't do the trick, you can check for an update to see if there's one you've been missing out on.

Discover your iPhone's hidden features
Get a daily tip (with screenshots and clear instructions) so you can master your iPhone in just one minute a day.
Restart Your iPhone
If no updates are available and starting the app didn't help, it's time to restart your iPhone. Sometimes this can get the app back up and running the way it's intended!
Log Out & Back In to Your Account
Okay, we went through the basic troubleshooting steps, and they didn't help. Now, try logging out of your Spotify account and logging back in. This might offer the reset your app needs to start working again, especially if the issues stemmed from something in your account like a late Premium payment. Here's how to log out and in to your Spotify account:

Jump to top
Open your Spotify app on your iPhone.


Tap the Settings icon on the top right.



Scroll down and tap Log Out.


Tap Log Out on the confirmation box that pops up.



Log back in using whichever method you used to create your account and follow the prompts.


This may very well get things back on track. For more easy troubleshooting tutorials, check out our free Tip of the Day newsletter.
Check Your Spotify Premium Settings
Many features are only available with Spotify Premium. For example, being able to play songs without an internet connection. When I travel abroad, I sometimes get a Spotify Premium subscription because without it, I can't take music along when I'm out on a run. If you can normally play music without an internet connection, but that ability has ceased, you might want to check your Spotify Premium settings. To do this:

Jump to top
In your Spotify app, tap the Settings icon in the top right corner.


Tap Account.



Tap Premium.


From here, you can navigate your Premium account to see if everything is up to snuff.
Check Your Internet Connection
If you don't have Spotify Premium, you won't be able to play music without some kind of internet connection. If Spotify says, "No internet connection," you'll know that's the issue. Check your Wi-Fi and data, make sure you're not in Airplane Mode if you don't have a Wi-Fi connection, and try turning both your Wi-Fi and cellular connections off and back on again.
Check Spotify for Issues
Spotify has a webpage that lists ongoing issues that will be able to tell you if the issues you're encountering are on your end or theirs. While it can be frustrating to run into an issue you can't fix yourself, you'll know to just wait it out.
If none of these fix your problem, you might want to contact Spotify support.

Jump to top