By

Olena Kagui
Updated 11/21/2023
What to Know
You don't need the official Apple Watch charger to charge your watch; there are many alternative charging solutions.
There are many third-party Apple Watch chargers to pick from, even a charging strap that works via a hidden Apple Watch port (Series 6 & earlier).
Learn how to charge an Apple Watch in every way possible.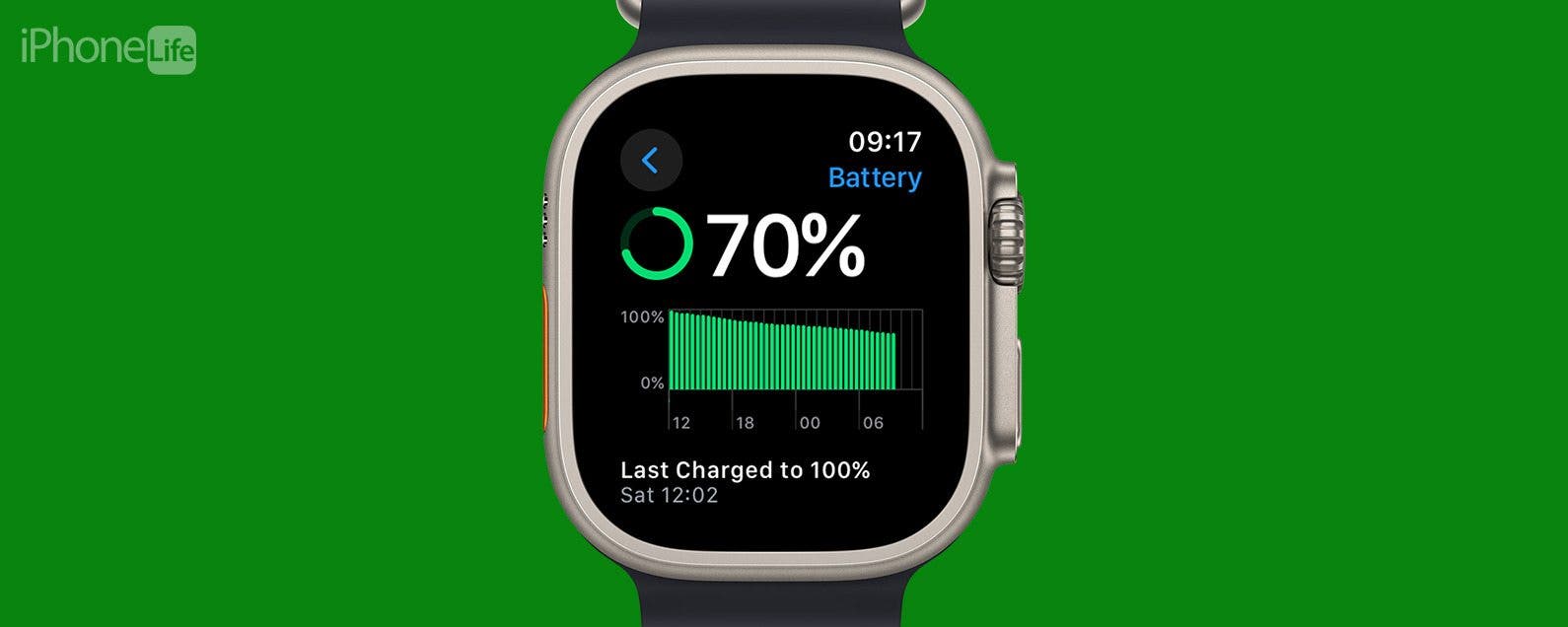 Charging Apple Watches is pretty straightforward when you have the official charger, but what if you don't? Unfortunately, there is no magical way to charge an Apple Watch without a power source and a compatible charger, adapter, mat, stand, or pad. Luckily, there are many viable ways to charge an Apple Watch; there are even portable and solar third-party chargers!
Jump To:
How to Charge Apple Watch in Every Way
Did you know that you don't need an official Apple Watch charger to power back up? In fact, some alternative chargers may suit you more than the charger your watch came with.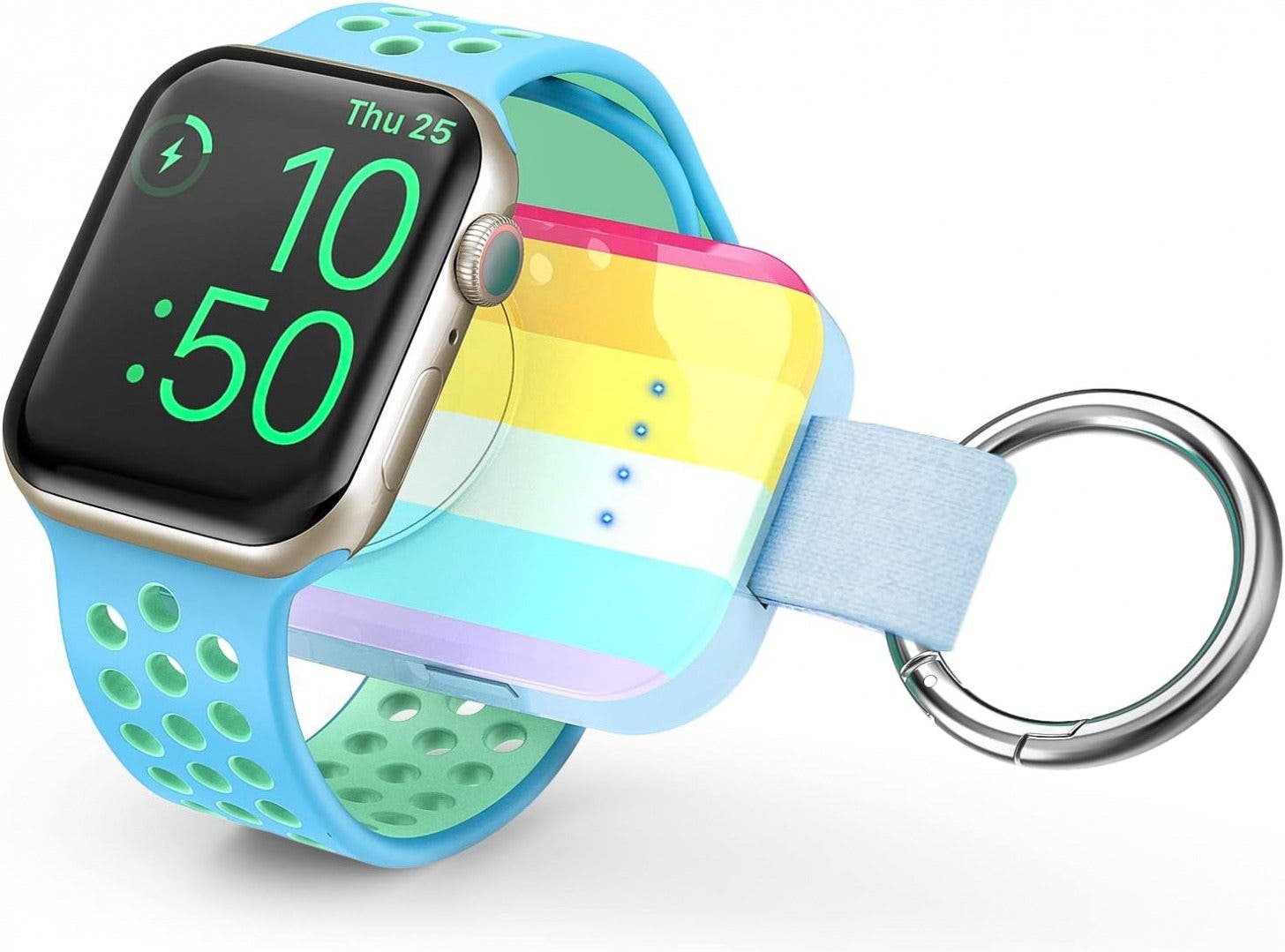 1. Wireless Portable Apple Watch Chargers 
My favorite charger for Apple Watch is a portable one so that I can have peace of mind no matter where I am. There are many different types of portable Apple Watch chargers to pick from. I really like the i.VALUX Portable Wireless Charger ($20.99) because it is compact and can easily be clipped onto your keys or bag like a keychain.

Discover your iPhone's hidden features
Get a daily tip (with screenshots and clear instructions) so you can master your iPhone in just one minute a day.
The i.VALUX portable charger is stylish, available in a variety of colors including rainbow, but also functional, containing 1000mAh, which can charge the average Apple Watch one and a half times. For this to be a viable charging option, you have to remember to charge it at home and bring it along, but do keep in mind that it won't charge your watch as fast as a regular charger. 
There are many other wireless portable Apple Watch chargers available, and they come in many styles at varying prices. If you are willing to spend more and have a larger charger, you could also get a much higher mAh capacity. For example, the iWALK Portable Apple Watch Charger ($39.99) has 9000mAh, which can charge the average Apple Watch 20 times.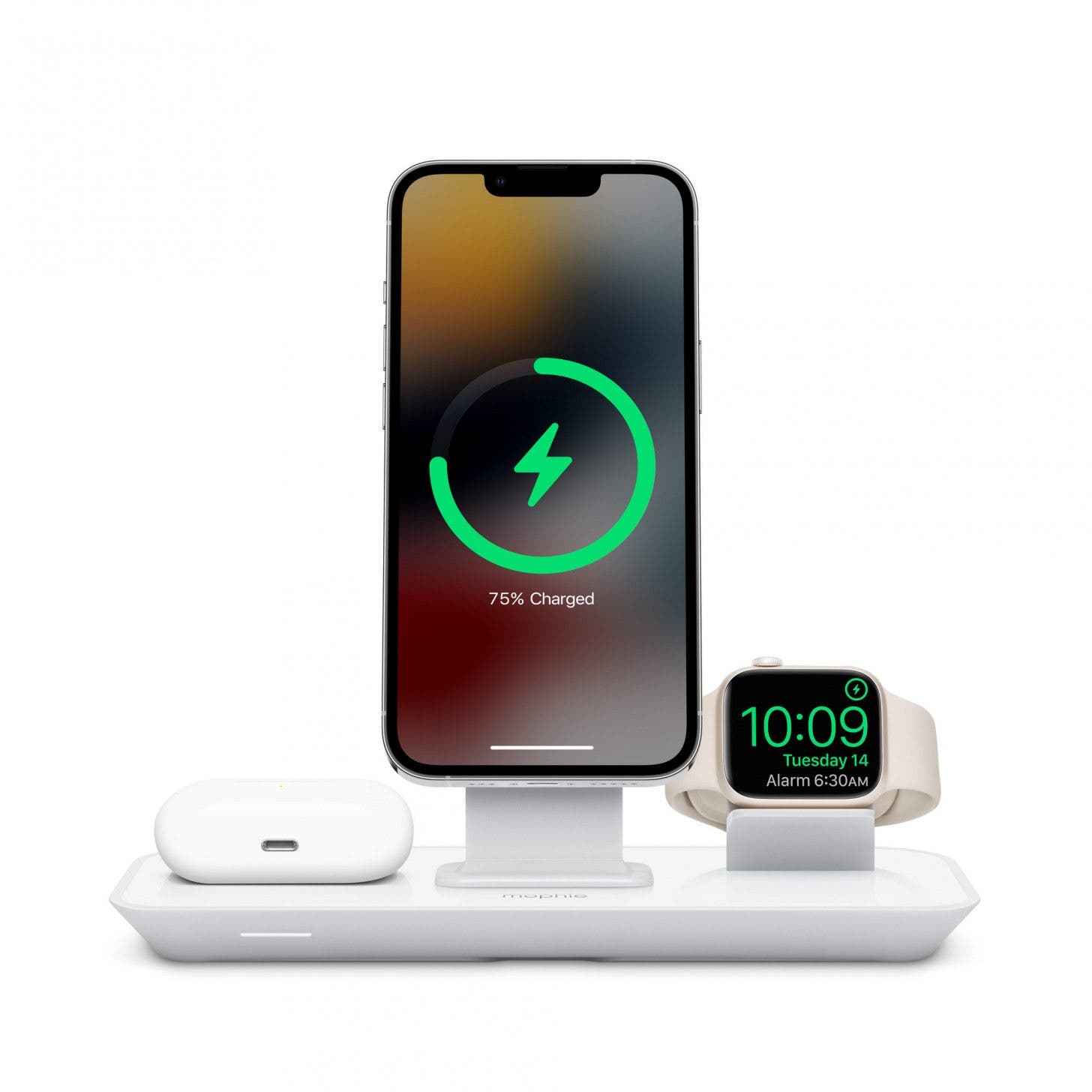 2. Combo Chargers for Multiple Apple Devices
I hate dealing with a mess of cords just to charge my Apple Watch, iPhone, and other devices. Whenever possible, I like to use combo chargers that can charge multiple devices using a single cord. There are lots of third-party options, and Apple even sells some. One benefit of going with the chargers on Apple's website is a guaranteed two-year warranty.
The mophie 3-in-1 travel charger with MagSafe ($149.95) and the mophie 3-in-1 stand for MagSafe Charger ($89.95) can charge your iPhone, AirPods, and Apple Watch quickly and reliably. Not only that, but it makes your desk or bedside table look good and organized. If you shop for combo chargers on third-party websites, there are still plenty of options that fit all budgets, but keep in mind that the quality and speed vary.
3. Using a Power Bank as a Power Source
If you do have your charger but don't have a place to plug it in, all it takes is a charged power bank with compatible ports or an Apple Watch charger adapter. You can either plug in your official charger, third-party charger, or a portable wireless charger into the power bank, too. 
My go-to power bank is made by the eco-friendly company Nimble. They have a variety of options ranging from the CHAMP Lite Portable Charger ($22.46) to the WALLY Pro Portable Wall Charger ($102.95). They charge fast and last long, plus the designs are cute and portable. There are also solar-powered options, but I have never tried one that worked as advertised.
4. Hidden Apple Watch Charging Ports (Series 6 & Earlier)
Older Apple Watches, like the Series 6 and earlier, have a hidden port that you can technically use for charging. The port is located where the strap slides in, and it was said to be for troubleshooting purposes only. But how do you charge an Apple Watch via this hidden or secret port? Apparently, it is only possible with a third-party strap that seemed to have potential but never hit the market. 
Now that the hidden port has been discontinued, it doesn't look like anyone is publicly working on a charging Apple Watch band or strap. One exception is a band with a small portable wireless charger built-in so that when you remove your watch, it can charge for a bit. An example is this TurboBand 2-in-1 Apple Watch Strap & Charger ($39.99). However, this seems quite gimmicky and bulky.
Now you know how to charge Apple Watches without the traditional charger! Honestly, as an Apple Watch enthusiast, I keep returning to the original charger, especially because my watch is compatible with the Apple Watch fast charger. I do like to bring along a power bank in case of emergencies, but my Apple Watch Ultra has a truly impressive battery life.
FAQ
How to know if Apple Watch is charging? If you see the Apple Watch charging screen, you know your watch is charging. There are also other ways to know if your Apple Watch is charging, like from your iPhone.
How long does an Apple Watch take to charge? It depends on your Apple Watch model, charger, and power source, but it can take as little as 45 minutes for a newer Apple Watch to charge to 100%.
Why do some companies call it an iWatch charger? Some companies will call an Apple Watch charger a charger for iWatch, but this is just an unofficial nickname. The proper term is "Apple Watch."