Quickly check if your watch is charging by looking at your Apple Watch or an app on your iPhone if you are away from your watch!
By

Olena Kagui
Updated 02/28/2022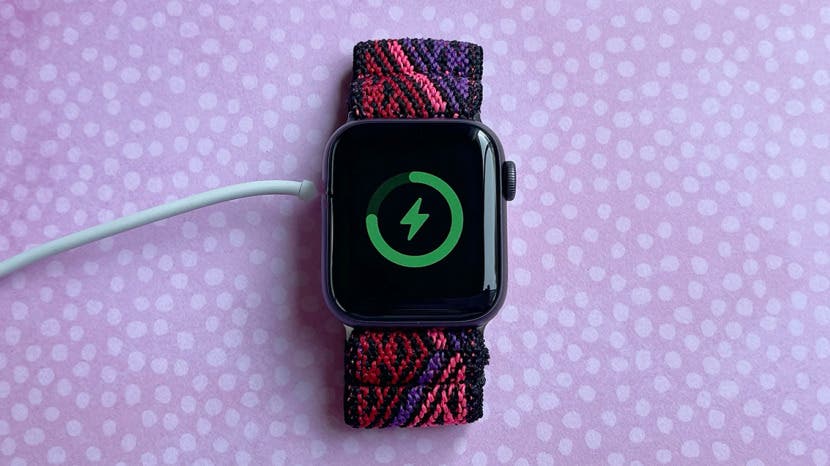 The Apple Watch is a great virtual assistant that many of us would be lost without. It doesn't take long to charge it, but we don't want to waste time wondering if it's actually getting charged. I will teach you how to be confident that it is charging and how to check Apple Watch battery life using a widget in your iPhone's Today View.
Related: 12 Ways to Save Apple Watch Battery Life
Jump To:
How to Know if Your Apple Watch Is Charging at a Glance
Look at your Apple Watch display. If there is a lightning symbol, that means that your watch is charging. If you start charging your watch when the battery is completely depleted, it might take a while for it to turn on and display the charging symbol.
To learn more Apple Watch tips, sign up for our free Tip of the Day newsletter.
How to Check Battery on Apple Watch from Your iPhone
Open Today View on your iPhone. You can do this by swiping right from your Home Screen.


 
You may need to scroll down until you see the Batteries widget. If it isn't there, you can add it. Learn how to add the Batteries widget in a few easy steps.


 
If your Apple Watch is charging, you will see a lightning icon. 


Pro Tip: You can download BatteryPhone app (free) to get warnings when your Apple Watch or iPhone needs to be charged or are fully charged. You can even add it to your Apple Watch face as a complication and change the look of the battery icon.
Now you know how to check the battery on your Apple Watch from your iPhone to see if it is charging. You also know how to see if it is charging from the watch display. Did you know that if you have the
Apple Watch 7, you can fast charge it
? Next, learn how to
save battery life on your Apple Watch
while tracking your sleep!