By

Olena Kagui
Updated 09/26/2023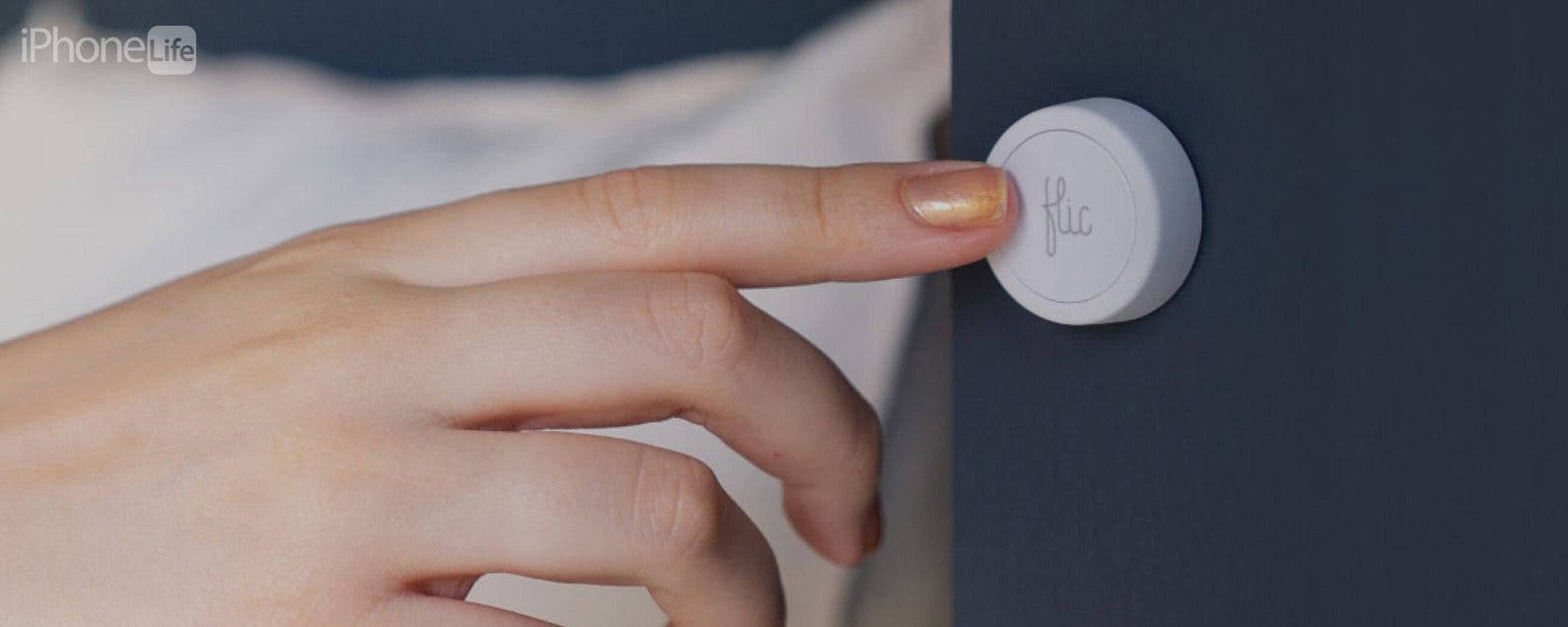 Smart buttons can make controlling your smart home easier without forcing you to memorize dozens of voice commands. I love being able to use my Flic 2 buttons to quickly control scenes in my home without belting out the voice commands and disturbing the animals or humans in the room. Here's everything you need to know before purchasing the Flic 2 Starter Kit!
Do Physical Buttons Dumb Down a Smart Home?
Not at all! In fact, having a lot of smart gear in a home can be overwhelming, making navigating it harder than it should be! With the Flic 2 Starter Kit ($169.99), gone are the days of memorizing lots of different Siri commands, disrupting the entire household by yelling them out repeatedly, or picking up your phone any time you want to turn on a smart light, outlet, etc.!
Flic buttons are smart buttons that function as switches to activate or deactivate smart devices or apps in your home. It works by adding the smart buttons to your iPhone's Home app (or Android equivalent) as an accessory, then setting actions for single pressing, double pressing, and long pressing the buttons. This means that one button can control three different accessories or entire scenes (if you set them up via the Home app).

Discover your iPhone's hidden features
Get a daily tip (with screenshots and clear instructions) so you can master your iPhone in just one minute a day.
The smart Flic buttons come with adhesive backing, so you can stick them wherever you find convenient. I have one on my treadmill headboard that turns the AC on high, controls the nearby lighting, and locks/unlocks the door so I can let friends and family in without disrupting my workout. I also have one on my bedside table to run my evening and morning routines with the touch of a button. They are really convenient and make waking up early easier.
While it may seem counterintuitive to add physical ways to control your smart home, these are different from your regular buttons or light switches. The biggest perk is that you can set them to control any smart device or sequence of smart actions—like setting a climate, turning on or turning off certain lights, locking doors, starting a robot vacuum cleaning, and more, all with one press of a button.
What Devices Can Smart Buttons Control?
Flic smart buttons can control a wide variety of smart devices. Basically, anything that's compatible with your phone will work with the buttons. If you are an iPhone user, you'll set everything up through the Home app. As long as your smart device is Home app- or Matter-compatible, you'll be able to control it with your Flic buttons!
If you live in a mixed-device household where one or more members have an iPhone while others have Android devices, you'll be able to use the same hub on multiple devices. Just install the Flic app on your phone via the App Store (free) and Google Play (free), and everyone will be able to use and share the Flic smart buttons.
There are over 1,000 devices and apps that work with Flic. There are ways you can use them that you might have never thought of on your own! For example, you can use the smart button instead of swiping to turn pages on your digital book or sheet music (Newzik app). Or you can use them to initiate a fake call to interrupt a bad date using the Fake Call app for Android. You can even set them up to work as buzzers if your family is into quiz parties! The options really are endless.
Can You Use Flic Smart Buttons without a Hub?
Yes, you can! But you probably don't want to. You can purchase a 3-pack of buttons without the hub for just $79.99, but then the buttons won't be Apple HomeKit compatible and will have less range. Plus, the hub lets you control up to 63 buttons, gives you full home control, and works with the infrared accessory that makes it possible to use Flic buttons instead of remotes (as long as the device uses infrared remotes.)
If you live in a household with multiple people, you'll definitely want to purchase the hub, otherwise, the buttons will only work when the phone is nearby. The hub makes it possible for anyone to enter your home and use the buttons, even if they don't have the app installed on their phone. The hub is also programmable and can be plugged directly into the router using an Ethernet cable for seamless connectivity.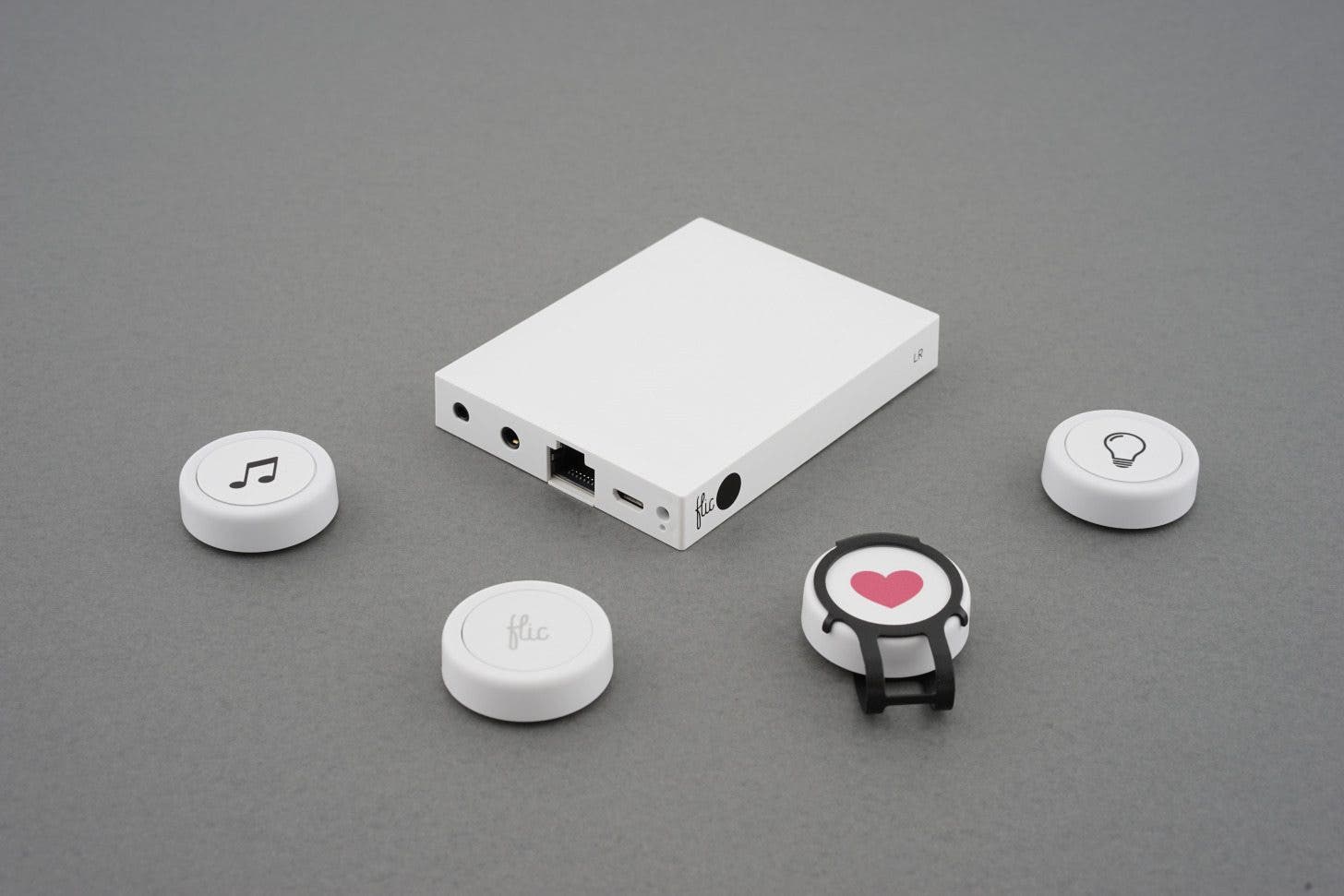 Pros:
The buttons are super versatile with many different applications.
The buttons come with cute stickers to help everyone easily identify the buttons.
Adhesive backing makes it quick and easy to install the buttons in the most convenient locations, even places where you could never have a wired light switch or button.
Compatible with both iPhone and Android, even simultaneously for mixed-device households. 
You can save money by buying the buttons without the hub, but you sacrifice range, HomeKit-compatibility, and many other features.
Quick and easy setup.
Three triggers per button give you lots of possibilities.
Great for guests or house sitters who don't have experience with home assistants or struggle memorizing all the voice commands.
You don't need to charge or plug in the buttons; they use the same inexpensive batteries that AirTags use (CR2023) that can last years but generally need yearly replacement.
Flic sells great accessories that let you clip on your smart button, attach them to textiles, or use them to control anything using an infrared remote.
Cons:
The initial price can be tough to justify for the average household.
It can be hard to decide what to use the buttons for because there are so many options.
Any tech can glitch or experience bugs/security breaches, so you may need to troubleshoot on occasion.
If you experience internet problems, the buttons won't work.
The sticker options are pretty limited compared to how much the buttons can do, and ordering or making custom stickers can be an additional cost and/or chore.
Final Verdict
I really love my Flic buttons, and I love how much easier they make it to control my smart home. I didn't even realize how many issues I was putting up before Flic. I was used to having to repeat myself to Siri or running around looking for my phone to control my smart devices. These smart buttons truly make my home smart and unified instead of full of devices that don't always work the way they should. While the initial cost may require saving up for the purchase, they are worth the price. Plus, after you purchase the Starter Kit for $169.99, extra buttons cost $79.99 for three, which controls nine separate devices/apps or nine complex scenes with multiple steps.