The new Apple Watch Series 7 comes with a fast-charging Apple cord that can rapidly charge your watch with the USB-C cable.
By

Olena Kagui
Wed, 11/17/2021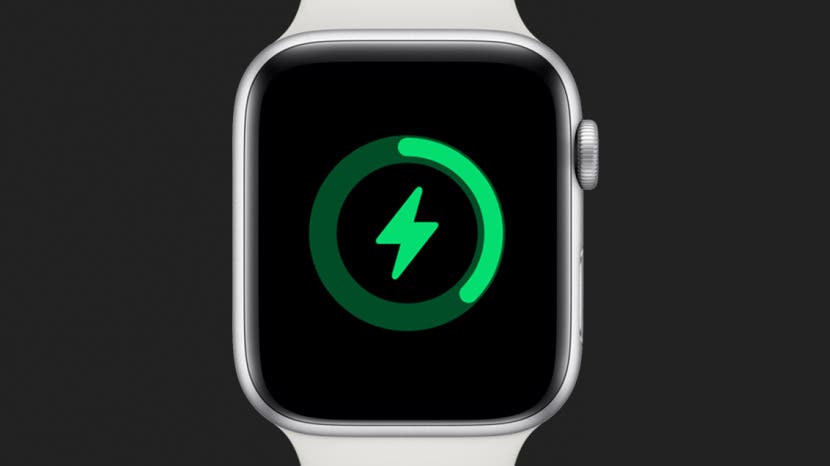 Can you fast charge an Apple Watch? Yes! But only if you have the Apple Watch Series 7 and the USB-C quick charge cable. The Series 7 is a powerful device with many exciting features, including the ability to rapid charge. The faster charging allows the Apple Watch to charge up to 80 percent in just 45 minutes. This means that you can get enough juice to track your sleep in just eight minutes! Here's how to do it.
What's in This Article:
Apple Watch Rapid Charge Requirements
Please note that older Apple Watch models such as the Apple Watch Series 6 and earlier are not capable of rapid charging. If you have an older watch, check out these tips on how to save Apple Watch battery.
Apple Watch Series 7
Apple Watch Magnetic Fast Charger to USB-C Cable (included with Apple Watch Series 7 purchase)
USB-PD-enabled power adapter* (not included with Apple Watch Series 7 purchase)
Pro Tip: People often ask, do all Apple Watches have the same charger? The answer is no, the new watch comes with a new charger! The new USB-C cable will work with older Apple Watch models and will allow you to charge the watch via your Mac. However, it will not charge older models as quickly as the Series 7. The new Series 7 can charge on an older Apple Watch charger but it won't be able to rapid charge.
*If you don't have a USB-PD-enabled power adapter, you can also use one of Apple's USB-C power adapters or any third-party USB-C PD power adapters that has an output of 5W or more.
How to Charge Apple Watch Fast
Once you have your fast charger and cable, you are ready to fast charge your Apple Watch Series 7! 
Plug a USB-PD-enabled power adapter into an outlet.
Attach Apple Watch Magnetic Fast Charger to USB-C Cable to the power adapter.
Place your Apple Watch Series 7 on the charger.
Make sure to charge your watch somewhere where it won't get unplugged or fall on the ground. The charger magnet is strong and if someone trips on the chord, the Apple Watch might not get unplugged. A dropped Apple Watch could suffer internal damage and a scratched or cracked screen. Screen repairs are not covered by Apple Care and can cost hundreds of dollars to repair.
Why is My Apple Watch Charging Slowly?
If you followed the steps above and have the correct Apple Watch, charger, and cable, your watch should charge quickly. It should charge quickly even if you plug the Magnetic Fast Charger to USB-C Cable directly into your iPad's or Mac's Thunderbolt or USB-C port as long as they are plugged into an Apple-issued or high wattage third-party power adapter. Double check your power adapter and cord for any visible damage, and try using a different outlet. If you keep experiencing issues, contact Apple Support directly, as there may be an issue with your Apple Watch Series 7.
Now you know how to get fast charging on your Apple Watch Series 7. To learn more about your Apple Watch, such as how to check Apple Watch battery levels on iPhone, sign up for our free Tip of the Day newsletter.