By

Hallei Halter
Fri, 06/14/2019
* This post is part of iPhone Life's Tip of the Day newsletter. Sign Up. *
If you use a sleep tracking app or otherwise like wearing your Apple Watch while you sleep instead of charging your watch overnight, you might struggle to find times to charge your watch and keep your battery levels up. Here's a list of suggestions for how to save Apple Watch battery life at night, while you sleep! While there's no way to keep your battery fully powered, if you try one or a combination of the suggestions below, you'll notice a difference and be able to roll out of bed without having to recharge your Apple Watch battery as often!

Discover your iPhone's hidden features
Get a daily tip (with screenshots and clear instructions) so you can master your iPhone in just one minute a day.
Related: How to Restart & Force Restart Your Apple Watch
Here are a list of options you can try, either individually or together to save battery power on your Apple Watch:
1. Charge your watch at the same time every day:
If you're not going to charge your Apple Watch overnight, it's easier to remember to charge your watch during the day if you have a regular time that you charge it. Try making a habit of charging your Apple Watch while you shower, while you get ready for bed, or while sitting at your desk at work. 
2. Enable Theater Mode before going to bed:
Having your screen light up and your watch vibrate every time you get a notification or move your wrist takes battery power. To prevent this, open Control Center (Swipe up from the bottom of the watch screen) and tap the Theater Mode icon. Theater Mode enables Silent Mode and keeps the screen dark. 
Note that if you've set an alarm, your Apple Watch will vibrate but not make noise. However, if you open Settings > Sounds & Haptics and manually raise Alert Volume to maximum, the alarm will sound even with Silent Mode enabled.​
​3. Turn off Raise to Speak:
Having Siri ready to listen requires power. You can do this by opening Settings > General > Siri and toggling Raise to Speak to off.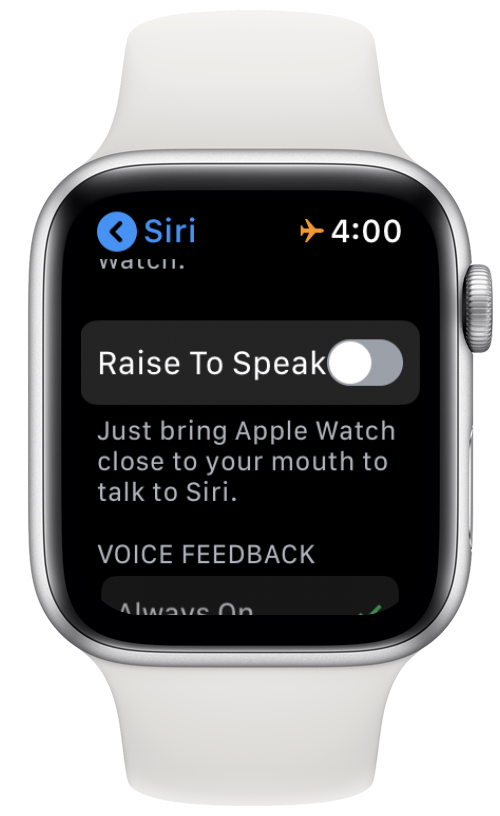 4. Stop background apps from refreshing: 
Open the Watch app on your iPhone.
On the My Watch tab, tap General > Background App Refresh and toggle off any apps you don't want to be refreshing while you sleep. It's important to note that if an app is on your Watch face as a complication, it will still refresh even when the toggle is set to off. 

To delete a complication from your Apple Watch, open the Watch app on your iPhone and from the My Watch tab tap Complications > Edit and then tap the red circle to the left of any complications you want to remove.


By using one or more of these tips, you'll notice less of a dip in your Apple Watch's battery level when you wake up in the morning!