What happens if you delete the App Store? The app can't be deleted, so you just need to find the missing App Store.
By

Erin MacPherson
Updated 02/22/2022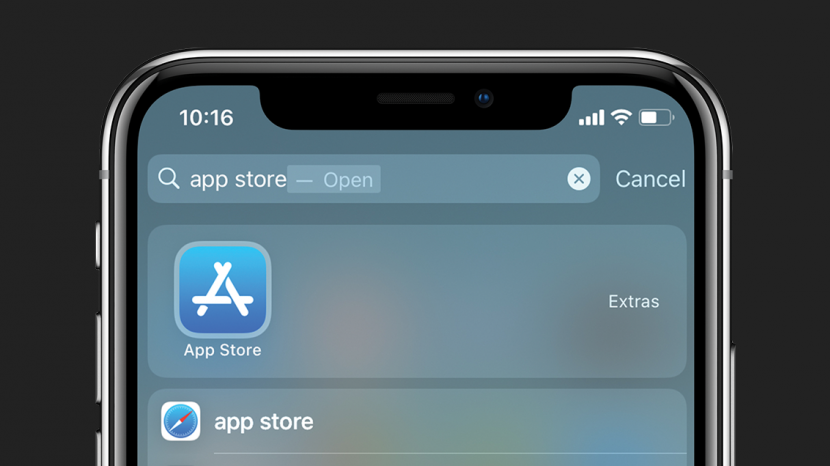 If your App Store icon is missing and you're wondering how to restore it, we've got great news for you. A missing App Store icon on iPhone doesn't mean you deleted the app. While there are other native apps that you can delete, the App Store is not one of them. Our guide will show you how to reinstall the App Store or just find it on your iPhone.
Related: How to Find Hidden or Missing Apps on Your iPhone
Jump To:
No App Store Icon on iPhone? Get Help from Search
If you think you accidentally deleted the App Store, don't worry: The App Store cannot be deleted, so it's just a matter of finding out why the App Store icon is missing. One of the common causes for a missing App Store icon is that it's inside a folder on your phone or hidden in the App Library. Rather than looking through each of your folders, using the Search tool is an easier way to find or "reinstall" the App Store icon:
From the first page of your Home screen or your Lock screen, swipe from left to right to open Search.


 
Type App Store in the Search field. This should reveal the App Store in your search results.


 
Next to the App Store search result, you'll see where the app is located. Mine, for example, is located in my "Extras" folder.


 
You can open the App Store right from Search, or you can navigate to the folder it's in and open it there.


You can also learn how to view your Apple purchases.
Restore Your Home Screen to Get App Store Back on Your iPhone
If your App Store didn't show up in your search results, the next option is to restore your Home Screen to its default settings. It should be easier for you to find the App Store icon once it's back to its original location:
Open the Settings app.


 
Scroll down and tap on General.


 
Scroll all the way down and tap on Transfer or Reset iPhone.


 
Select Reset.


 
Tap Reset Home Screen.


 
Confirm that you want to reset your home screen to its factory default.


 
The Home Screen will be reverted to its default layout, and you should see the App Store icon restored.


App Store App Disappeared from Your Home Screen? Check Restrictions
If your App Store icon is still missing after searching for it and restoring your Home screen, it's likely due to restrictions on your phone. Whether you placed these controls by choice or accidentally, it's easy to change them back to let you access your App Store once again.
Open the Settings app.


 
Scroll down and tap on Screen Time.


In the Screen Time menu, select Content & Privacy Restrictions.


 
Tap on iTunes & App Store Purchases.


 
If Installing Apps is set to "Don't Allow", tap on it.


 
Select Allow.


 
Go back one screen. If Deleting Apps is set to "Don't Allow", tap on it.


 
Select Allow.


 
When you go back to your Home screen, you should see your App Store icon once again.
Having access to your App Store icon is important. It allows you to download new apps and lets you keep your current apps updated. Once you've restored this handy icon, make a note of its location and your phone's restrictions to ensure easy access to your App Store in the future. You can also find out how to use the App Store on other Apple devices, like your Apple TV. The Mail app has been known to dissapear from your iPhone, fix it here.