If you're wondering, "how do I get apps on my Apple TV?" we have the answer. Here's how to add apps to your Apple TV!
By

Leanne Hays
Updated 09/12/2021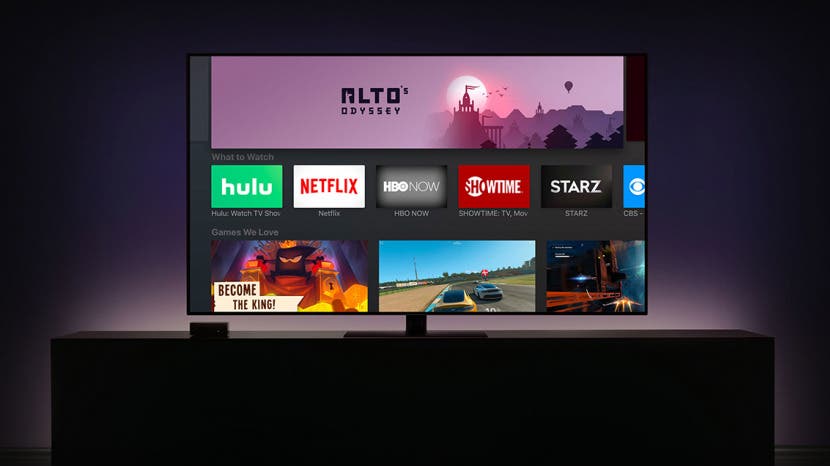 This article will tell you how to access the Apple TV app store and how to download apps on the Apple TV. Want to learn how to add apps to an Apple TV, like on your iPhone or iPad? To download an app on Apple TV, you navigate to the App Store, find the app you want, and click Download. The trick is, if you have an Apple TV third-generation or older, you're limited to pre-installed apps. If you have the Apple TV 4K or the Apple TV HD (fourth generation), you have access to the App Store and can get apps from a selection of thousands of free or paid apps, just like on your iPhone or iPad.
How to Find the App Store on Your Apple TV & Download Apple TV Apps
We've gone over how to set up Apple TV, how to connect an Apple TV and how to reboot your Apple TV. Now, let's get started learning how to find and download apps so you can get the most out of your Apple TV. Whether you're looking for fitness, sports, games, recipe, or even shopping apps, there's something in the App Store for you! You'll need your Apple ID for this process, so if you need to change it, consider doing so before you begin.
Jump To:
To navigate to the App Store on your Apple TV:
Click the Menu button on your Apple TV remote to go to the Home screen (if you're not already there). 
Swipe through your apps until you see the App Store icon; click on it. 


 
Navigate to the app you wish to download (see below).
If you are experiencing issues with your Apple TV remote, check out these troubleshooting tips.
If you see no App Store on your Apple TV, you probably have a 3rd-Generation Apple TV or earlier. Those models cannot download apps, so the App Store is absent from the Home screen. Sorry, buddy! We recommend that you try using AirPlay from your iPhone to play content on your Apple TV, bypassing the need to download apps. 
Once you've opened the App Store, you'll have a few different options for finding an app you'd like to download. If you've already downloaded it, you can check out how to see your Apple purchases.
You'll see a menu bar at the top of your screen. If you know exactly which app you want, click on the Search icon on the right.


 
From here, you'll be able to use the trackpad on your Apple TV remote to scroll left and right, tapping letters to spell out the app you're looking for. You can also choose to enter text using your iPhone keyboard or by pressing the microphone icon on your Siri remote and doing a voice search.
Once the app comes up in the options, click on it. 


 
Now you'll see an app description and price; if you decide you'd like to download the app, click on Buy. If the app is free, click Get. You may be asked to enter your Apple ID password to complete this process.


 
Once the app is downloaded, click Open to open the app.
You'll be able to find your apps, including recent purchases and updates, by clicking the Purchased tab in the top menu of the App Store app. 


 
Related: Apple TV Plus: Content, Cost, Devices, Pros & Cons
If you don't have any specific app in mind and would like to explore your options, then:
Click on the Apps tab in the App Store menu and scroll down to Categories.


 
Look through Kids, News, Food & Drink apps, and much more.
You can also click on the Games or Discover tab to see the current Top Free and Top Paid apps available at the moment.