Keep everyone in the loop on upcoming events & schedule changes by creating a shared digital family calendar on your iPhone.
By

Belinda Sanmiguel
Wed, 10/26/2022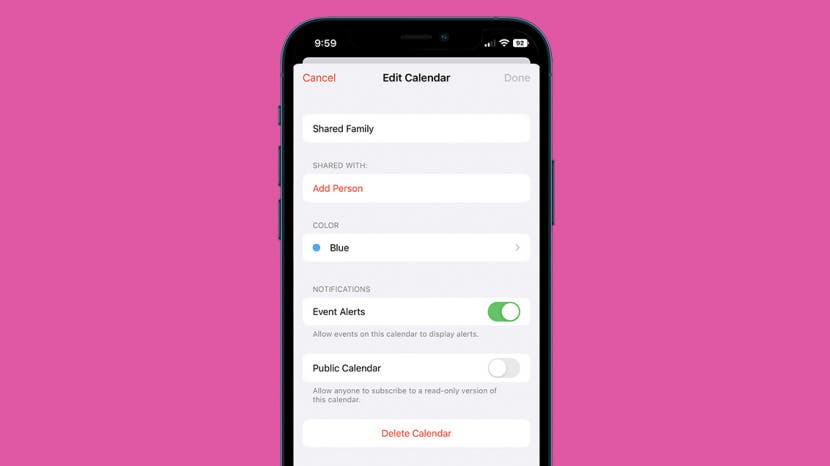 Life can get busy, and there are so many moving parts in our lives! It can be difficult to keep up with appointments, tasks, and activities, especially if you're often coordinating with family members. To help you out, we'll show you how to create a shared family calendar on your iPhone so you can efficiently keep your schedule organized and up to date. 
Jump To:
How to Create a Shared Family Calendar on iPhone
In order to share your calendar with family members, you need to make sure you have the Calendars app enabled in iCloud. To quickly check this, open the Settings app, tap your name at the top, and tap Show All beneath the section labeled Apps Using iCloud. Make sure your Calendars app is toggled on (the toggle is green when enabled). You'll also need to make sure that anyone you share a calendar with has the Calendars app enabled in iCloud. Once you've done that, you're ready to create and share your calendar! Here's how to share an iPhone calendar with your family: 
Open the Calendar app and tap Calendars.


If you're creating a new calendar, tap Add Calendar in the lower corner. If you want to share an existing calendar, skip to step 7 below.


From the menu that appears, tap Add Calendar. 


Type in a name for your new calendar. 


If you'd like, you can also select a color for your new family calendar. (Events in this calendar will be highlighted in the selected color.)


Tap Done to save your new Calendar. 


Tap Add Person. 


Type in the name of at least one person you want to invite to your calendar. Select their name when it appears and tap Add.


Your invited family member will receive an email invitation. To gain access to the shared calendar, they will just need to tap Join Calendar in the email. Alternatively, they can open the Calendar app, and they will see the invite to join the shared calendar in their Inbox (on the lower-right corner). For more handy organizational tips, check out our free Tip of the Day Newsletter. 
Add an Event to a Shared Family Calendar
Now that you have a shared calendar, we'll show you how to create a new event and add it to your shared calendar. While there are many fun options you can make use of when creating events, we'll stick to the basics of creating an event and adding it to your new shared calendar below. 
Tap the plus icon in the top-left corner. 


Type in the name of your new event. 


Tap Calendar to select the calendar you want to add your event to. 


Select the name of your shared family calendar. 


Tap Add.


Now the event will appear on the calendar of everyone who has joined the shared family calendar! Once an event has been saved in the shared calendar, it will be updated on the devices for all people who are part of the family calendar. This way, they can see when an event has been canceled, or when a time or meeting location has changed. 
If you're unfamiliar with the Apple Calendar app on your iPhone, you can also learn more options to create and edit calendar events, see how to delete calendar events, and move an event from one calendar to another in the Calendars app on your iPhone. The process for moving, deleting, and adding events to a shared family calendar is similar to that of a calendar you haven't shared. Just keep in mind that when you add a new event, you need to make sure to select the name of your shared calendar so it will appear on the devices of your family members.