If your HomePod is not turning on, there are several things to try before you go out and get a replacement.
By

Amy Spitzfaden–Both
Updated 03/07/2023
What to Know
If your HomePod won't turn on, it may be connected to an unreliable power source.
You can restart your HomePod by unplugging it for ten seconds and then plugging it back in, or in the Home app > HomePod > Reset HomePod... > Restart HomePod.
Sometimes a HomePod won't turn on because it is broken and needs a replacement.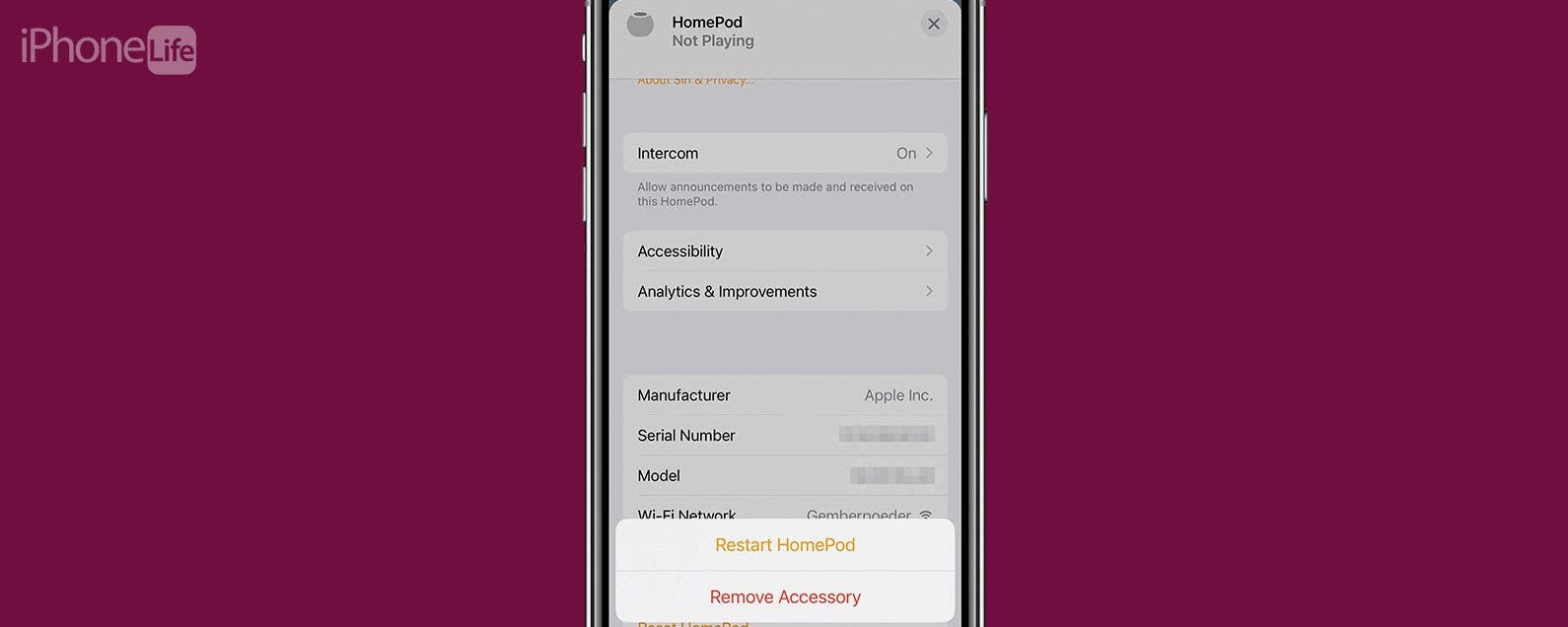 If your HomePod or HomePod mini is not turning on, you may feel like throwing it out the window and starting fresh with a brand-new one, but there are a few things to try before you rush out for a replacement. Here are all the steps to try to get your HomePod working again and how to know when it's time to call Apple.
What to Do If Your HomePod Won't Turn On
Make Sure You're Connected to Reliable Power
The most common reason why a HomePod or HomePod mini won't turn on is that it isn't connected to a power source. HomePods are not battery-powered, so they need to be plugged in to work. Check to make sure your HomePod's cable is connected to a working outlet and that the electricity in your home is working. A loose cable or a broken outlet might very well be to blame for your HomePod or HomePod mini not turning on.
Check Your Wi-Fi
If your Wi-Fi is down, your HomePod may experience connection issues that make it seem like it is not turning on. Check to make sure your Wi-Fi is up and running if you're running into HomePod issues, and, if it is working, try disconnecting and reconnecting your iPhone to your Wi-Fi to see if that resolves the issue. For more Apple troubleshooting tips, check out our free Tip of the Day newsletter.
Restart Your HomePod
If your power source is stable and your Wi-Fi is up and running, it's time to restart your HomePod. Restarting your HomePod can get your HomePod out of a glitch loop and get your HomePod back on track. To reset your HomePod, you can either unplug your HomePod, wait ten seconds, and plug it back in, or restart it through your Home app. Make sure your HomePod is plugged in before trying these steps:
Open your Home app.


Tap on your HomePod.


Scroll to the bottom of the screen that pops up (you may have to wait a few seconds for the scroll option to become available).


Tap Reset HomePod...


Tap Restart HomePod.


Your HomePod will restart and your problem may be solved!
Related: Can You Listen to Conversations or Eavesdrop with HomePod?
Reset Your HomePod
If restarting doesn't do the trick, resetting might. Resetting your HomePod means removing it as an accessory that your Apple device recognizes and adding it again. Sometimes this kind of reset is needed to break a loop causing a glitch.
Check Your Speaker
If you think your HomePod isn't working because you're not seeing any lights and the touch controls aren't working, check to see if Siri is working. Say "Hey Siri" and give a command to see if your HomePod is still working. There may be an issue with the lights and/or touch panel if Siri is working and you just aren't getting the visual or touch response you're looking for.
Update Your HomePod
If your HomePod or HomePod mini is not turning on, updating your HomePod might solve your issue. Fortunately, you can update your HomePod through your phone, so you don't necessarily run into the challenge of the technical issue blocking the update. 
Delete and Re-Install Your Home App
A bug in your Home app might be causing the issue, so if you've made it this far without any success, try deleting and reinstalling your Home app. This may break whatever cycle your HomePod is stuck in and get you back on track.
Contact Apple Support
If none of this works, it's time to contact Apple Support. You may be experiencing a hardware issue that only the experts can tackle. Next, learn how to turn off your HomePod's always listening feature for peace of mind.